Supriya Kelkar & Ani Bushry Auction Their Graphic Novel, Off The Cuff
Supriya Kelkar and Ani Bushry have auctioned off their semi-autobiographical middle grade graphic novel, Off The Cuff.
---
Supriya Kelkar and Ani Bushry have auctioned off their semi-autobiographical middle grade graphic novel, Off The Cuff, about an Indian-American girl in small-town Michigan in the '90s, a time when becoming a part of the melting pot is one of the leading ideals, who learns to stop trying to blend in and to make new friends and find her voice.
Kaylan Adair at Candlewick won the world rights to Off The Cuff, and publication is planned for spring 2026.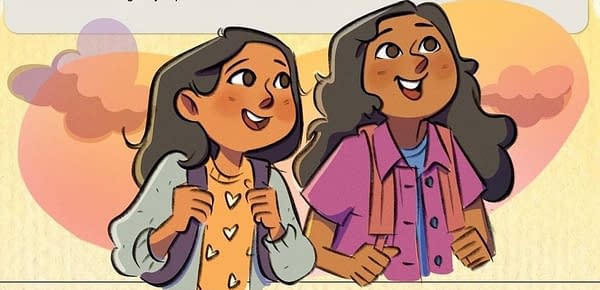 Winner of the New Visions Award for her middle grade novel Ahims, (Tu Books, 2017), Supriya has worked on the writing teams for several Hindi films, including Lage Raho Munna Bhai and Eklavya: The Royal Guard, India's entry into the 2007 Academy Awards. Supriya's books include Ahims, The Many Colors Of Harpreet Singh (Sterling, 2019, illlustrated by Alea Marley – the Michigan Great Read for 2021), American As Paneer Pie, a School Library Journal Best Book of 2020, (Aladdin/Simon & Schuster, 2020) Strong As Fire, Fierce As Flame (A 2022 Jane Addams Children's Book Award Honor Book, 2022 Global Read Aloud Selection, and Read Across America selection, Tu Books, 2020), Bindu's Bindis (Sterling, 2021, illustrated by Parvati Pillai), That Thing About Bollywood (Simon and Schuster BFYR, 2021 – a Parents Magazine Best Book of 2021), Brown Is Beautiful (FSG, 2022, art by Noor Sofi), My Name (FSG, 2023, art by Sandhya Prabhat), and The Cobra's Song (Simon & Schuster, 2023). She is herself the illustrator of Jyoti Rajan Gopal's American Desi (Little, Brown, 2022) and Raakhee Mirchandani's My Diwali Light (Little, Brown, 2022), and the author-illustrator of Shine (Candlewick, 2024).
Ani Bushry graduated from the University of West of England , and her background is in both graphic design and illustration. She has worked for clients including NPR, UNDP, UNICEF, WHO, the Maldivian NGO Arc, Yes We Can Foundation, and has worked on creating illustrations, character designs for animations, and content for both marketing campaigns and social awareness campaigns, specially central around children.
Kathleen Rushall at Andrea Brown Literary Agency represented Supriya Kelkar for the Off The Cuff deal, and Christy Ewers at the CAT Agency represented Ani Bushry.
In 1992, Candlewick Press, established in 1992 and located in Somerville, Massachusetts, opened its doors as an independent children's publisher and remains an independent publisher today. As part of Walker Books Group, Candlewick Press enjoys a unique ownership structure which includes more than 75 of the employees in their US office, staff in our UK and Australian offices, plus more than 150 authors and illustrators. Founded by Sebastian Walker, who launched Walker Books from his spare bedroom in his London home in 1978, Candlewick Press opened with only six employees and now has one hundred. where she works on everything from picture books to young-adult novels.