After a day spent at the first ever Atlantic City Boardwalk Con, I had some choice items of con swag to congratulate myself about. As anyone who's looked into ACBC at all knows, the convention is quite the showcase for Marvel. In fact, they had a stage and a Marvel booth selling what may be the t-shirts and exclusives we see at SDCC this year.
So it's no surprise that there is some Marvel in my swag.
So, the Vision t-shirt was a must, and there's also the Secret Wars exclusive, though it's a bit hard to see the cover in this shot. One thing others haven't mentioned about the Marvel shirts at ACBC is that they do say ACBC on the back, so even if these shirts end up being similar to SDCC shirts, they've been differentiated.
To zoom in a little on some of these items: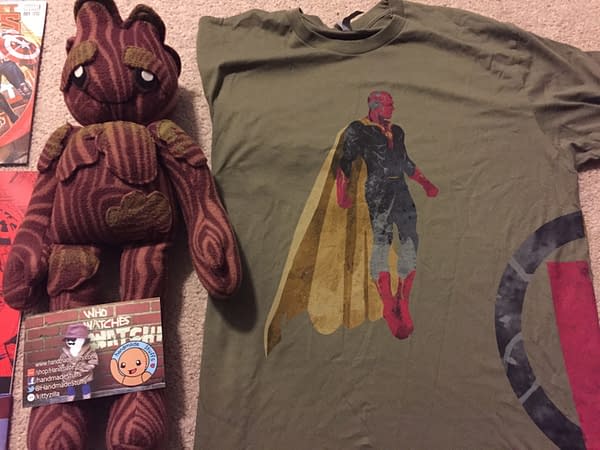 This is a large, plush, handmade Groot. I repeat this is a handmade Groot. How awesome is that? The maker is handmadestuffs.com. They also make a wide range of "stuffs" of pop culture characters from Daredevil to Teenage Mutant Ninja Turtles.
But this swag was totally unexpected and wide-ranging, all focusing on the new Boom! Studios steampunk series Lantern City, out this past week in its first issue. The entire creative team were at ACBC holding a special panel and signing, and had a Lantern City con exclusive variant as well as more of their variant special pins. The prints were also a total surprise and fabulous. I was already a fan of Lantern City, having interviewed two members of the creative team before, so this is truly awesome swag for me.
Enjoyed this article? Share it!