Tell The Truth, Superman, Are You Socially Distancing?
Earlier this month, DC Comics ran a socially distancing message with Bruce Wayne and his son Damian Wayne which seemed rather cold since they were family. And may even live in the same mansion. If Damian Cummings can drive 160 miles for his kid, then surely Batman could step forward two metres? Anyway, today's version featuring Superman and Wonder Woman raises even more interesting questions as Clark gets caught up in Diana's lasso of truth.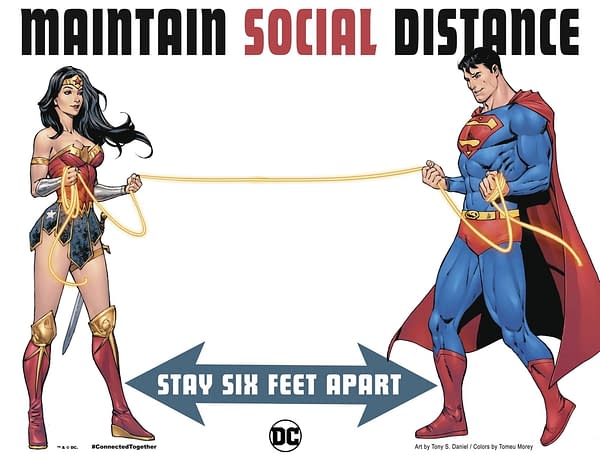 Sure, demonstrating six feet socially approved distance, but I note Superman is holding the lasso. Has he disinfected his hands? Will Diana have to disinfect it afterwards? Is this now a good opportunity for Diana to ask Clark if he remembers when they were a couple, or did the Convergence superman memory wipe that out? And did Superman really kill Los Lane's boyfriend Jonathan Carroll and bury him under the Fortress Of Solitude? There's no other explanation.
Also, as a country, England is about to jump to one metre – or three feet – socially distancing, so maybe if Wonder Woman is still living in London, she can reel Superman in a bit? Unless of course that it's nothing to do with social distancing and they are just planning to knock Batman off his Batcycle when he comes roaring past. They do seem to have that mischief in their eyes.
Previous messages have encouraged DC Comics readers to stay in their Fortress Of Solitude or in their Batcave, without considering that many of their readers may not have such huge ice crystalline structures in the Bermuda Triangle, or large subterranean cave dwellings beneath some of the most expensive real estate in Gotham, funded by a hundred billion dollar Wayne foundation. Look for this in all DC Comics titles published this week.