Orbital Comics in London moved to its current location adjacent to Leicester Square tube ten years ago. And this year is running a number of ten year anniversaruy events. Including, in their current gallery, a look back at all their events in that ten year period…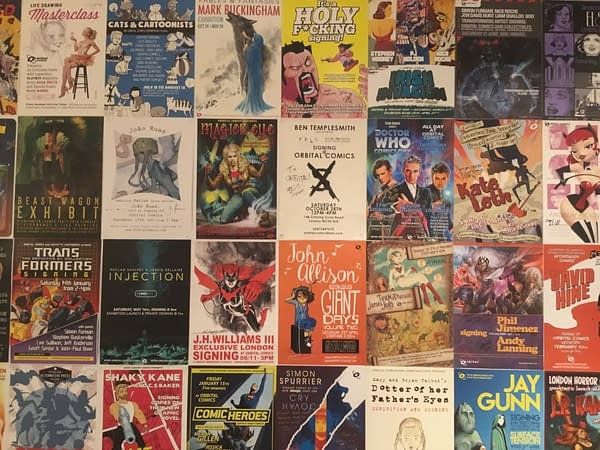 When Orbital Comics moved here to 8 Great Newport Street, ten years ago, the ground floor was very different to how it appears now – the brightly coloured home of the UK's only Eisner Award winning comic book store. Previous tenants, The Photographers Gallery had divided the lengthy space into three smaller galleries and a bookstore. We made short work of taking down the walls and repurposing them as the long comic bays which house our many thousands of back issue comics.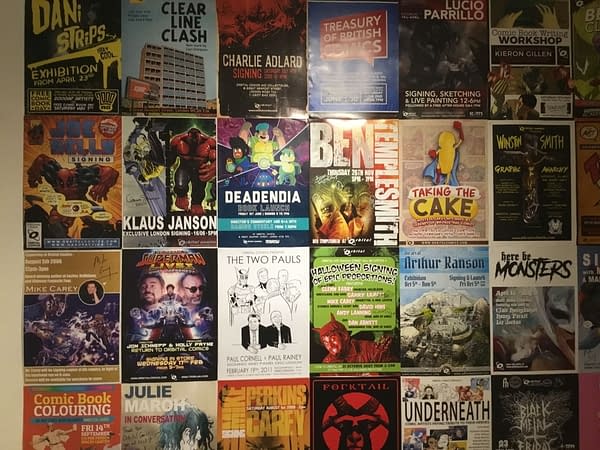 The biggest gallery space, at the back of the room, was the video projection gallery, and so that area was painted in a very dark grey. Despite more than four or five coats of paint, that damn grey was still showing through, and eventually some bright spark decided to use the yellow paint (it's called Banana Dream 2 by the way) we had left over from our iconic comic shelves to paint that final section – which became the Orbital Gallery. Since then we have hosted well over one hundred exhibitions, readings, concerts and performances as well as many life drawing sessions and comics creation workshops.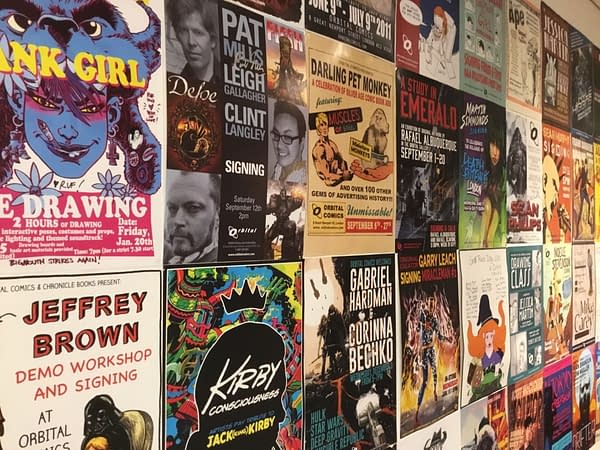 The posters on display in this exhibition include the numerous signings and the many other varied events and entertainments Orbital has held over these past ten years. It represents a really broad and inclusive roster of the luminaries involved in comics and the affiliated arts in recent years. From the blossoming underground, small press and self published scene to names that are legendary within comics, literature and the filmic arts. Many hundreds of voices and visions have been given a platform in our humble little space.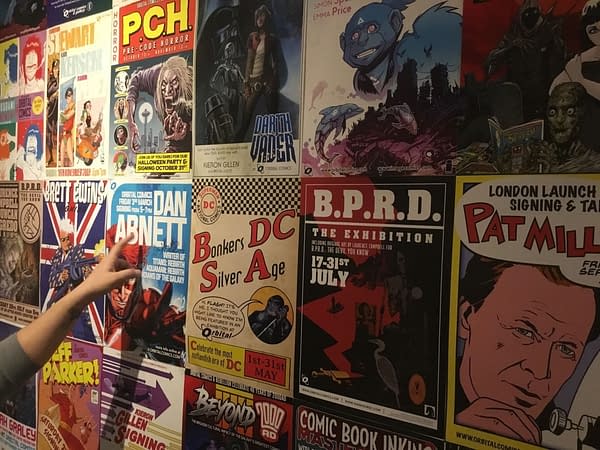 The posters themselves have been produced, often at very short notice, by our supremely talented team of graphic designers whom I would sincerely like to thank; CB and RJ especially, as well as the many creators who provided their own posters, and even hung their own shows! Sincere thanks also go to everyone who bought a print or a piece of original artwork, or even attended an event, showing support for the gallery over the last decade.
Time to revisit the last ten years – coincidentally that's as long as Bleeding Cool has been around as well… no wonder we feel bonded.
Enjoyed this article? Share it!