That Time Kitty Pryde Had "Hot Claws" Before Wolverine in Chris Claremont's X-Men Forever
When Wolverine finally makes his long-awaited return to the Marvel Universe in September during the Return of Wolverine event, he's coming back with what some would presumably consider improved powers. Yes, we're talking about hot claws! Whenever Logan pops his claws, they heat up to X-treme temperatures. Writer Charles Soule explained the concept:
I thought this was a real opportunity to do things that would make him feel new and fresh in a way; if you come back from the dead, it should mean something. One of the outwardly physical manifestations of that is that now, from time to time, his claws—once they're popped—they can heat up. They can get really hot.

The way I think of it in my head and the way I've described it in scripts to Steve is you've got a blacksmith who is working with metal on his or her anvil and it can be red hot, yellow hot, white hot, all of that stuff and Logan can do that now. If Logan comes at you and his claws are heated up and blazing you're in big trouble.
New and fresh? Perhaps. But it's not the first time it's been done in a Marvel comic book, even if it did happen out of main universe continuity.
In X-Men Forever, Chris Claremont returned to his legendary run on the X-Men, picking up after the events of 1991's X-Men #3. With collaborators such as Tom Grummet, Paul Smith, Terry Austin, and others, Claremont continued his X-Men story, also conveniently ignoring a few recent (as of 1991) changes made to the X-books by other writers or Marvel editorial. For example, Scott Summers' son, Nathan, was alive and well and living in Alaska with Scott's grandmother and his father, Corsair, rather than shipped off to a post-apocalyptic future.
During a battle with Fabian Cortez in the first issue, Kitty tries to phase Wolverine out of the grasp of Cortez, but something goes wrong.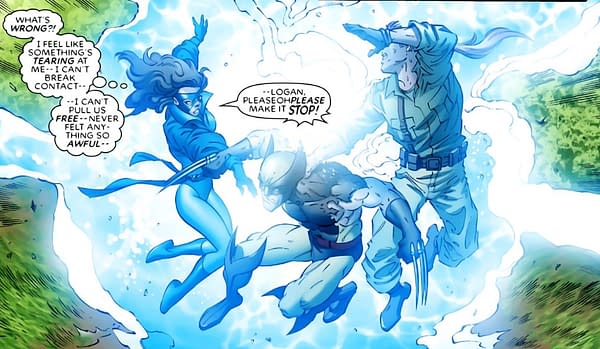 Wolverine is later killed by Storm, who turns out to be an agent of the evil Consortium. When Professor X learns the truth, a battle breaks out between Storm and the X-Men in the Danger Room. Storm escapes, and Kitty pursues her. In the ensuing confrontation, Kitty finds a surprise… during the phasing incident, she's somehow absorbed one of Wolverine's claws (and parts of his personality).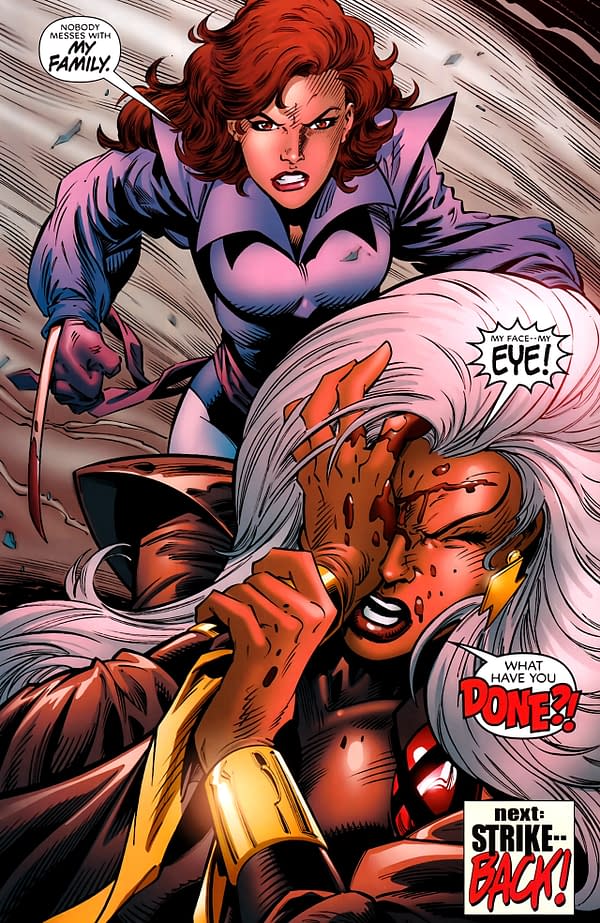 Much later, in X-Men Forever #11, Kitty, Gambit, and a child version of Storm who Gambit located after the adult Storm fled (long story) travel to Russia to check on Colossus, who has returned home to serve in the Winter Guard and fallen into a romance with their leader, The Black Widow. Peter's sister, Illyana, now reverted to her child form following the Inferno X-over event and living with her parents, is captured by a villain called The Cossack, who reignites her Darkchild powers, turning her into Black Magik. The X-Men pursue, and end up in a battle with The Cossack and his army of werewolves in X-Men Forever #13. Kitty and kid storm are separated from the others, and eventually pinned down by Magik and the Cossack, who unlock her full villainous potential as well, dubbing her FireCat. And part of Kitty's evil powers? You guessed it: hot claw(s).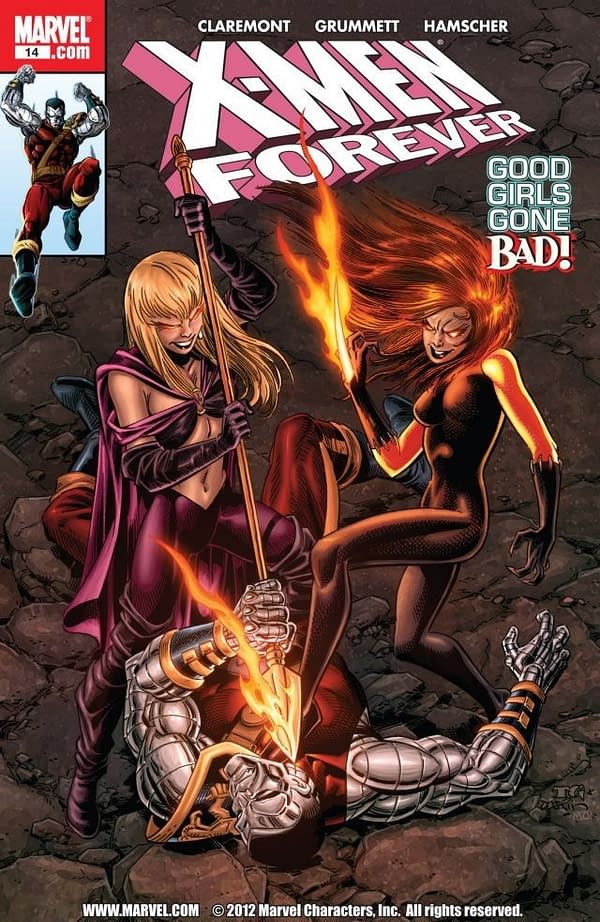 Sadly, Kitty's hot claw powers lasted only one issue, as by the end of X-Men Forever #14, after attempting to kill Gambit, Kitty regains control of herself.
Kitty's hot claw wasn't the only example of an idea Claremont used in the underrated masterpiece, X-Men Forever, showing up later in another Marvel story. But those are clickbait articles for another time.