Fantasy Comics: The 8 Best Titles Available Right Freaking Now
I have been a fan of fantasy comics for just about as long as I have been alive, and all of that time loving the genre has taught me a couple of things. First off, when fantasy is done right, it's just about the best thing in this or any other world. But, with that being established, there is far more mediocre fantasy out there than I want to admit.
I do, however, get to read an awful lot of fantasy comics here at Bleeding Cool, and have been working diligently on separating the true treasures out there from the flashy garbage. Your comics buying dollar is a precious commodity, so here are my recommendations for the 8 best fantasy comics on the market at this moment. Your mileage, of course, may vary.
Isola: Loyalty and the Bonds of Friendship in a Fantasy World
Olwyn, the Queen of Maar, is forced to flee her kingdom when a curse is placed on her, turning her into a tiger. Her loyal Captain of the Guard, Rook, joins her to keep her safe while they make their way to Isola, the fabled land of the dead, in hopes of reversing the curse.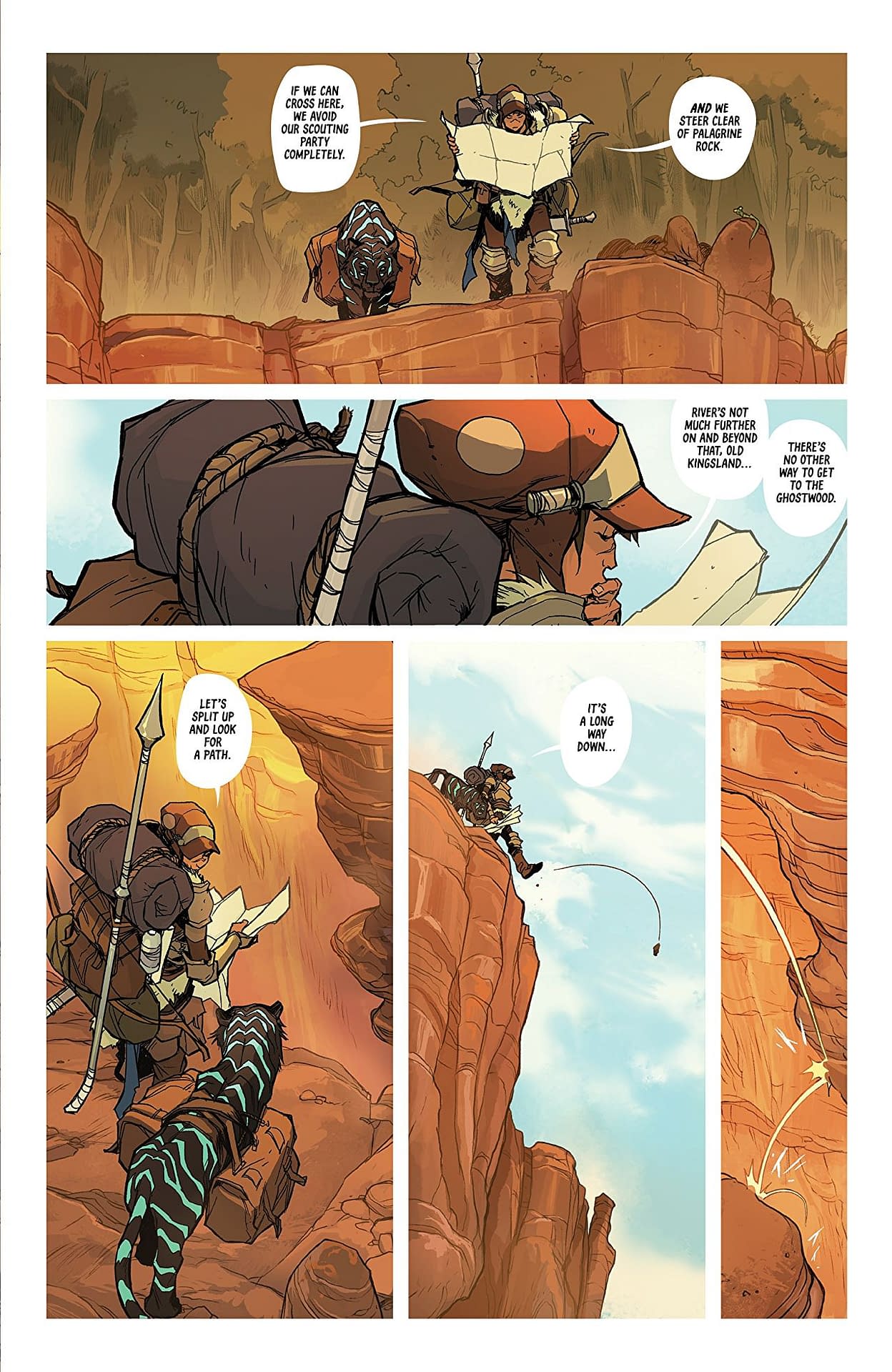 Isola features strong female characters, an incredibly well developed world from Brenden Fletcher, and truly stunning art from Karl Kerschl and incredible color work from Msassyk. Isola is one of those books that rewards you immediately on the second read, with plenty of visual treats and story beats worked into every page. This is also a fantasy comic that relies on strong storytelling to make the book compelling, instead of needing to rely on cheesecake.
Image comics has released one trade collection for Isola, which is still pretty early in its storyline.
Rat Queens: Sass and Sorcery with a Heart of Gold
Originally created by series writer Kurtis Wiebe, Rat Queens was intended as a "love letter to my years of D&D and fantasy". The comic follows the adventures of the Rat Queens, a group of sell-swords and drunks that find themselves pitted against gods and monsters on a regular basis.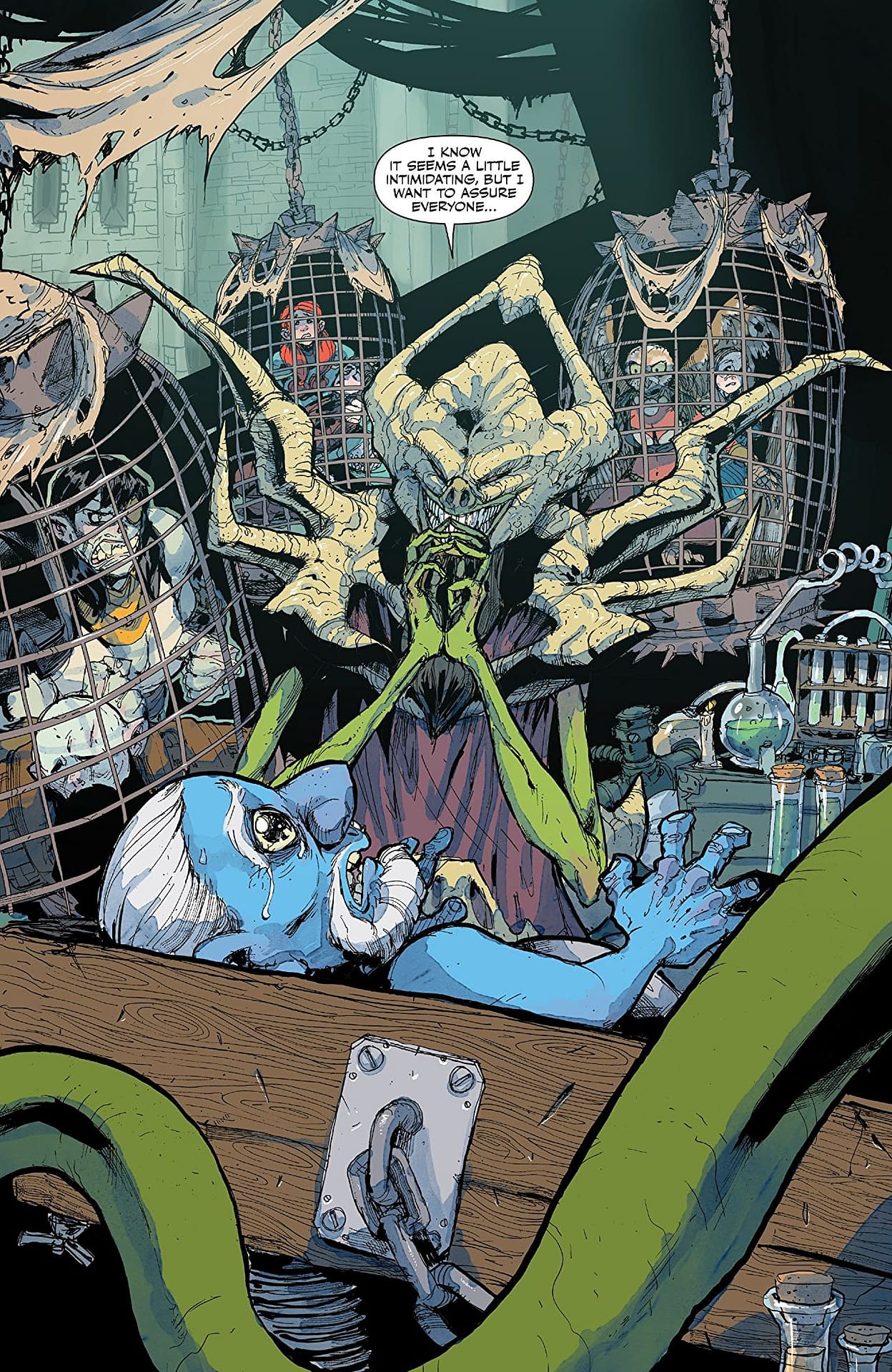 Rat Queens has gone through a few different illustrators over the years, with Owen Gieni most recently leaving the series in March of 2019. Wiebe has also moved on to other projects, but the series lives on with a new creative team.
Rat Queens is raunchy, irreverent, and full of heart. It's also a fantastic read, with some amazing action sequences. The Queens always have each other's back, and the adventures they find themselves having are always a blast to dive into.
Image Comics has released numerous collections of Rat Queens comics, with more likely on the way.
Hillbilly: Pure Americana with a Horrific Pulse
Eric Powell's Hillbilly is one of the greatest primers for American folk legends I have seen, with a fantastic protagonist wandering from tale to tale, stitching together the dark legends that from the backbone of Americana. Rondel is the titular Hillbilly, armed with the Devil's own meat cleaver, and he's working to rid the world of witches, one bloody story after another.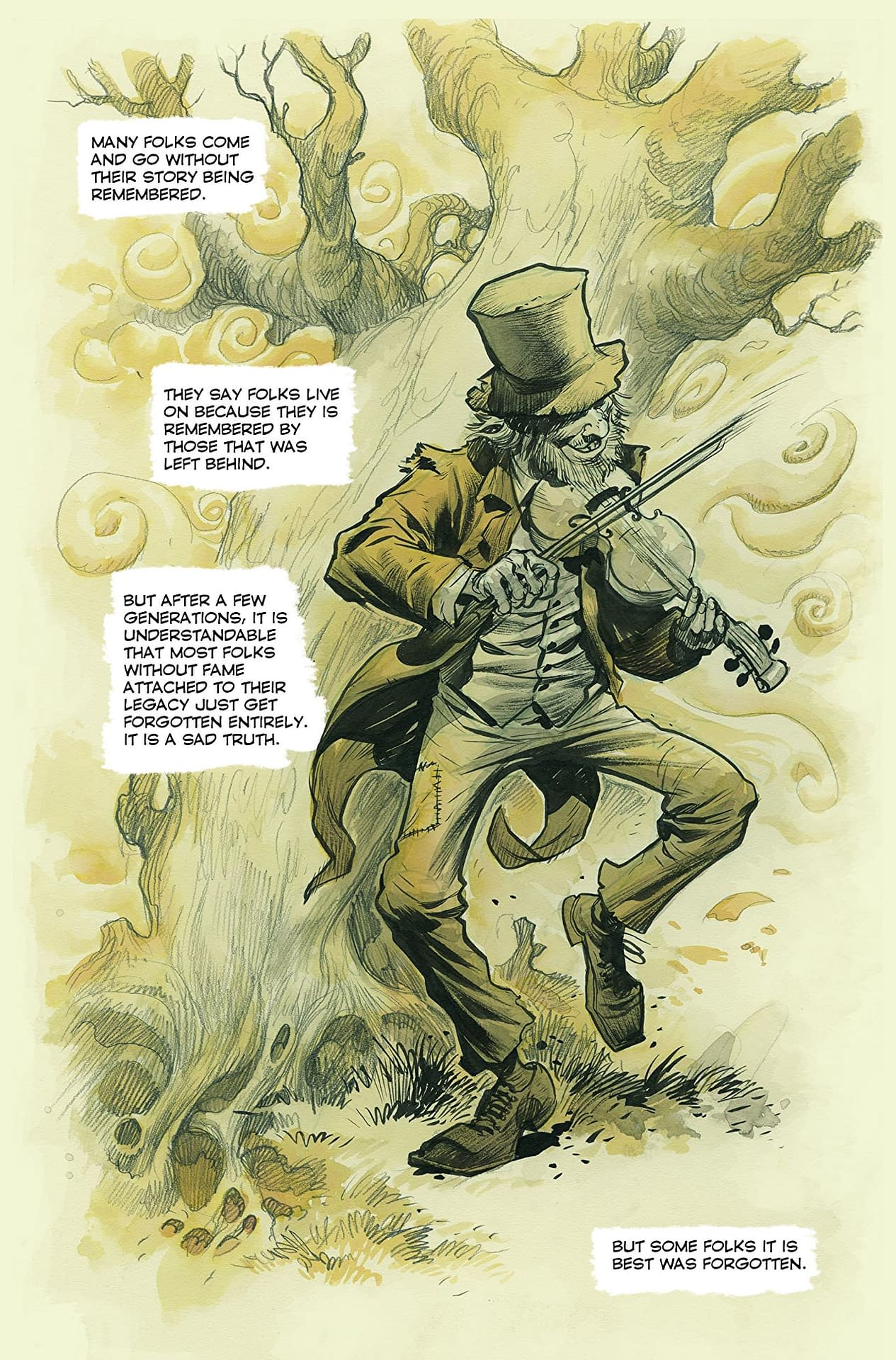 Hillbilly feels like Arthurian legend set in the Appalachian mountains, with Rondel's quest squaring him off against creatures both arcane and demonic. In one issue, he faces a kid with a possessed fiddle. In another, Rondel challenges the ferocious Tailypo. These stories are distinctly American legends, but their roots are timeless.
Powell's art is gorgeous, with a sparse color palette that makes his line work sing. Now, if we could just get a book of Arthurian legends out of him, I could die a happy nerd.
There are several great collections of Hillbilly stories available from Albatross Funnybooks.
Coda: Stunning Art and a Magical Quest
Coda is so hard to describe, but I'll give it my best: A once magical world endures an apocalypse that leaves magic in short supply. Hum the bard is wandering that earth, searching for a way to rid his wife of a curse that keeps her from his side. He needs to find a ton of magic to free her, and he'll do anything to make that happen.
Simon Spurrier spins an fantastic story of high adventure and wonder, and builds an amazing fantasy world. In one issue, a city with the last Ylf in existence is attacked by a rival city… that's on the back of the last giant.
Matías Bergara's art is amazingly evocative, and makes the entire world of Coda come to life. Even the gore in the book is gorgeous. Coda is one of the most original approaches to fantasy comics that I've seen in a long time.
Boom! Studios has released two graphic novel collections of Coda so far.
Monstress: One of the Most Gorgeous Fantasy Comics Ever
Maika Halfwolf has an ancient evil sleeping within her, but it's an ancient evil that she can control to a degree. Maika is on a quest to stop a war between humanity and otherworldly forces. Maika is joined on her journey by Kippa, a young fox girl, and Ren, a Nekomancer cat.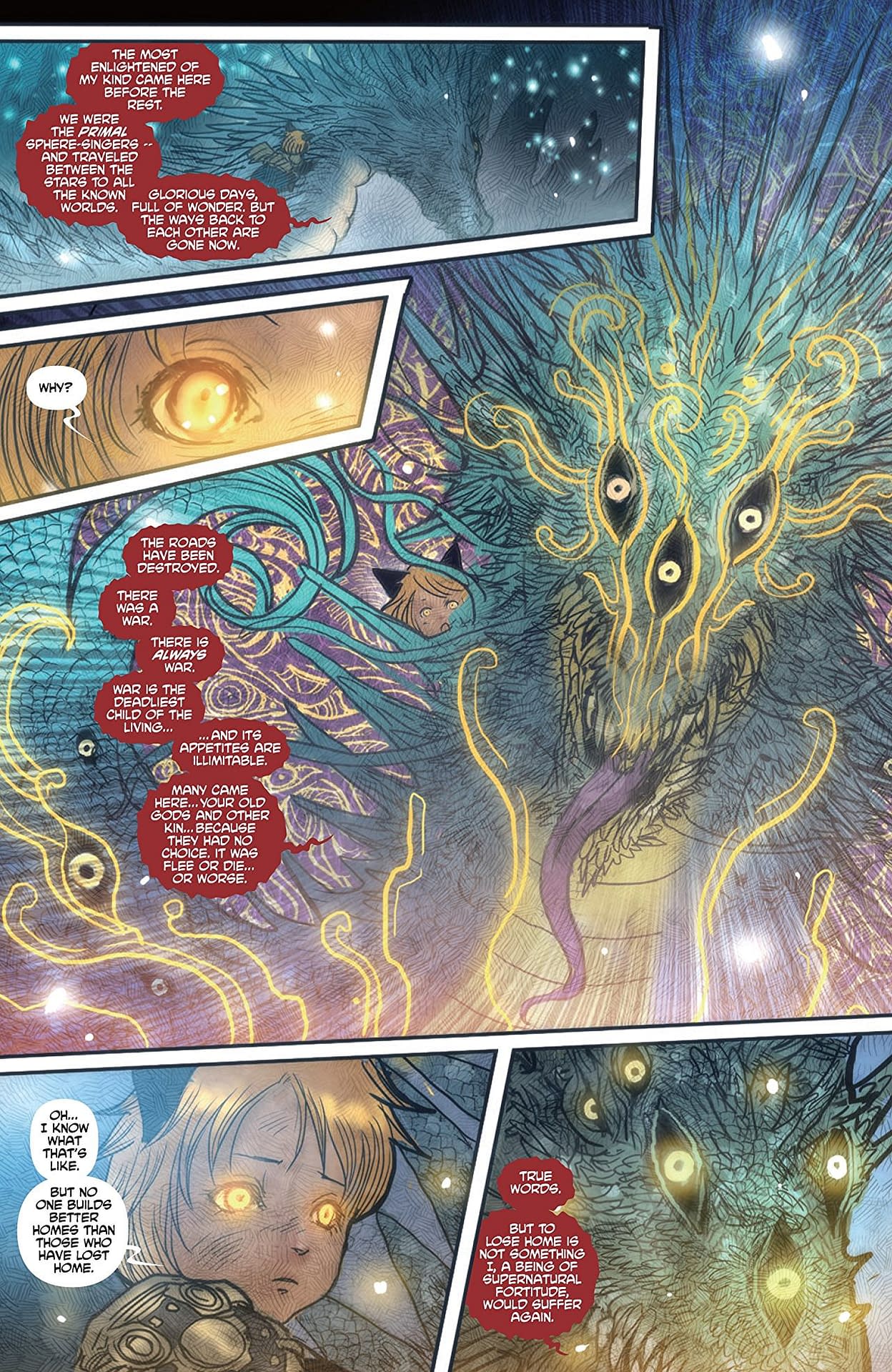 Monstress takes place in an alternate, 19th century Asia. The world created by writer Marjorie Liu and artist Sana Takeda takes elements of eldritch horror, steampunk, and manga, and merges that all together to transport you to a world unlike anything you have ever see.
Monstress is incredibly original, and has been racking up awards like nobody's business.
Image Comics has released quite a few graphic novel collections of Monstress.
Middlewest: A Fresh, Contemporary Take on Fantasy Comics
Abel is a good kid with a troubled past. His father is an abusive jerk, and when that jerk gets mad he turns into a literal rampaging tornado monster. Abel hits the road with his best friend, who just happens to be a talking fox, and starts piecing together the mystery of his life. If Parsival ever showed up in The Wizard of Oz, this would be that story.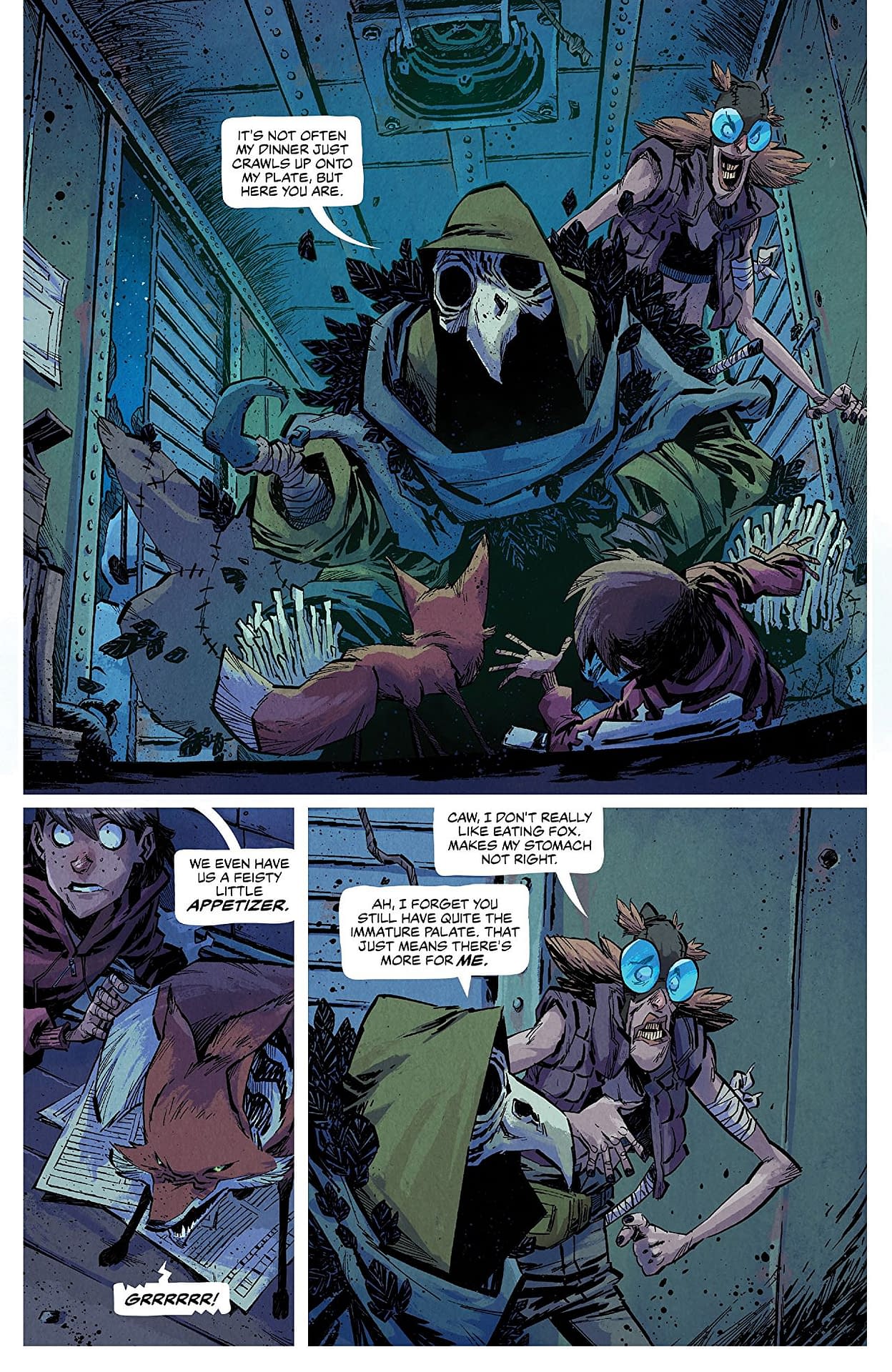 Skottie Young tells an amazing story of adolescent horror that is vividly brought screaming to life by Jorge Corona's staggeringly great art. I don't know how Corona manages to make any deadlines at all with an art style this tight, but he pulls it off, month after month.
Middlewest is already at the top of my list for comics in 2019. I get the same feeling reading this book that I did back in the '90s, when Image first put Sam Keith's The Maxx out into the world. It's absolute magic, and an incredibly new approach to fantasy comics.
There is one graphic novel collection of Middlewest available from Image Comics.
Seven to Eternity: Heroes and Magic Battle a Master Manipulator
Rick Remender and Jerome Opeña have created a stunning fantasy world filled with knights, wizards, betrayal, and redemption. Adam Osidis is a knight dying from a wasting disease, who sets out on a quest through the world of Zhal to bring down the nefarious Mud King. Seven to Eternity is a direct contrast to Coda, with magic dripping off of every page.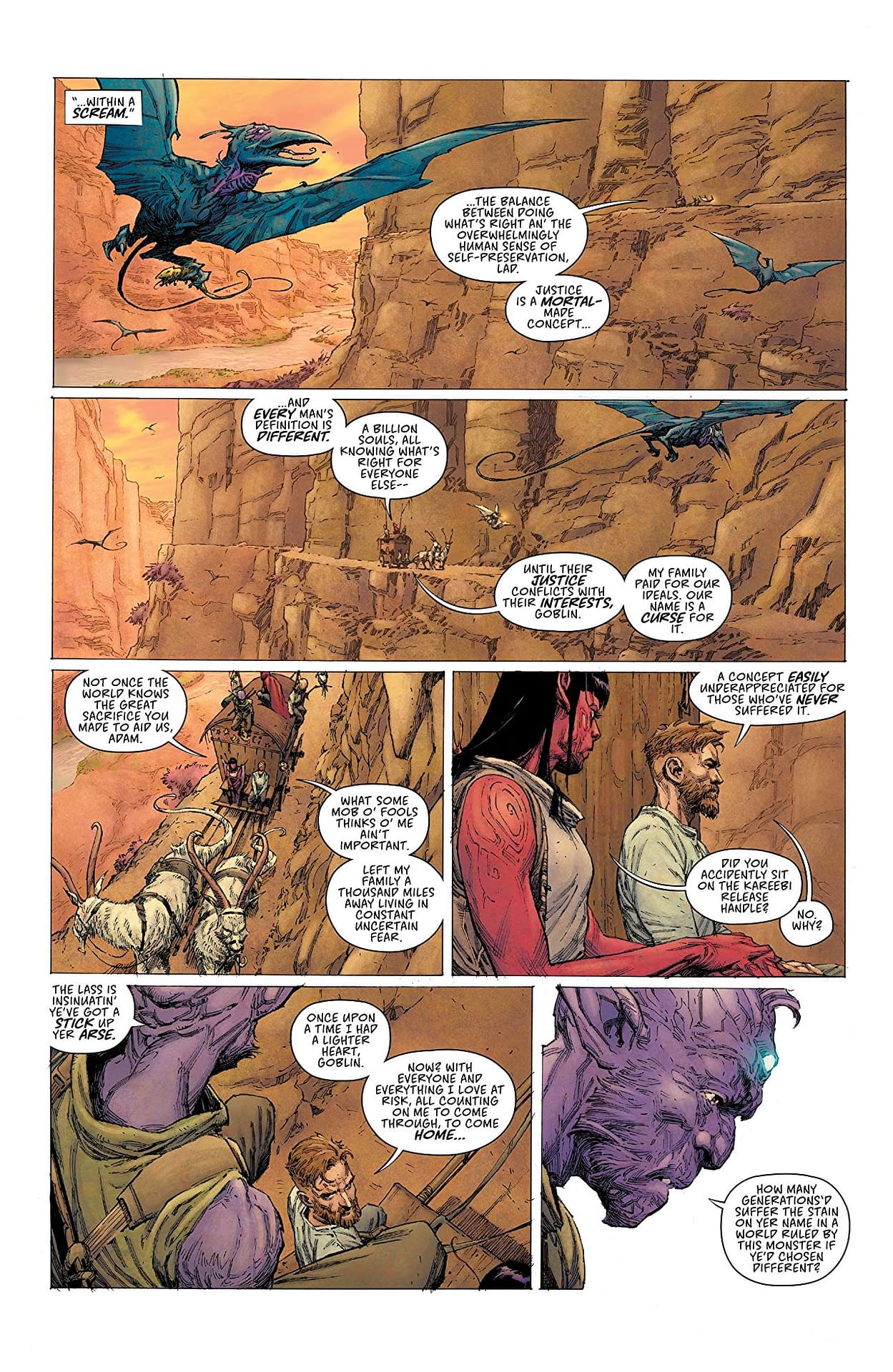 Remender and Opeña have worked together several times before, on Fear Agent and Uncanny X-Force. Seven to Eternity is a worthy addition to their collaborative work, with fantastic, troubled characters trying to restore balance in a world overrun with lies and distrust.
There are already several graphic novel collections of Seven to Eternity available from Image Comics.
Kill 6 Billion Demons: Game Changing Fantasy Web Comic
There are plenty of fantastic fantasy stories being told as web comics right now, but for my personal tastes, Kill 6 Billion Demons is probably the best ongoing title in its field.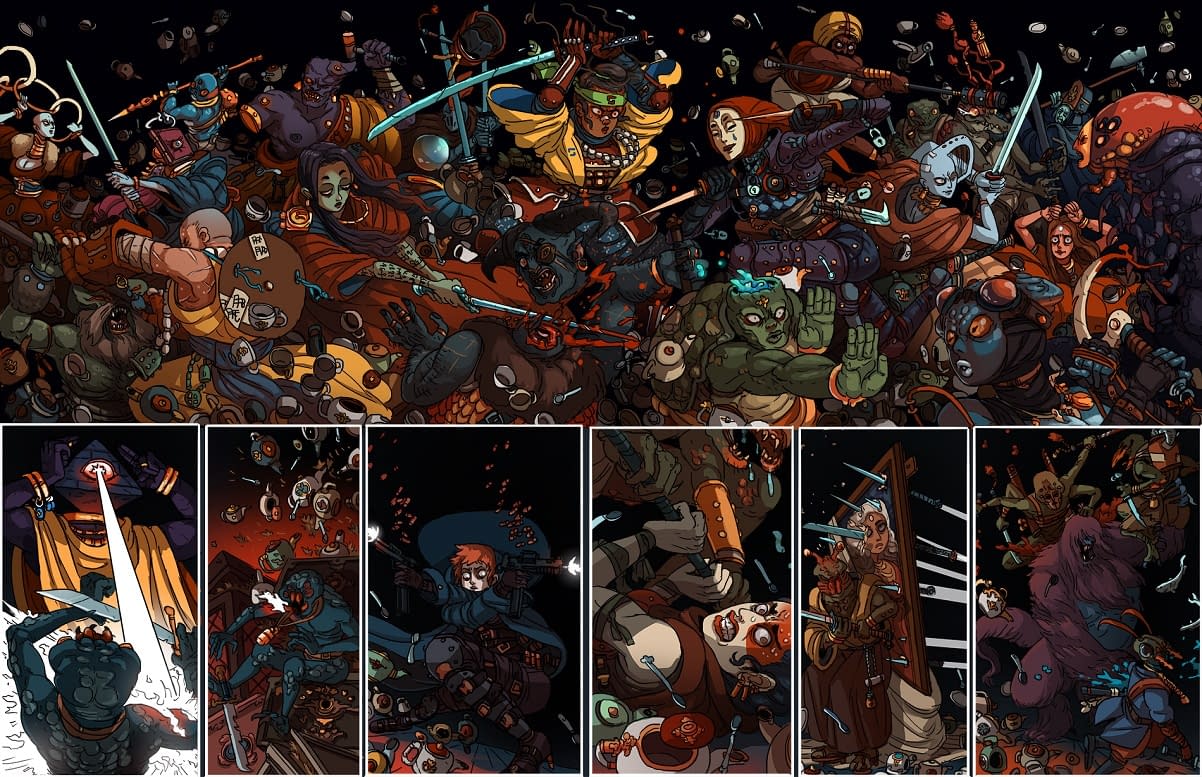 Written and illustrated by Tom Parkinson-Morgan (or Abbadon to the cool kids), the story behind Kill 6 Billion Demons is a sprawling quest that spans dimensions. Allison is a sorority sister and barista that ends up possessing the powers of an ancient god. She sets out with a motley crew of demons to find her semi-romantic interest, who is believed to be a major player in a prophecy.
Parkinson-Morgan's storyline is incredibly complex, with entire passages of historical texts from his worlds worked into the footnote of nearly every released page of the comic. The characters are amazingly cool, and even background characters that show up from time to time are a blast.
Kill 6 Billion Demons starts out a little rough in the art department, but as the series goes on, Parkinson-Morgan's confidence in his art starts to shine through, and you go from a cool looking comic with a great read to a great looking comic with a fantastic read.
Image comics has collected most of the series in a collection of graphic novels, but you can find the entire series here, too.
……
That's it for now, but I'll have more recommendations for comics reads later in the year! I would love to hear your favorite fantasy reads in comics, especially ones that are currently running! Let me know in the comments below, and enjoy your comics, friends!