The Arms Of Michael Costa And The Return Of Doctor Octopus In All New X-Men, Indestructible Hulk And Superior Spider-Man
Michael Costa is best known for his War Of Warcraft comics. Possibly his Transformers and GI Joe comics. Maybe his Jack Hawksmoor comic if you can remember that far back. He wrote the Blackhawks book for the New 52. But you probably knew him as Mike Costa and we haven't seen his work much for a bit.
Until October that is. When Marvel have hired him to write The Arms Of The Octopus, three extra-sized comics linking together All New X-Men, Indestructible Hulk and Superior Spider-Man, all joined by a J Scott Campbell variant triptych.
And called him Michael.
With a new Doctor Octopus, or rather, somehow, the old one, with the Abomna tion, expect to hear a lot from Michael Costa from now on…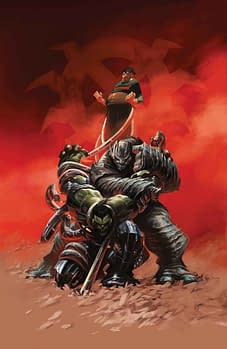 ALL-NEW X-MEN SPECIAL #1
MICHAEL COSTA (W) • KRIS ANKA (A)
Cover by ALEXANDER LOZANO
Interlocking Variant Cover by J. SCOTT CAMPBELL
PART ONE OF "THE ARMS OF THE OCTOPUS!"
• The All-New X-Men cross over with the Indestructible Hulk and Superior Spider-Man!
• What does Doctor Octopus want with the All-New X-Men and HOW IS HE ALIVE?!
• This gets the immediate attention of Superior Spider-Man, but what does it have to do with the Hulk?
40 PGS./One-Shot/Rated T …$4.99
INDESTRUCTIBLE HULK SPECIAL #1
MICHAEL COSTA (W) • JAKE WYATT (A)
Cover by ALEXANDER LOZANO
Interlocking Variant Cover by J. SCOTT CAMPBELL
PART TWO OF "THE ARMS OF THE OCTOPUS!"
• Banner helps The All-New X-Men and Superior Spider-Man get to the mystery of Doc Ock!
• But before they solve anything they're shocked by the return of the believed-dead ABOMINATION!
40 PGS./ One-Shot/Rated T …$4.99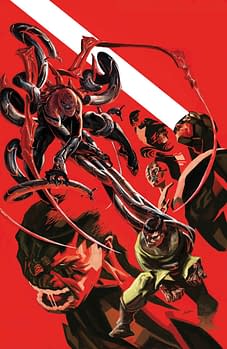 SUPERIOR SPIDER-MAN TEAM-UP SPECIAL #1
MICHAEL COSTA (W) • MICHAEL DIALYNAS (A)
Cover by ALEXANDER LOZANO
Interlocking Variant Cover by J. SCOTT CAMPBELL
PART THREE OF "THE ARMS OF THE OCTOPUS!"
• Who is in league with Doc Ock and the Abomination and how can our heroes defeat them?
• Can the Superior Spider-Man (who we all know is the mind of Otto Octavius in the body of Spider-Man) hold onto his sanity while facing his doppelganger?
40 PGS./One-Shot/Rated T+ …$4.99