The Asgardian/Shi'ar War Is Lord Of The Rings V Star Wars – Jason Aaron Gets His Inkpot Award At San Diego Comic-Con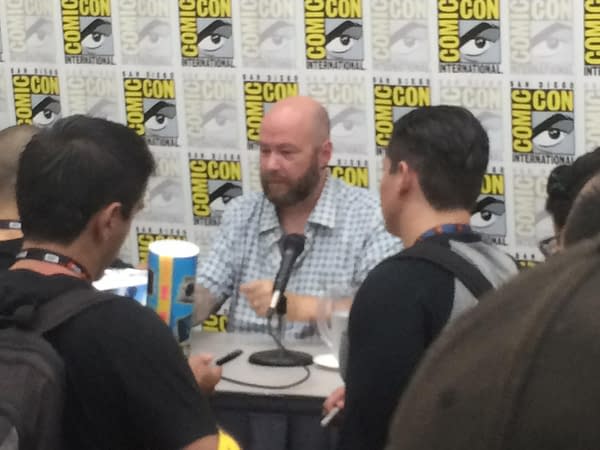 By Mike Sangregorio
You may not recognize Jason Aaron. He trimmed his beard. It is not all gone but it certainly trends toward a Stephen Strange and away from an Alan Moore on the practicing magician facial hair spectrum. Current writer of titles such as "Doctor Strange" and "Thor" at Marvel and for Image there is "Southern Bastards" and "The Goddamned."
Aaron was introduced by Gary Sassaman, Director of Print and Digital Media for Comic Con International, as the writer of "Scalped and the best Star Wars comic ever," and presented with an Inkpot Award for Achievement in Comic Arts. Aaron, who recently told the Word Balloon podcast that he "is better at doing the thing than talking about the thing," humbly accepted and then reminded the audience that they were now alone with him so he hoped that we had questions.
Aaron remarked that he had been on Thor for four years, stretching back to the title "God of Thunder" through "4 or 5 different titles, with the recently announced The Unworthy." He feels that this has been "all the same story, holder of hammer may have changed but it's all the same story." Further discussing the current Jane Foster version of the character he mentioned wanting to bring in "Grant Morrison's Exterminatrix [from "Marvel Boy"] and my own Silver Samurai [from "Wolverine"]." The next arc will cover the "origin story of the hammer." Discussing the previous versions of such a story Aaron reveals that "they left a key part out."
Still speaking of Thor, Aaron described his idea for "The Asgardian/Shi'ar War" as "The Lord of the Rings versus Star Wars… fantasy vs. science fiction with longboats taking on starships." In addition to this war of the genres he confirmed that he is committed to furthering the ongoing War of the Realms plot and that he is not leaving the property anytime soon. Aaron has gone so far as to "turn down other opportunities because I wanted to stay with Thor."
Switching to Doctor Strange Aaron confirmed that some of the older foes would return in upcoming issues after dealing primarily with new threats. He described that book's main antagonist as the "A warped version of Superman, sole survivor of his world that was destroyed by magic." This book is "more difficult to write than Thor." When asked what the rules are with magic in the Marvel Universe Aaron takes the stance that "I don't care about rules. Dr. Strange can't be a deus ex machina. He has to pay a price, physical or in the larger universe. There 'has' to be a price."
As for "Star Wars," Aaron "wanted new bad guys… wanted Stormtroopers who were actually badass." As a result the next arc will see the heroes facing Scartroopers, a new, less disposable version of the classic foe. Also planned is having "Star Wars characters in a Star Trek setting… Rebels manning an Imperial ship that takes a large crew. Han yelling down to Chewie in engine room." Aaron confirmed that he has outlined "Star Wars" through issue 50.
Switching to his creator owned titles he recalled the pitch of Southern Bastards at Image as informing them that "It's called Southern Bastards and it's by me and [Jason] Latour" to which the publisher responded "Great. Do you want to come out and announce it?" This book, which is about a small town in Alabama and the intersection of the football fandom and the criminal community, is described by Aaron as a "football book for people who don't like football" though he does hope that at least a few of us will "maybe tune in to watch a game." Future issues will see former soldier Roberta Tubb (whose role is difficult to describe if you do not want the book spoiled) confronting Coach Boss, the villain of the story. Aaron also confirmed that the comic has been optioned as a show at FX.
His other Image series is "The Goddamned," with his "Scalped" cocreator and artist R. M. Guéra. This is described as a "Bible series for people who don't like the Bible." A crime story set in the days before the "Great Flood" from the Old Testament. The first, and current arc, sees Cain (who Aaron describes as "like Wolverine, he heals right up when damaged") facing down Noah. Aaron' goal with the series was apparently to do a classic "cavemen versus dinosaurs" story in the vein of "Tor" or "Anthro." Next arc will be different and Aaron remarked that the structure for the book is similar to Ed Brubaker's "Criminal" in that it is a loosely connected set of mini series. He further describes the series as being set in a world on the brink of "the first extinction level event."
"Scalped," which had been released via Vertigo, is being turned into a pilot by the WGN channel. Filming has not yet begun but the producers are committed to having predominately Native American cast.
Aaron said though he is not ready to announce it, his next creator owned title will most likely be all ages. His intent is to create a comic he describes as "kid friendly" and said that the only thing he has thus far written that he could describe as such is something for he wrote for "Yo Gabba Gabba!" which has yet to see print (and it does not seem likely that it will). He thinks that it "may have been all the cursing." Aaron said that he has no interest in moving to Hollywood. Comics are "what he wanted to do as a kid. This is the dream and I love it."
When asked about how he approaches a creative endeavor Aaron added that he does not assume that people come to the work knowing why something is great, this applies to the creator owned work and is the "same with Wolverine… Can't rely on the fact that he's cool. Have to put in the reasons so that other people understand why he's cool." Aaron refuses to take anyone's interest for granted.
Aaron recounted a story about having to convince his wife that "they'd eventually get a check for all the staring off into space [that he sometimes does at home]" and that "that is what the work is." "Southern Bastards" began as an analogue of the film "Walking Tall" but became its own unique story very quickly mostly due to the main villain, a coach with such power that he can get away with murder because of how much people love college football.
This man, Coach Boss, is described by Aaron as a "football coach as the Godfather" and was envisioned for "Scalped" before being held onto until "Southern Bastards." Aaron, who is based in Kansas City, ctes one of the book's strengths as his and cocoreator Jason Latour's shared Southern heritage. This allows for shorthand and synergy and the best work from them both on something this dear to their own lives.
The question and answer portion saw one fan inform the room that he hailed from a small town on a small island off the coast of Eastern Canada and that the people he sees in Southern Bastards are ones he recognizes in real life. Aaron responded that was never his intent and that the book was always about his very personal experience growing up. To his surprise he gets letters from all over the world saying telling him that there are aspects of the small town experience that are shared worldwide.
When asked, Aaron said that "Kraven's Last Hunt" is the comic story he most wants to see adapted and that a Southern Bastards cookbook may be on its way (it has become customary for fans to send in their recipes to the letter pages due to the fact that many of the characters in the book take place in events in and around a barbeque place).
---
---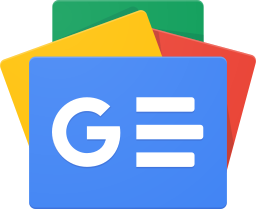 Stay up-to-date and support the site by following Bleeding Cool on Google News today!