Posted in: Comics, Marvel Comics | Tagged: democracy, Devil's Reign, iron man, Kingpin, marvel, Wilson Fisk
---
The Avengers Taking Down Democracy In Devil's Reign #3 (Spoilers)
While in Devil's Reign #3, Wilson Fisk, the Kingpin, seems to be subverting democracy in his own way. But he's not alone. Mayor of New York, he has instigated a new anti-superhero policy in New York while standing for a third term. Though he has bigger targets in mind…

Last issue, in Devil's Reign #2, Tony Stark talked about standing for mayor of New York in opposition to the Kingpin, rather than overthrowing democracy.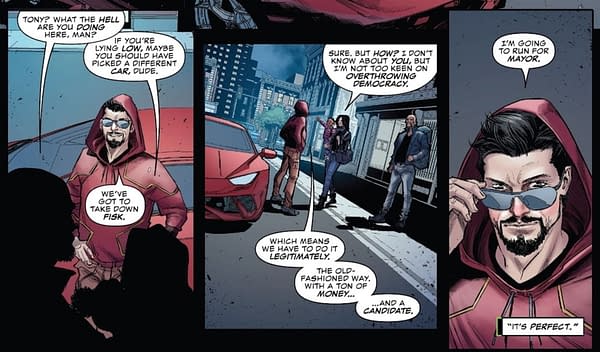 The overthrowing democracy comes up again…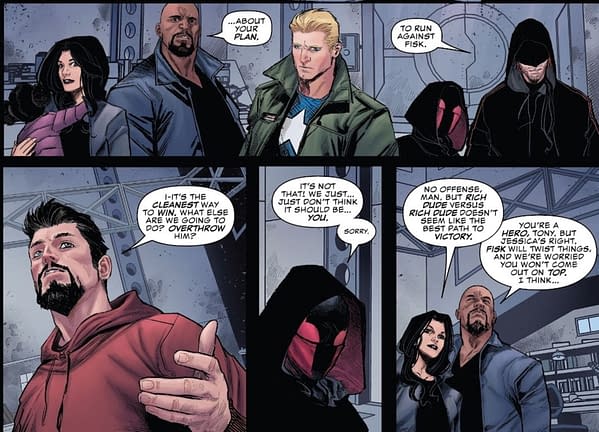 …only for Luke Cage to be chosen by the group instead.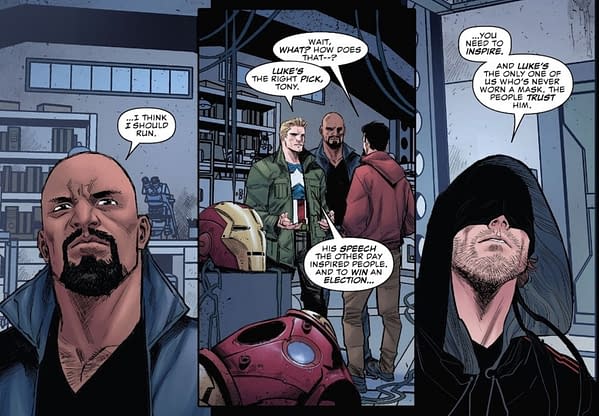 Poor Tony Stark…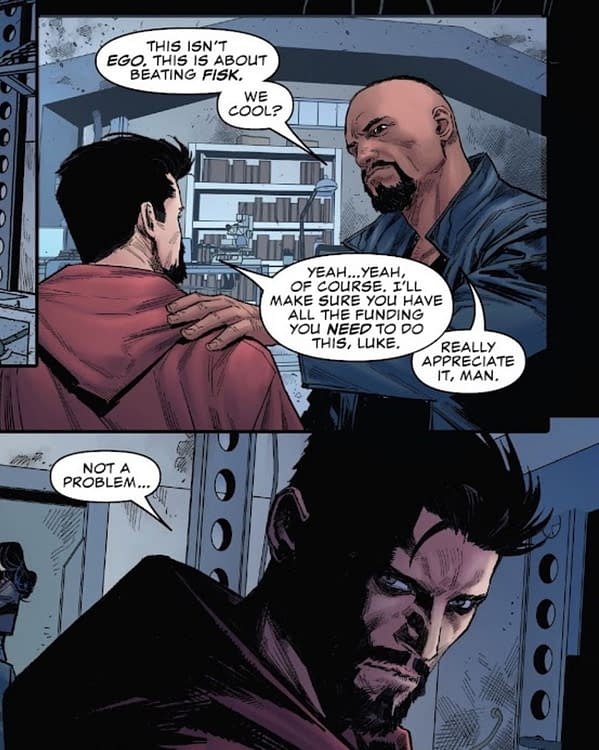 But Wilson Fisk is doing his own democracy overthrowing. Firstly making his opponent illegal, something that is fought by lawyers.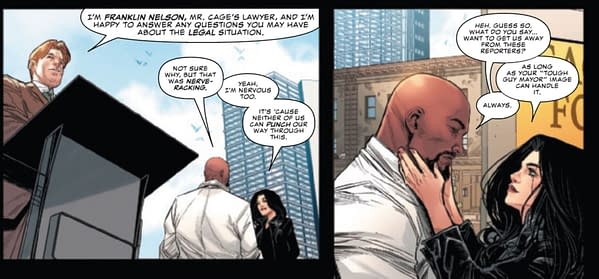 And courtesy of the mental influence, the Purple Man.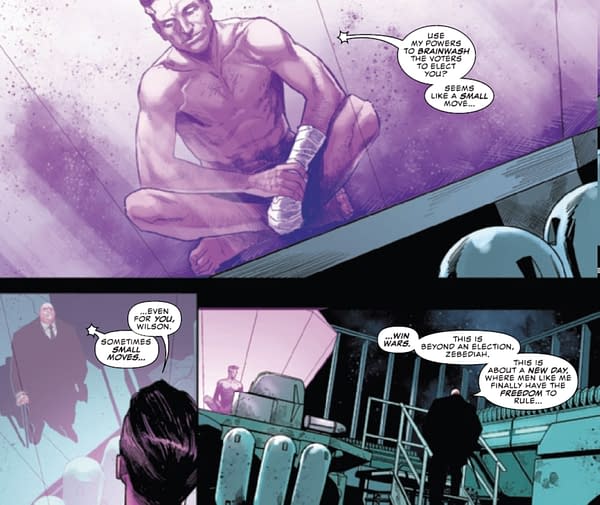 And it seems to be working, even on lawyers.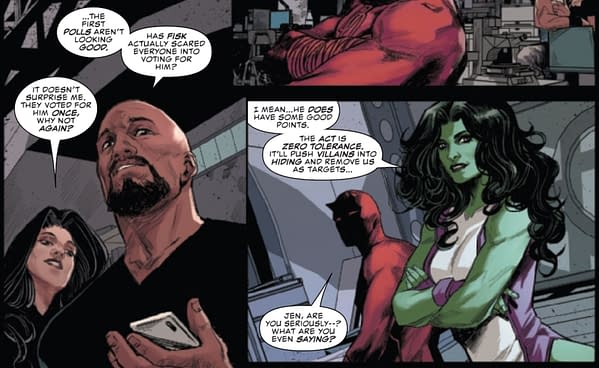 Well some of them. Which means it is time for the superheroes to overthrow the elected Mayor of New York and restore democracy and a rule of law.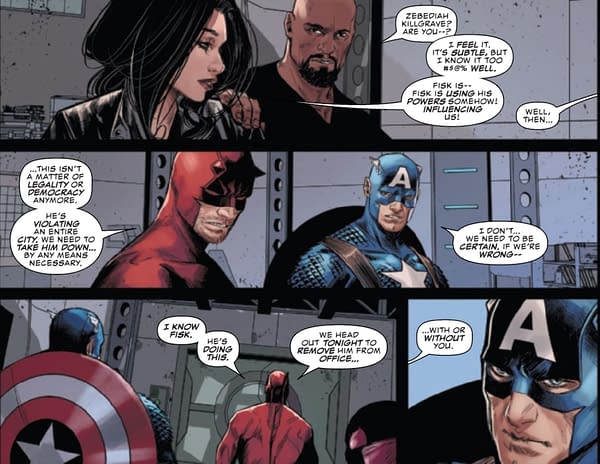 Which is, of course, a little ironic. Given that they are all acting illegally anyway.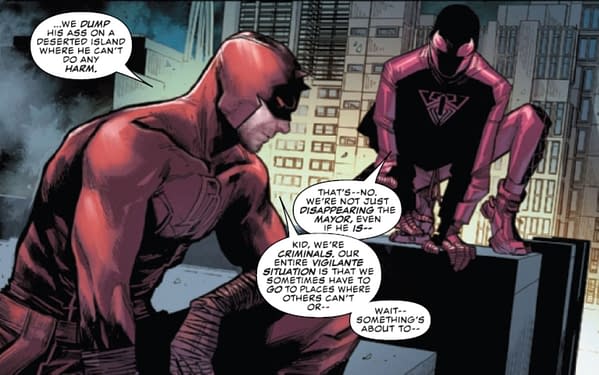 And it's not as if they are the only players in this democratic deception. Dr Otto Octavius had his own plans to defeat Wilson Fisk and replace him with another superhero under his control. Not in the usual way by brain transference…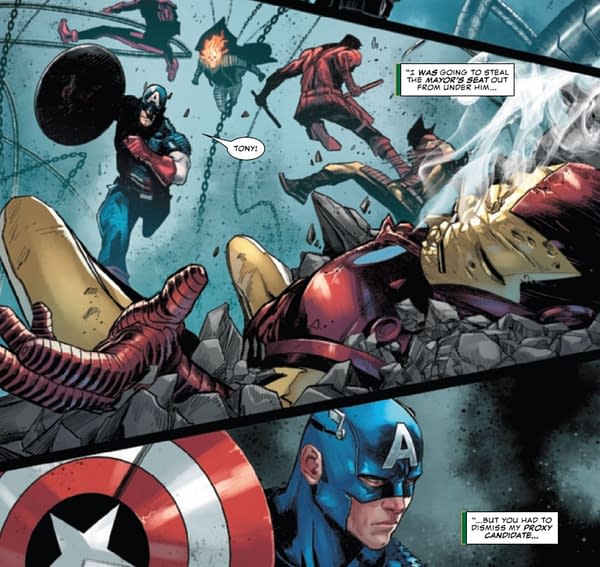 … but in a classic sixties-style fashion.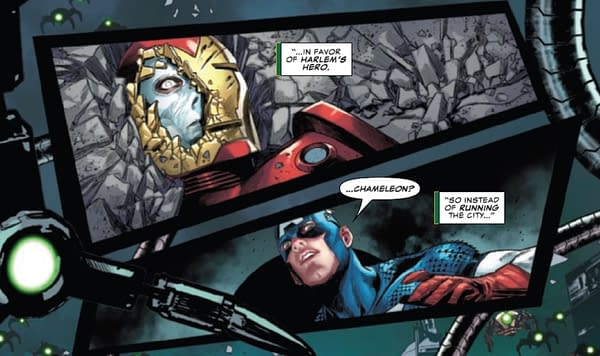 That's right, Otto Octavius, stick to the classics!
DEVIL'S REIGN #3 (OF 6)
MARVEL COMICS
NOV210806
(W) Chip Zdarsky (A/CA) Marco Checchetto
New York City stands at the brink of disaster as MAYOR WILSON FISK has at last reached a breaking point, with an army of super villains at his back, and a deputized crew of super villainous THUNDERBOLTS on the streets and in every police station. Worse still, he's put the Marvel Universe's most powerful tools into (all six) hands of one of its most diabolical minds, unaware of the disaster that could befall the entire city as a result! As a gauntlet of super villains stand between Captain America, Iron Man, Spider-Man and Daredevil and liberating the heroes who have been captured by Fisk's law enforcement, they're ALL about to learn that the danger is closer than they ever thought possible. Civilians, heroes, even children – NO ONE is safe from the Kingpin's wrath. RATED T+In Shops: Jan 26, 2022 SRP: $4.99
---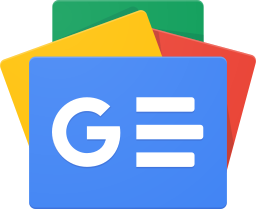 Stay up-to-date and support the site by following Bleeding Cool on Google News today!