The Bleeding Cool Top 100 Power List 2018 Countdown: #80-76
Okay, it's all starting to come back to me now.
Every year, Bleeding Cool runs its Top 100 Power List of members of the comics industry. And every year we get told how wrong we are. Somehow, it's always for completely different reasons and from completely different directions. Why was X in when Y was not? Why is Z is high when W is so low? And neither U or T should be on this list after that incident involving V… and condemning us for being either infested with SJW virtue signalling or providing platforms for fascists – and sometimes simultaneously. Man, I don't know how Time Magazine manages.
But that's part of the process. This attempt to list the most powerful people working in the English-speaking comic book marketplace is, of course, flawed. It is judged by all manner of attributes, the ability to influence what comics exist and sell, but also the willingness to use that power in the industry to affect things, and the ability to retain said power if a job is taken away. Which is why you will see a number of people on a higher spot than their bosses.
The Power List rewards those who combine roles, creator, publisher, distributor, retailers, those who are double and triple threats, and also where power is concentrated in one person rather than being spread out among many. Some powerful organisations or groups, where power is diffused amongst several individuals, may drop down or drop out altogether.
It does not measure talent or likeability, respect or fairness, and it does not intend to represent diversity or balance. All it does is note power, used for betterment — or detriment — in the English speaking comic book world.
The list was created in consultation with a number of senior figures in the comics industry, and I thank them for their help. Although because they all disagree, they'll all think the final list is wrong, too.
If you really hate this list, then do the obvious thing. Write your own. Otherwise, watch for new batches every day…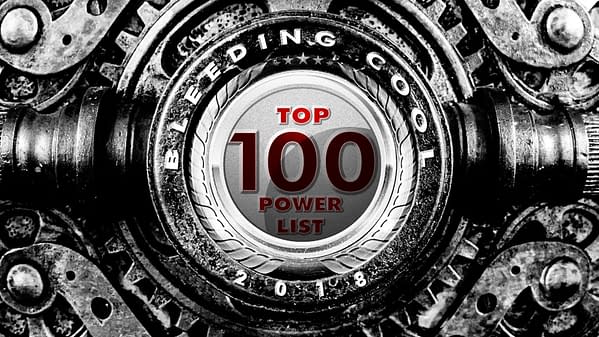 76. Greg Capullo – artist on Batman, Metal, Reborn and the upcoming Batman: Last Knight On Earth with Scott Snyder, he's one of the comic artists who can really move that needle, with a strong fan presence. His confirmation of being on the creative roster of Detective Comics #1000 was the most shared on social media and whatever he does, Batman, Creech or Reborn 2, you can expect it to top all manner of charts.
77. Simon Kinberg – producer at Fox most associated with their Marvel superhero line and who has the biggest influence on where the mutants may appear in the movies net, currently with Deadpool, Dark Phoenix and New Mutants in mind. The Disney buyout may have reduced his placement, as other fiefdoms at Disney seem intent on carving it up, and sticking their oar in as to where the mutants go now, but his recommendations have a strong influence on what comic books Marvel publish and when. Even an aborted release date for New Mutants for 2018 still saw Marvel publish a new series to play up to when it would have been.
78. Jordie Bellaire – Comics colourist extraordinaire and one of the most sought after in her field. A stack of awards, she works on the biggest books in the industry from Vision to Batman to Captain Marvel, to big name creator-owned books like Injection, The Massive and Manhattan Projects, she is also a sounding board and a font of advice for much of the comics industry.
79. Zainab Akhtar – comic book journalist and publisher behind the Shortbox small press publishing phenomenon, her expressed opinion has a habit of shining a spotlight on some of the industry's excesses in a way that makes people want to fix them as soon as possible – or face a social media backlash. Whether that's guest policy at the Lakes International Festival, others' plans to market a Shortbox rival, or the comic book publishing plans of Abrams regarding Dave McKean, she has an impressive ability to help people see things in a Shortbox way and to action change as a result.
80. Josh Williamson – Writer on Flash, its his ties with Scott Snyder and Tom King, bridging the gap between them, which is so valuable – both to his position on this list and to DC Comics. But 2019 may be his year to fly after the Batman/Flash crossover for Heroes In Crisis. I am told to look to how he is guiding a significant chunk of DC Comics to follow his speedster path.
See you later today – when the fur will really start to fly. And keep up with this handy-dandy Top 100 Power List tag.