The Daily LITG – 5th October 2019, Spider-Man, Paraded at Macy's
Welcome to the pretty-much-mostly-daily Lying In The Gutters. A run around the day before and the day ahead. You can sign up to receive it as an e-mail here. Oh yes and it's New York Comic Con – will you be partying the night away?
The 30 most-read stories yesterday
Happening today…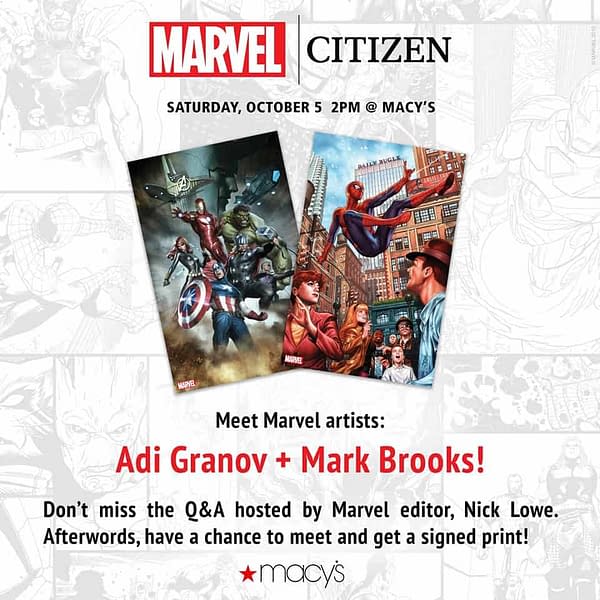 Adi Granov and Mark Brooks, hosted by Spider-Man comic editor, Nick Lowe Macy's Herald Square, Main Floor, Watch Department,151 West 34th Street, New York, 2pm.
New York Comic-Con, Javits Center, New York
Marvel Comics – Talent Celebration, New York. Invite only for Marvel Comics creators and guests.
Kyle Hotz signs at Yancy Street Comics inside Embassy Crossing Shopping Center), Port Richey, Florida
An Afternoon with Raina Telgemeier, Cincinnati's School for Creative and Performing Arts, Cincinnati, noon-2pm.
Masters of Comics, Society Of Illustrators, 128 E 63rd S, New York, 8-11pm.
Jake Parker at INKtober, The Wilson NYC at the INNSiDE by Meliā, 132 West 27th Street, New York, 4-8pm.
Newbury Park Grand Re-Opening and Moving Party at Arsenal Comics & Games, Newbury Park, CA, noon-6pm.
Forbidden Planet NY signing with Image creators Brian K. Vaughan, Cliff Chiang, Ian Bertram, Darcy Van Poelgeest, Jacopo Camagni, Marco B. Bucci, Tina Horn, 6 – 8pm.
Creator After Con Network's Annual After Con Networking event. bringing together comics creators to connect, collaborate, and discuss their medium. Welcome to Writers, Illustrators, Pencillers, Inkers, Colorists, Letterers, Editors, Publishers, Printers, and all facets of the industry. Discover your next, or first collaborator. Twins Pub upstairs – 421 9th Ave, New York 8 pm
The Wicked + the Divine Wake, Kieron Gillen and Jamie McKelvie DJing. 470 7th Avenue, New York $10 General Admission, $40 Valhalla access. 21+ 9pm-1am.
Source Point Press Afterparty, drinks and burlesque, STITCH Bar & Lounge,

247 West 37th Street, New YorkRSVP.

Harry Potter Trivia Night, Stone Creek NYC, 140 East 27th Street, New York 5-6.30pm. Free.
#SaveDaredevil Fandom Without Fear Meetup, Social Drink and Food, 570 10th Avenue, New York 6-9pm. Free.
Sonicboombox NYCC 2019 Cosplay Dance Party, Spin, 48 E 23rd St, 8pm-2am, $15 advance, two for $20, $30 cash on door.
JVNA: CATCH ME feat. OWA "NYCC Yacht Cruise Boat Party" –, Statue of Liberty, the Brooklyn Bridge & many more iconic views of NYC, Pier 40 Hornblower Cruises, 353 West St. Boards New York 9pm, departs 10.30pm, returns 2am. 21+
RTNY NYCC After Party 2019, Carragher's, 228 West 39th Street, New York 7:30 PM – 11:30 PM. $10 inc first drink.
Mosaic Cos Play Party, Mist Harlem, Event includes cosplay contest with cash prizes $20 but free before 8pm. MIST Harlem, 46 West 116th Street, New York 8pm-midnight.
Comic Con After-Party with Cosplay A Go-Go, Cutting Room, 44 East 32nd Street New York 9:30pm – 12.30am, $20
NYCC 2019 Comics & Cocktails Party, In Partnership with the Black Gotham Experience, Blerd City Con, & the New York Cosplay Network we're hosting Comics & Cocktails 2019, Death Ave, 315 10th Avenue, New York 8:30 – 11:30 pm, $25 for one, $45 for two, inc two drinks per guest.
Funimation Experience @ Lightbox NYC – A multi-sensory experience with motion and still art for One Piece. Giveaways while supplies last. Lightbox ,248 W. 37th St. New York 8pm-midnight. Free
Geek Girl Brunch – Geek ladies can meet up to talk fandoms, network and just have fun. First attendees get gift bags, all get raffle tickets, tasty treats and custom cocktails. Houndstooth Pub, 520 8th Ave. New York 7pm-midnight. $10.
Johnnie Walker A Song of Ice and A Song of Fire – Game of Thrones blend tasting pop up, Crossing Arts Galley – 559 West 23rd St, New York 1 to 7 pm. 21+ RSVP.
NYCC Official Cosplay After Party: Anime Fest 2019 Cosplayers, anime fans, and gamers can enjoy incredible EDM remixes and themes from their favorite series like Overwatch, Legend of Zelda, and Dragon Ball Z. Cosplay is encouraged, but not required. Hudson Mercantile, 500 West 36th Street, New York $10. 21+. 8pm-midnight,
An Evening in the Pensieve, is a progressive dance party in honor of Mugglenet's 20th anniversary. We will kick off the night with the hottest jams from the year of our founding, progress through the 2000s and 2010s, and close out with the chart-toppers of today. The glamour of the Yule Ball meets the energy of a Quidditch match in a night of cocktails, dancing, and reminiscing. Hard Rock Cafe, 1501 Broadway New York 21+. 8:30pm. $25
Summoners War Community Event. Free food, drinks, merch and raffle giveaways fromHard Rock Cafe – 1501 Broadway, New York 2-7pm. Free
DC Universe Headquarters – DCU subscribers get brunch, talent meetups, screenings, signings and private events. 447 W. 36th Street – third floor, New York
And a happy birthday to…
Atom Freeman, comics PR
Pop Mhan, co-creator of Spyboy.
Graeme McMillan, founder of Fanboy Rampage, comics journalist for THR.
Jeff Nicholson, creator of Ultra Klutz, Through the Habitrails, Father & Son, and Colonia.
Subscribe to our LitG Daily Mailing List