The Dangers of the Necronomicon in The Thing #11, Up for Auction
Another stand-out issue of an iconic Pre-Code Horror series, The Thing #11 features a Lovecraftian tale of the Necronomicon and the Elder Gods
---
Charlton Comics' title The Thing is named after the horror host who was used as a framework to introduce the stories in the series. While this title is best known for containing work by Steve Ditko, The Thing #11 (which does not include any Ditko material) maintains the high standards for Pre-Code Horror that fans remember the series for today. The November-December 1953 cover-dated release features the story "Beyond the Past," a Lovecraftian tale about using the Necronomicon to summon an Elder God. There's a The Thing #11 (Charlton, 1953) Condition: VG up for auction in the 2023 January 29-30 Sunday & Monday Comic Books Select Auction #122305 at Heritage Auctions.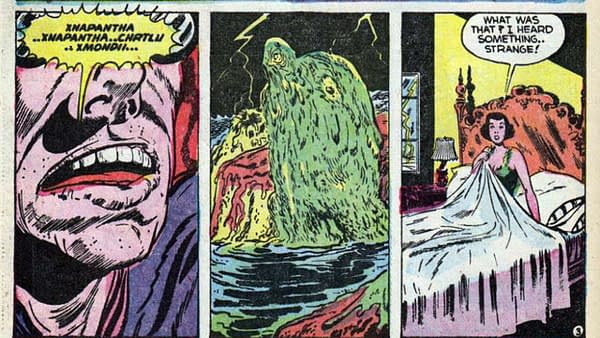 The Lovecraftian story "Beyond the Past" was created by artist Lou Morales, and perhaps writer Carl Memling. While it's uncertain if Memling wrote the "Beyond the Past" story in The Thing #11, he did write four other stories in this issue. Memling wrote an incredible range of material for publishers including Magazine Enterprises, Fawcett, Charlton, Dell, and others, during the 1950s and 1960s. Notably, he was an early-days contributor to Mad-inspired comic satire Cracked Magazine. He also contributed to a wide range of non-comics publications, writing horror for the men's magazine Cavalcade and penning a gentle supernatural tale for the Christian publication The List over the same period. He is best remembered, however, for his later work for Little Golden Books and helping to develop a line of textbooks for elementary school students. Memling died in 1969 at the age of 51.
The Thing #11 also features a horrific cover by artist Bob Forgione, which represents the feature story "Hansel and Gretel," a creepy little saga that takes the Grimm fairytale to the next level. This copy of The Thing #11 has been graded VG by Heritage Auctions. While this copy is unslabbed, there are 37 entries for this issue on the CGC census, and the overall title has been in demand among Pre-Code Horror collectors for decades. Anyone interested in bidding on this comic should check out the FAQ at Heritage Auctions for more information on the bidding process and related matters.

Affiliates of Bleeding Cool buy from and/or consign to Heritage Auctions.