The Dark Dimensions Infect Today's Justice League, Superman/Batman, Flash Forward and Hell Arisen (Spoilers)
The Dark Multiverse is infecting so many titles out today… Justice League #38 is no longer the Justice/Doom War finale. Which is a little tricky as one scene in DC's Year Of The Villain: Hell Arisen #1…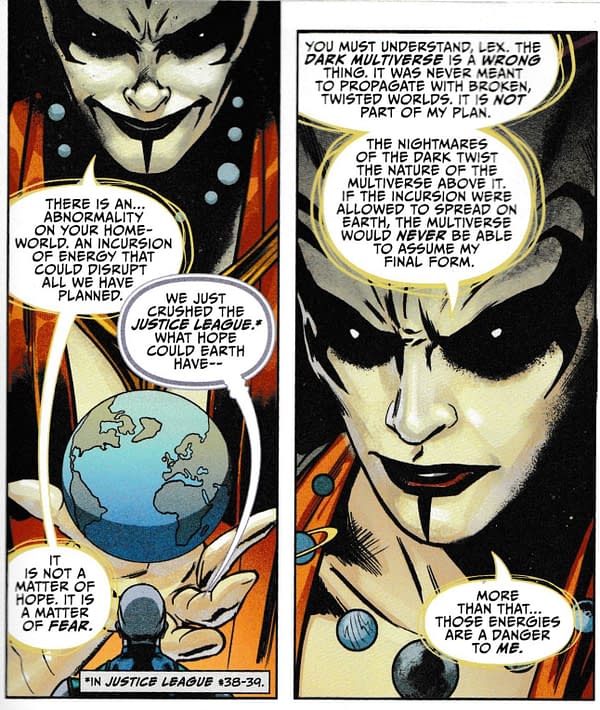 …seems to rely on having read both Justice League #38 and January's #39. And she seems to accept Luthor believing he crushed the League… where in Justice League #38, that doesn't appear to be the case…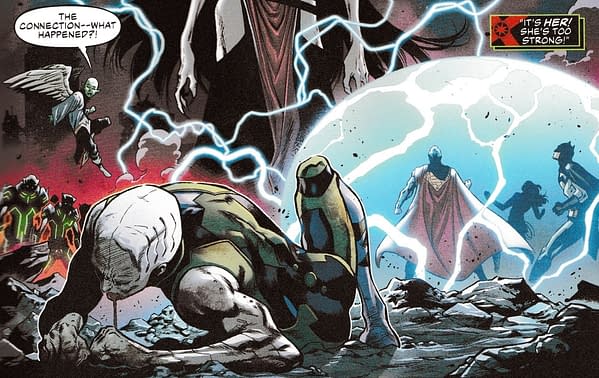 But it is the Dark Multiverse that is concerning Perpetua, getting in the way of her own plans.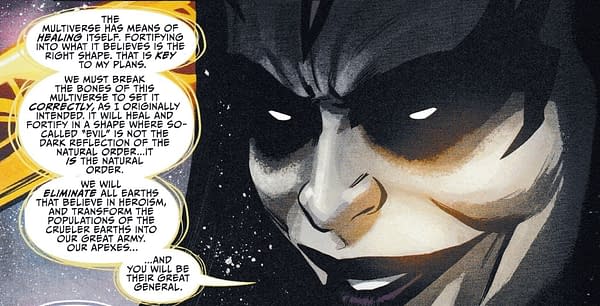 Even as it infects Commissioner Gordon in his Infected one-shot.
And in Superman/Batman #5 gives Superman the worst time, looking at what The Batman Who Laughs did in his own destroyed universe.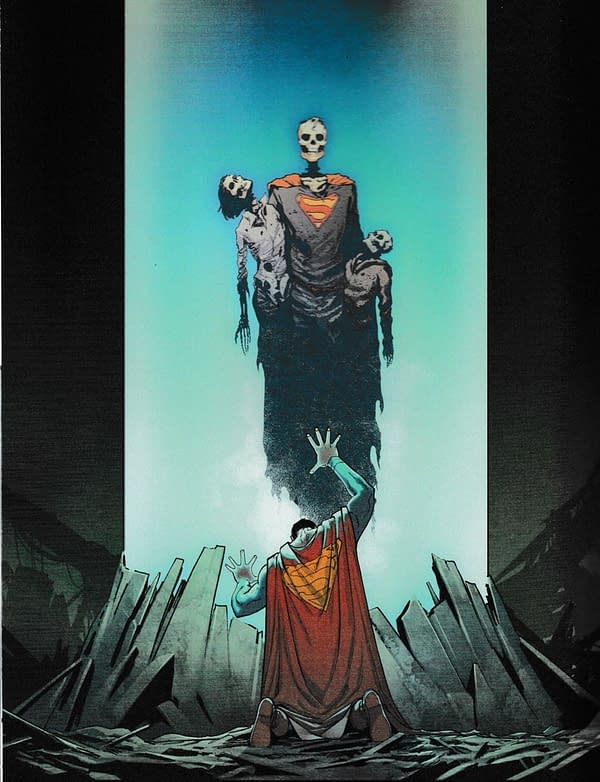 With Batman and Superman giving voice to thoughts…
…that have really come back to bite them. Especially when in Flash Forward #4, we get to see how it all looks from the outside.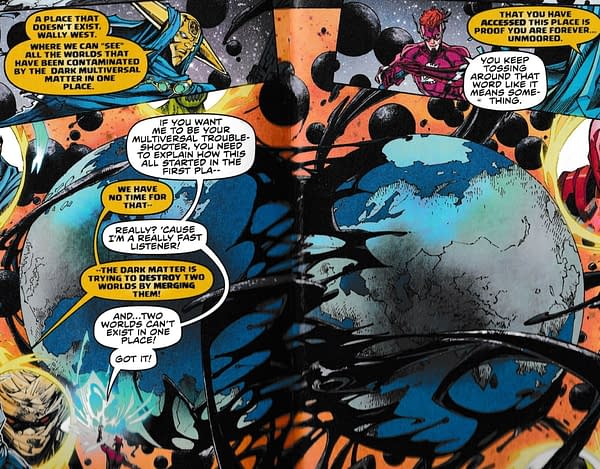 JUSTICE LEAGUE #38
(W) Scott Snyder, James TynionIV (A) Jorge Jimenez (CA) Francis Manapul
"Justice/Doom War" finale! Lex Luthor is triumphant. Perpetua is back to full power and ready to take on the Multiverse, to bend and twist the whole of existence to suit Doom. Has the Justice League finally come up against a foe they can't defeat? Perpetua is the mother of their universe after all, the original creator. In war, there can only be one winner, and it just may be Doom's turn to collect the spoils. This issue leads directly into Year of the Villain: Hell Arisen #1!In Shops: Dec 18, 2019
SRP: $3.99

FLASH FORWARD #4 (OF 6)
(W) Scott Lobdell (A) Brett Booth, Norm Rapmund (CA) Evan Shaner
On Wally West's journey into the depths of the Multiverse, he's run across vampires and hellhounds and his own ghosts from the past…but nothing has prepared him for this next stop on his journey. In this issue, the mysterious world that is causing the Dark Multiverse to bleed into our own will be revealed, and you will not believe what connection it has to the Fastest Man Alive…In Shops: Dec 18, 2019
SRP: $3.99

YEAR OF THE VILLAIN HELL ARISEN #1 (OF 4)
(W) James TynionIV (A/CA) Steve Epting
DC's "Year of the Villain" begins its sinister conclusion! Lex Luthor has brought Perpetua back from her cosmic grave and restored her power! Now the Multiverse lives in fear that she might wipe out all existence. The only thing that could stop her are the forces of the Dark Multiverse- which means it's Luthor's mission to defeat the Batman Who Laughs! But if Batman and Superman couldn't stop him, what chance does Luthor stand? Spinning out of the end of the "Justice/ Doom War" in Justice League #38 and the conclusion of the epic "Infected" arc from Batman/Superman #5, DC's two top villains face off in a battle royal-and the fate of all reality hangs in the balance!In Shops: Dec 18, 2019
SRP: $4.99

BATMAN SUPERMAN #5
(W) Joshua Williamson (A/CA) David Marquez
The Batman Who Laughs has unleashed his Secret Six! Now these infected heroes threaten to spread their dark infection across our world, and the only thing that might stop them is the combined might of the Dark Knight and the Man of Steel. If they fail, the planet will become the seed that grows a new Dark Multiverse-heroes will fall, villains will rise, and a new era dawns for the DCU in this explosive first arc finale that leads directly into Year of the Villain: Hell Arisen #1!In Shops: Dec 18, 2019
SRP: $3.99

INFECTED THE COMMISSIONER #1
(W) Paul Jenkins (A) Jack Herbert (CA) Viktor Bogdanovic
Commissioner Gordon has dedicated his life to the safety of the citizens of Gotham City. Sure, he doesn't wear a cape, but this hero has chosen a thankless job, because it's the right thing to do. But what happens when Jim Gordon's sense of duty and honor is stripped away? What happens when Gotham City's greatest public pillar of justice finally says "enough"? Spinning out of the events of The Batman Who Laughs and Batman/Superman comes the story of a man who has finally given in to his worst impulses-and he might just take the entire city into the darkness with him…In Shops: Dec 18, 2019
SRP: $3.99
Justice League #38, The Infected: The Commissioner, Hell Arisen #1, Flash Forward #4 and Batman/Superman #5 are all published today from DC Comics. I bought mine from Piranha Comics in Kingston-Upon-Thames. Piranha Comics is a small south London comic store chain with a small south-east store in Kingston-Upon Thames's market centre, which runs Magic The Gathering nights on Fridays, and a larger south-west store in Bromley, which also runs Magic nights and has an extensive back issue collection and online store. If you are in the neighbourhood, check them out.