The Doctor is Still Winging it in Next Week's Doctor Who #6
As Doctor Who fans anxiously await the next season, which won't be here until next year, at least we've still got Titan's Doctor Who comic to tide us over. And next week sees the release of Doctor Who #6, in the middle of the book's second storyline. Yeah, that's the thing — time moves much more slowly in comics than it does on television, so by the time the next season comes out, we'll really only have gotten something like four episodes worth of story out of the comics. But look, we gotta take what we can get, or we'll be forced to listen to audio dramas like some kind of old-timey 20th-century folk (or British people. They still have radio dramas over there).
In any case, the previous issue of Doctor Who saw the doctor bitten by purple people eaters on Earth in the past, and this preview picks up where that one left off, with the Doctor and her companions doing what they do best: running… that it, until they have nowhere left to run…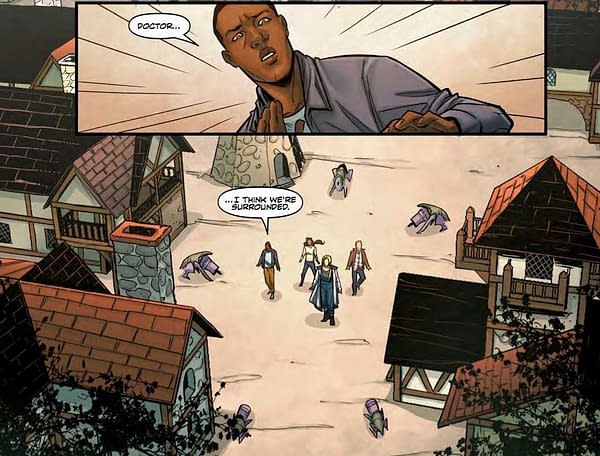 Thankfully, the Doctor will think of something… eventually…
Kind of rude to be butthurt about the Doctor's words when they're trying to drink the blood of all humanity, don't you think?
Doctor Who #6 hits stores on Wednesday.
Doctor Who: The Thirteenth Doctor #6
(W) Jody Houser (A) Rachael Stott, Arianna Florean (A/CA) Giorgia Sposito
The continuing comic adventures of the Thirteenth Doctor! Eisner Award nominee Jody Houser (Mother Panic, Stranger Things, Star Wars, Faith, Spider-Man: Renew Your Vows) and art team Rachael Stott, Giorgia Sposito, and Arianna Florean send fans old and new on fresh adventures through time and space!
In Shops: Apr 10, 2019
SRP: $3.99