Old Man Quill meanders further along to its conclusion in a limited series that totally has a point and isn't just cashing in on the "Old Person ____" superhero craze. And in this preview of Old Man Quill #7, we find the old Guardians of the Galaxy in the midwest, where they've located the ruins of the Baxter Building, on top of the corpse of a giant Loki. Inside, somewhere in the wreckage, is the Ultimate Nullifier, one of Marvel's oldest plot devices, required to stop Galactus from consuming the Wastelands.
But that's not all they find waiting for them. They also run into a familiar character, if one unexpected to find in the middle of the desert… the Fantastic Four's mailman, Willie Lumpkin!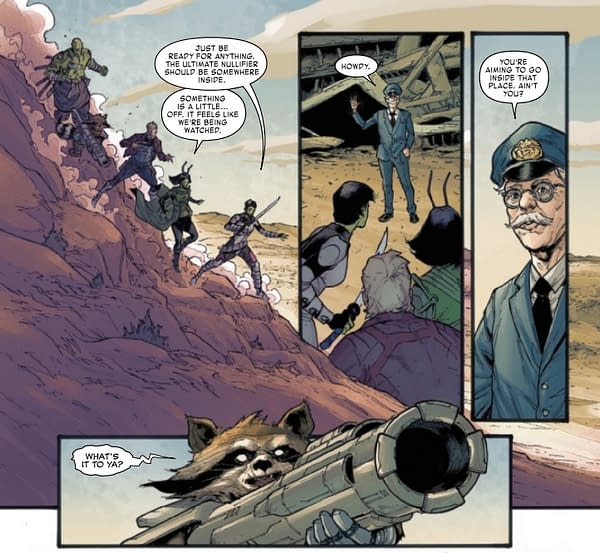 It's heartwarming to know that, despite all of the destruction in the Wastelands, at least some vestige of wholesome civilization survives in the form of Marvel's merriest mail carrier. Well, things are not quite as they seem, as it looks like Willie is a hologram, the real Lumpkin probably killed in some horrific fashion in the past of this post-apocalyptic future.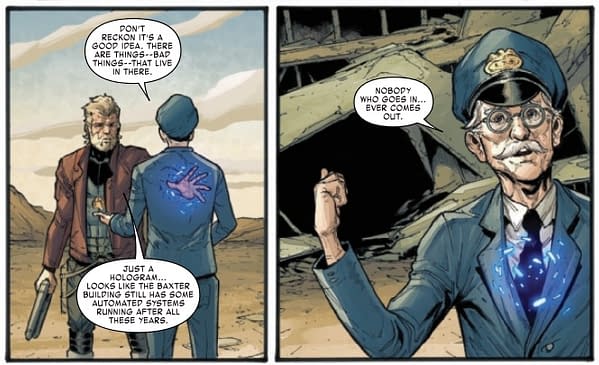 Well, it was a nice feeling while it lasted.
Old Man Quill #7 hits stores on Wednesday.
OLD MAN QUILL #7 (OF 12)
MAY190868
(W) Sacks, Ethan (A) Robert Gill (CA) John Tyler Christopher
THE SHOCKING SECRET BEHIND QUILL'S QUEST REVEALED! QUILL has made it to the BAXTER BUILDING… but with the hidden weapon in reach, a shocking secret will turn the quest on its head! This is the issue everyone will be talking about – the biggest surprise in the WASTELANDS universe since WOLVERINE's tragic encounter in OLD MAN LOGAN. DO NOT MISS IT!
Parental Advisory
In Shops: Jul 03, 2019
SRP: $3.99
Enjoyed this article? Share it!