This is Faceache.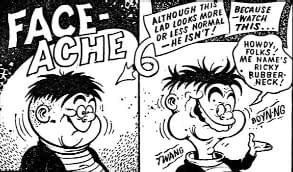 A comic book character created by Ken Reid, he first appeared in the UK weekly kids comic Jet. A boy who could change the appearance of his face, when Jet was cancelled, the strip moved to fellow weekly kids comic, Buster. Reid drew the strip until his death in 1987.
A version of the character appeared in the DC/Wildstorm comic plotted by Alan Moore, which used IPC Comics characters, as the company had been acquired by Warner Bros. It was Moore's final work-for-hire comic.
Marvel have released a preview of next week's New Avengers #7 by Al Ewing. Which has its own shape shifting character. "Un-scrunge"? Yup, it's the survived Ultimate Universe version of Reed Richards using his malleable powers. But "un-scrunge"? Well "scrunge" is the Faceache sound effect…. …as is un-scrunge. There are very few people who will both remember Faceache and will also be picking up next week's New Avengers #7. I just thought I'd even the odds a little.
Read more about Faceache here and here..
Enjoyed this article? Share it!