It's always a treat to pick up a new issue of The League Of Extraordinary Gentlemen, you never know what's going to pop out. And this week, it was the half-way-through-the-final-series moment to do so
At a recent symposium of comic books in London, Dr. Maggie Gray, author of Alan Moore, Out from the Underground: Cartooning, Performance, and Dissent gave a presentation on the earliest published works of Moore, in fanzines and local magazines in Northampton, part of the arts movement of the sixties and seventies. What was prevalent there was mass experimentation with the form – whether essays, illustrations, adverts or cartoon strips. Pages being cut out, or having bits stuck to them, referring to their very physicality, stories that simply couldn't wait to get to the next page, and constantly breaking the form.
One thing it gave me was a stark realisation that much of Alan Moore's battles with the comic industry was never about ownership, more what came with ownership, control.
I am reminded of the battle with DC Comics publisherPaul Levitz over The Black Dossier, with Scott Dunbier as collateral damage. It was over paper stock, whether a vinyl record could be included and the various different fanzines, cards or leaflets that could be slipped in it. There's a short reference in the Dossier about how some items had been lost. Knockabout and Gosh Comics were able to restore the record in later additions.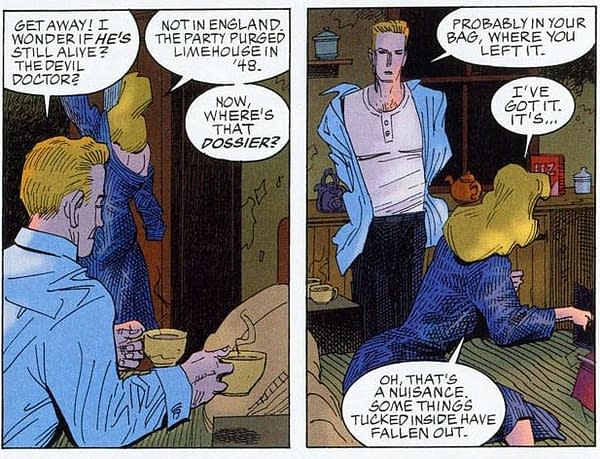 Moore's long essays of scripts, tying down panels and borders via strict instruction, making front pages be the first panels of the comic, being specific about fonts, and advertisements and how the 3D scenes would be achieved are all symptoms of this. He has the idea, he knows how it should be executed and does whatever he has to, to make that happen. Ownership just makes that journey a little easier.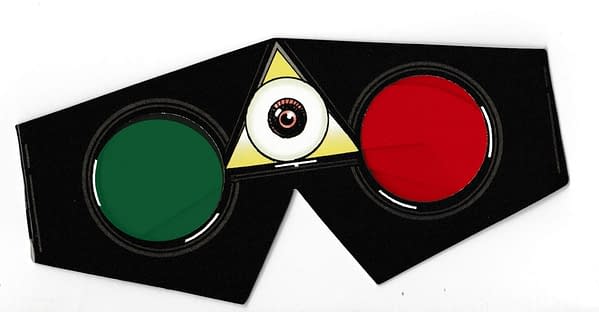 So when the 3D glasses unexpectedly fell out of Tempest Book Three, it should have been expected. But it wasn't.
The last time we needed them was in Black Dossier, a trip to The Blazing World, the idealised dimension created in 1666 by Margaret Cavendish, the Duchess of Newcastle. Ruled over by Prospero, creator of the original League Of Extraordinary Gentlemen for Queen Gloriana, it's a magical, wonderful celebration of the bizarre and an escape from those who have no home in the 'real' world. And in the last issue, James Bond, rejuvenated and ascended to the role of M, nuked it in some attempt to impose order and control of the world.
But The Blazing World survives and is striking back.
But first Moore gives a journey and his switching of presentation styles has never been more on display. We begin with Emma Night at her boarding of school of female assassins in training, told in the manner of a nineteen-forties British girls comic book, set during the League timeline when Big Brother's government ruled Britain.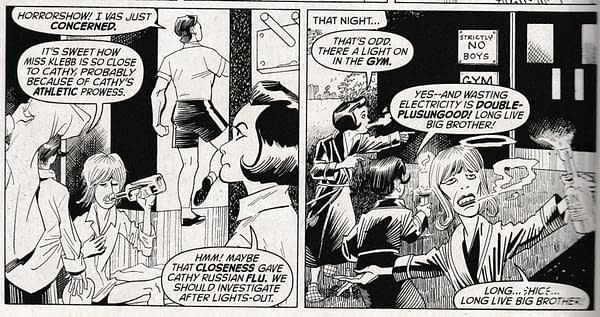 Jumping to newspaper strips to tell their tales in years gone by…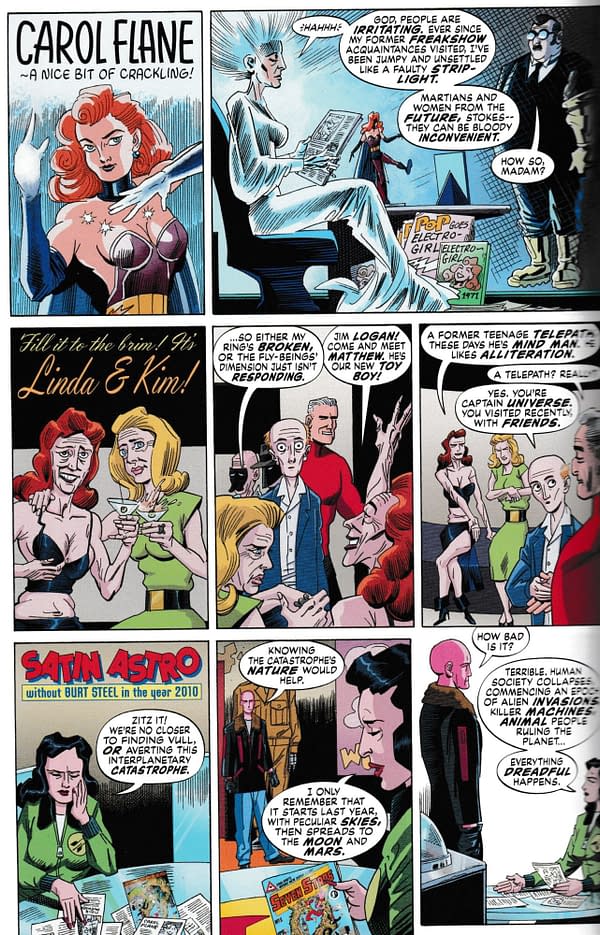 While using fumetti, photo strips to reveal the new Nemo and the Nautilus that he commands…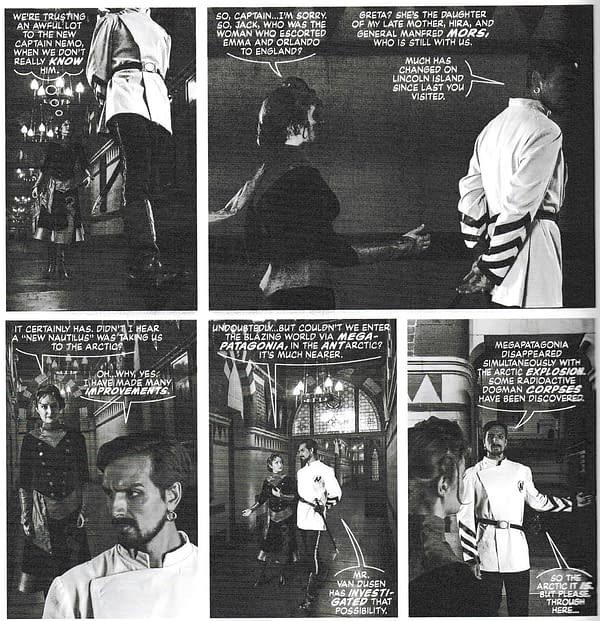 Before heading into the Toyland where all the rejected creations of creations go… whether you are a toy or one of Frankenstein's many monsters. And you don't need to get any or all of the references, the general shape should give you all you need to go by, even in Toyland. You don't need to identify all the Frankensteins to get the joke.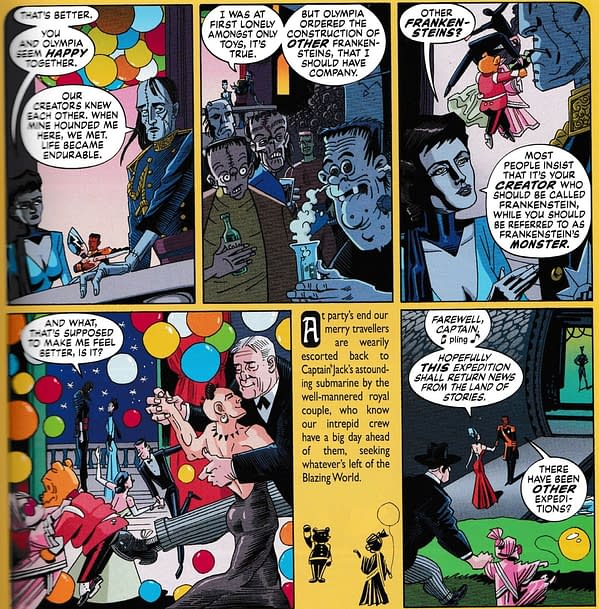 And that's a great Frankenstein response. But last week's Free Comic Book Day solicitation from Rebellion may help just a little…
But all these jumps, these bits and pieces dropping out of the page, the changing of styles and formats, even moving into 3D… it's all because of the control that Alan Moore and Kevin O'Neill have.
You'll miss it when it's gone.
LOEG TEMPEST #3 CVR A ONEILL
(W) Alan Moore (A/CA) Kevin O'Neill
Like something from an unbelievable parallel world where there were once comic publications exclusively for girls, this third jaw-dropping installment of Moore and O'Neill's astonishing swan-song takes us from a boarding school in Big Brother-dominated England to a civic ball with a Frankenstein monster in Toyland, pausing for some 1960s pop-art espionage and a breath-taking musical interlude along the way. Concluding with a demonstration of an unusual nuclear defense system (for which the reader will require 4-D spectacles thoughtfully provided) and containing Seven Stars classic "Showdown in Space," you dare not miss issue three of The League of Extraordinary Gentlemen, Vol. IV: The Tempest.

Retailers: See your order form for incentive information.In Shops: Dec 19, 2018
SRP: $4.99
Enjoyed this article? Share it!