AfterShock Comics is launching three titles in February 2020, The Man Who Effed Up Time by Chew's John Layman and Karl Mostert, Godkillers by Mark Sable and Maan House, and Undone By Blood by Lonnie Nadler, Zac Thompson and Sami Kivela.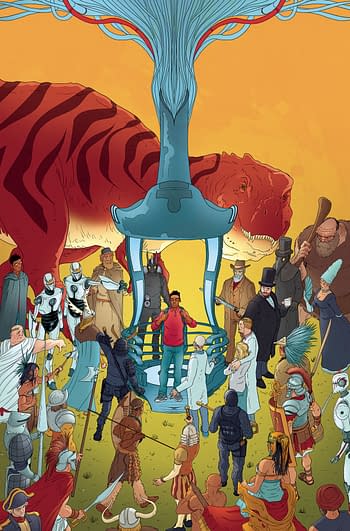 MAN WHO EFFED UP TIME #1
DEC191335
(W) John Layman (A/CA) Karl Mostert
Sean Bennett is just your everyday, ordinary lab worker in a high-tech lab with a proto-type time machine. And, yeah, he's got the same temptations any of us would have about going back in time, just a bit, to correct mistakes of the past and right old wrongs. So, when he meets a version of himself from the future who encourages him to do just that, Sean takes the temporal plunge. Only…can you guess what happens next? Did you read the book title? Yup. All of TIME is f#%&ed up now, and it's up to Sean to cor-rect it-or else!
Presenting a time-twisted sci-fi action-comedy, a butterfly effect noir, by multiple Eis-ner-winning writer John Layman (Chew, ELEANOR & THE EGRET) and talented new-comer Karl Mostert. Order it today…before time runs out!
In Shops: Feb 05, 2020
Final Orders Due: Jan 13, 2020
SRP: $4.99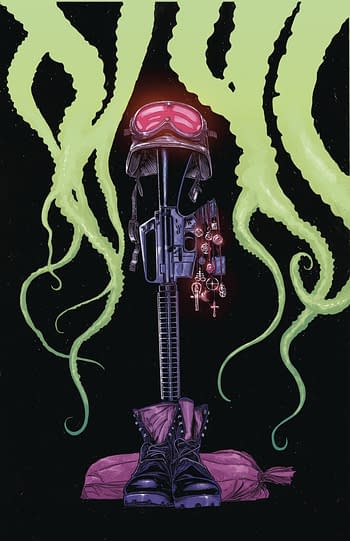 GODKILLERS #1
DEC191337
(W) Mark Sable (A) Maan House (CA) Jeremy Haun
Abdul Alhazred is an Arab-American folklore professor-turned-soldier whose fear of death stems from uncertainty about the existence of an afterlife. Then he joins THE GODKILLERS, a special forces unit tasked with ?ghting insurgents who use mythological creatures as weapons of mass destruction. Now that he knows that the supernatural exists, he'll have to decide which is worse – death or the nightmarish monsters he thought were mere legends. From writer Mark Sable (Grounded, Fearless, Supergirl) and newcomer artist Maan House, THE GODKILLERS is a monster story for the modern age.
In Shops: Feb 19, 2020
Final Orders Due: Jan 27, 2020
SRP: $4.99
UNDONE BY BLOOD #1
DEC191339
(W) Lonnie Nadler, Zac Thompson (A/CA) Sami Kivela
In the early 1970s, Ethel Grady Lane returns to her hometown of Sweetheart, Arizona with one thing on her mind: killing the man who murdered her family. But first, she'll have to find him. As Ethel navigates the eccentric town and its inhabitants, she learns that the quaint veneer hides a brewing darkness. She has no choice but to descend into a ring of depravity and violence, with her only ally an Old West novel that follows famed gunslinger Solomon Eaton. As both stories unfold simultaneously, a love of fiction informs choices in reality, for better or worse. From the minds of Lonnie Nadler and Zac Thompson (The Dregs, X-Men, HER INFERNAL DESCENT) and artist Sami Kivela (Abbot, Tommy Gun Wizards) comes a neo-western that depicts the hard truth of seeking vengeance in the real world.
In Shops: Feb 12, 2020
Final Orders Due: Jan 20, 2020
SRP: $4.99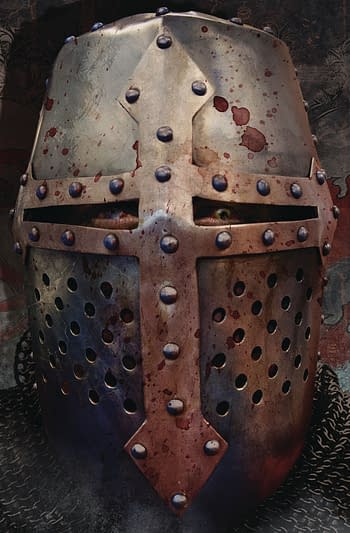 PESTILENCE COMPLETE SERIES HC GN
DEC191341
(W) Tieri, Frank (A) Oleg Okunev (CA) Tim Bradstreet
The Holy Land, the year of our lord 1347. The men of Fiat Lux-the assassin's arm of the Church-have been dispatched to deal with a situation involving a renegade crusader and his army. Little do they realize a far more important mission soon awaits them. It is a mission that will have them traversing throughout medieval Eu-rope, all in an attempt to stop a deadly plague that will eventually wipe out over sixty percent of that continent's population. But is it really a plague? What if history was a lie, and if the truth was something far more sinister…? Written by the master of violence, gore, and mayhem, Frank Tieri (Harley Quinn, Wolverine, Deadpool), with spectacular art from illustrator, Oleg Okunev, and covers by Eisner Award-nominated artist Tim Bradstreet (The Punisher, Hellblazer), this striking hardcover contains all issues of PESTILENCE its sister series PESTILENCE: A STORY OF SATAN, plus the short story that appeared in the SHOCK VOLUME 2 anthology!
In Shops: Feb 05, 2020
Final Orders Due: Jan 13, 2020
SRP: $39.99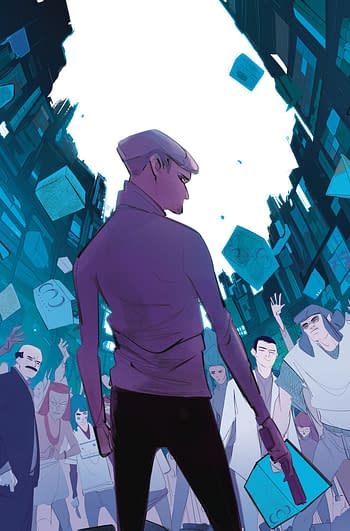 SHOPLIFTERS WILL BE LIQUIDATED #5
DEC191342
(W) Patrick Kindlon (A/CA) Stefano Simeone
Bringing it all home in this wild, violent, and fun ?nal issue! Caucasus goons and underground radicals are on a collision course, with Nussbaum as the X on all their maps! Pick your ?ghter: hyper-capitalists, competing militia groups, or lone gunmen with personal grudges! It's a game where winning isn't possible! From Patrick Kindlon (PATIENCE! CONVICTION! REVENGE!) and Stefano Simeone (CLANKILLERS) comes SHOPLIFTERS WILL BE LIQUIDATED-a satirical take on consumer society.
In Shops: Feb 26, 2020
Final Orders Due: Feb 03, 2020
SRP: $3.99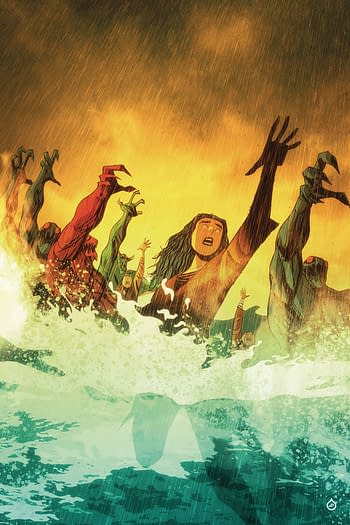 DARK ARK AFTER FLOOD #5
DEC191343
(W) Cullen Bunn (A/CA) Juan Doe
A loathsome traitor from the past seeks to turn the denizens of the Dark Ark against Khalee and her family. But this fiend brings an even more terrifying promise-that the floodwaters will rise once more! From writer Cullen Bunn (UNHOLY GRAIL, BROTHERS DRACUL, WITCH HAMMER, Deadpool, Venom) and artist Juan Doe (BAD RECEPTION, AMERICAN MONSTER, WORLD READER) comes an even more sinister tale of biblical proportions!
In Shops: Feb 26, 2020
Final Orders Due: Feb 03, 2020
SRP: $3.99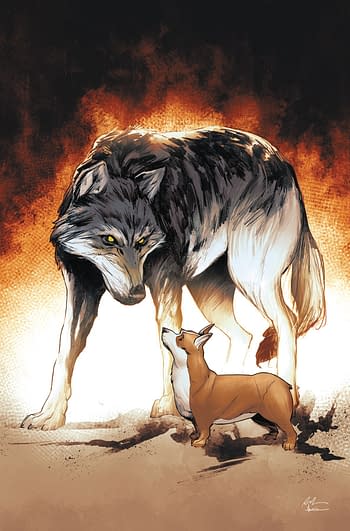 ANIMOSITY TP VOL 05
DEC191344
(W) Marguerite Bennett (A) Elton Thomasi (CA) Rafael De Latorre
One day, the Animals woke up.
They started thinking.
They started talking.
They started taking revenge.
The Animals rest and consider their path. Where have they come from? Where can they go? When they were taken from the wild, how did their fates change humanity forever. What will they become?
From the writer of INSEXTS, A-Force, and Bombshells and the artist of SUPERZERO, comes the fifth col-lected volume chronicling a new kind of road trip, a new kind of black comedy, and a new kind of com-ing-of-age. Contains issues 19-22, plus the 2019 Free Comic Book Day issue! From creator/writer Marguerite Bennett (INSEXTS, DC Comics Bombshells, Batwoman) with artwork by Elton Thomasi & Rafael De Latorre.
In Shops: Feb 05, 2020
Final Orders Due: Jan 13, 2020
SRP: $16.99
Enjoyed this article? Share it!