Bleeding Cool has been watching with fascination the emergence of a new market in direct-distributed comics with mainstream appeal. Our Love Is Real and Sacrifice from Sam Humphries, Red Ten and Scam from ComixTribe, with strong salesmanship, promotion and developing a fanbase.
ComicTribe has now doubled the amount of stores in the US and Canada carrying their books, from twenty-five to fifty. Now that's out of around two thousand stores, but it's concentrating on the shops most likely to sell this kind of material – and sell it well. Thousands of copies.
With The Red Ten #2 and Scam #1 second print coming out next week, they quote Ernie Pelletier of Friendly Neighborhood Comics as saying "They are selling better than mid-tier Marvel", but on a fraction of the publishing cost and overhead.
It's been argued that Diamond Comic Distributors are very good at distrubuting the mainstream superhero comic over vast distances for a similar retail experience worldwide, but other titles can slip through the net. This looks like the development of a parallel distribution network targetted at the more responsive aspects of the industry. And rather than waiting for someone else to distrubute the books, the creators and publishers are doing it themselves.
Now if they could only find a way to do the same thing Diamond does for the UK…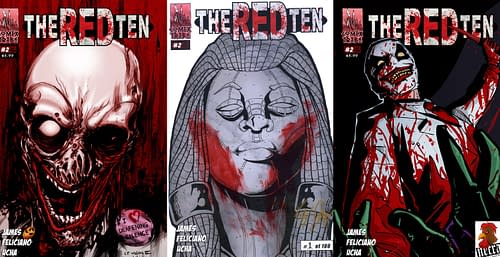 Enjoyed this article? Share it!