The Parties Of New York Comic Con
This list is a work in progress… feel free to add your own event details in the comments and I'll update.
Wednesday, October 12th
4 West 33rd St, 6.30pm
Jim Hanley's Universe presents a huge signing event featuring a variety of creators from a selection of innovative titles, Wednesday, October 12th – the day before NYCC begins! Signing copies of their latest books will be Ben McCool (Pigs, Choker), Nathan Edmondson (Who is Jake Ellis?), Chris & Shane Houghton (Reed Gunther), Edwin Huang (Skullkickers), Richard Starkings (Elephantmen), Charles Soule (Twenty Seven), Jeff Cahn (Red Spike), Owen Wiseman (Samurai's Blood), David Baxter (Marksmen) and more! Even cooler, the first 50 people to buy a comic from any of the attending creators will receive a FREE copy of the September 2011 edition of HEAVY METAL magazine. We'll have drinks and snacks available on hand and plan to party down with our diverse lineup of personalities.
Thursday, October 13th
7pm, IGN Theater
New York Comic Con Show Manager Lance Fensterman is prepping for the party on Thursday night. That would be the slammin' kick-off concert in the IGN Theater – Presented by Sprint on THURSDAY at 7:30 PM. We already announced headliner DJ Z-Trip and now to join him is Tom Morello, Grammy Award-winning American guitarist best known for his tenure with the bands Rage Against the Machine, Audioslave, his acoustic solo act The Nightwatchman, and his newest group, Street Sweeper Social Club.
The concert is free to all VIPs and 4-Day ticket holders
Jim Hanley's NYCC Preview Night Signing
4 West 33rd St, 8pm
Featuring some of the hottest creators behind DC's New 52! Joining us are Joshua Fialkov (I, Vampire and the red-hot new Image Book Last of the Greats), Eric Wallace (Mr. Terrific), Sterling Gates (Hawk and Dove), Kyle Higgins (Nightwing) and more!
The DC Vertigo Party
Somewhere
Friday, October 14th

Tobacco Road, 355 W. 41st street at the corner of 9th Avenue. (Btw Bleecker and 3rd St.) 9pm. Doors open at 7:30 $12 Advance, $15 Door.
Rock Comic Con features an array of hard rocking and musically adept nerd bands including Paul and Storm, known for their sharp satirical writing and multiple musical styles, Paul and Storm's music can be found on radio (including the "Bob and Tom" syndicated radio show and Sirius/XM's "Dr. Demento Show"), television (Comedy Central, "The Drew Carey Show"), and throughout the internet (The Guild, Homestar Runner), Kirby Krackle, the Seattle based band best known for their comic book themed material and referred to as "geek rock perfection" by Wired magazine. They are joined by the hilarious H2Awesome! whose repertoire includes catchy and well-crafted tunes, including an upbeat punk song ("Why So Serious?) which sets to music Heath Ledger's memorable Dark Knight dialogue, word for word. The event will be hosted by Craptain America and Crappy Flash and will feature prizes, giveaways and a Cosplay Screen-test Contest. Also in attendance will be the hosts of the award winning podcasts, Comic Geek Speak, Geek Girls Network and Indie Spinner Rack. Rock Comic Con will also feature a slew of professional cartoonists from DC Comics, Marvel Comics and indie publishers who will be painting live art throughout the night. The art will be auctioned off and proceeds will go to benefit the Comic Book Legal Defense Fund,a non-profit organization dedicated to the protection of the First Amendment rights of the comics art form and its community of retailers, creators,publishers, librarians, and readers.
Idle Hands Bar – 25 Avenue B (between 2nd St. and 3rd St.) 9pm-close
This year we've teamed up with our friends at Shirts for a Cure to throw an awesome party and help in the fight against breast cancer. We'll be welcoming comic book superstars Kieron Gillen (Uncanny X-Men, Journey Into Mystery, Phonogram) and Jamie McKelvie (X-Men: Season One, Phonogram) to step up to the turntables to DJ, as well as our very own Ron Richards (DJ Ronxo) will be DJing a set too. Proceeds from drinks will go charity to help fight breast cancer! This has got the makings of yet another epic iFanboy party that you don't want to miss!
Tenth Rail, 413 10th Avenue. 21 +, no cover
S.O.S.Gamers is proud to present its first NYCC after hours event: The Hero Party! In celebration of future initiatives, S.O.S.Gamers are going to show you how they gets down and has fun. So whether you want to come kick back and relax over a cool cocktail, get your game on with video game entertainment, or dance to the tunes provided by live DJs, mark your calendar for this one because it isn't an event to be missed!
*Kinect station with a variety of games — get ready to move! *Raffle contest — get lucky! *Costume contest — we encourage ALL cosplayers to join! *Super hero trivia contest — Study your comics! *TriForce GameMaster (Empire Arcadia) *Jordan White (Streetpass NYC) *Video game/cosplay celebrities, AND MORE!
DC Comics Party
Somewhere near the Empire State Building I think. Invite only.
The Devil Is Due In Dreary release party.
McGee's Pub, 240 West 55th street between 8th and Broadway, 2nd Floor, 6-9 PM
From Ardden Entertainment, party and signings with David Parkin and Alex Sanchez.
Saturday, October 15th
The Marvel Party.
Somewhere. Exclusive creators allowed in first.
Blaggards Pub 8 W. 38th Street (btwn 5th & 6th) 8pm-3am
A celebration of the innovators and creators in the Independent Comics market as sponsored by the actual inventors and investors of 21st century storytelling with the multi-talented musicians and performers Billy Ryan and Brendan Ryan with their outstanding band. Really, it makes us feels like we're the Cannes Film Festival for comics!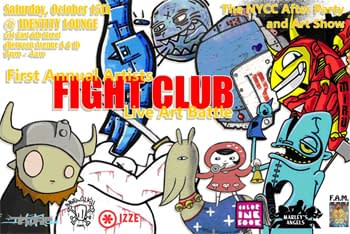 Artists Fight Club: Live Art Battle
Identity Lounge, 511 East 6th St. (between Ave. A and B). $5 at the door 8pm
Marleys Angels and F.A.M. invite you to the first annual Artists Fight Club. Sponsored by ColorInkBook, IZZE, Robots Will Kill, peelmagazine.com, and Methods NYC, it features original art from Mike Die, Jos-L, Chris RWK, Intro, UWP, Ticky, Choice Royce, Downer, Emi Boz, Burn 353, Tomorrow, Zam, Melodreama, Billi Kid, Josh Taylor, Aya Kakeda, Bishop 203, Joe Iurato, See One, Gus Fink, El Toro, Aaron Kraten, Steve Talkowski, Dint Wooer Krsna, Crystal Shephard, Nose Go, Stedroy Clegnorne, and Jason McNamara, plus a live art battle with Mike Die, Jos-L, Chris RWK, El Toro, Under Water Pirate, Ticky, Emi boz, Gus Fink, Zam Art, Josh Taylor, See One, Dint Wooer Krsna, and Jon Horowitz. MCs: Reverend Milky and JP. DJs: Carlos Tera (Sonic Groove), DJ What (Marleys Angels/F.A.M.), Mark VII (Marleys Angels), and Dee Jay Kava (Sound Giants)
CYBERTRON vs STIMULATE: UV/Blacklight Afterparty w/BILE!
The Gramercy Theatre (127 E.23rd St.) 9pm – 4am Visit VF Booth 955, $10 admission for 21+ $15 for 21 and under

Live Performances by: BILE Featuring R.H. Bear, DaveSussman, John DeSalvo (KMFDM, Chemlab) and KRZTOFF (Pigface) for a rare glimpse into their past with a special UV black light performance, playing material spanning their tumultuous 18 year career. Nekronet, an innovative hybrid of aggressive electro/industrial and hard rock. This Cybertron is a release party for their new album "Gilded Illusion". Bloody Horror Scabaret. Spinning On 4 Decks, Jet vs. Ian Fford, Audiophile vs. D:JR, Dyztort vs. 5witch.Hitter. Goth / 80s / Synthpop, Cyn [Salvation], Tempar [Underworld], Ash [Qxts]. Video Game Stations by SOS Gamers, Go-Go Dancers, Sound & Lights by Audiolust, Free Giveaways from Vampirefreaks. Dress: White, UV Reflective & Neon Colors, UV Body Paint, Anime, Comicbook characters

KIRBY ENTHUSIASM – A Tribute to the King of Comics
Maxwell's Hoboken, NJ, 7pm, $10
*Musical guests featuring three bands: WEEP featuring Doc Hammer of The Venture Bros! WJ and The Sweet Sacrifice featuring the Invincible Billy Alpha and, created especially for this show, The Boom Tubes a space-rock supergroup featuring members of The Neutron Drivers and Starbolt 9!
The Art Opening is at 5pm, with doors for the music show at 6:30. Tickets for the rock show are $10, available now at Ticketfly.com
<
The Ziegfeld Theatre, 141 West 54th Street.
The NYCC crew will be in full Quidditch gear in celebration of the last installment of the Harry Potter series… Harry Potter and the Deathly Hallows: Part II. We're working with our friends at the Ziegfeld Theatre to share our specific brand of nerdity at two screenings opening weekend. Get ready to join the NYCC crew in showing off your Hogwarts house pride for Gryffindor, Hufflepuff, Ravenclaw or Slytherin on Saturday, July 16 at 6:00 PM (show starts at 7:00 PM) and Sunday, July 17 at 11:00 AM (show starts at 12:00 PM).
We'll be presenting Potter trivia as well as a chance to win some NYCC swag before each show begins! We've got more in the works (moonshine butter beer) that we'll be revealing closer to the event, but if you're going to see Harry Potter in NYC, reserve your tickets opening weekend at the Ziegfeld!
Living Dead Doll Anniversary Party
Attendees of the Living Dead Doll Anniversary Party will have an exclusive meet and greet with the creators of the Living Dead Dolls (Ed, Damien, and Mez) and receive a gift bag with exclusive merchandise. Taking place in one of SoHo's most exclusive cigarette lounges, this soirée of the damned is open to only 130 guests. You must be 21 years of age or older and have a valid ID to enter the party.
The MTV Geek Party
Details as yet unknown.
Sunday, October 16th
Dances of Vice: Tokyo Blade Runner
9 PM at The Gallery at Le Poisson Rouge 158 Bleecker St, NYC, $15 In Advance, $20 Day of Show
The creation of Shien Lee, Dances of Vice is a New York nightlife sensation which attracts a decadent menagerie of dandies, aesthetes, and dreamers who gather in shared enthusiasm for the music, fashion, culture, and beauty of times forgotten. Dances of Vice will be presenting a special closing night party on Sunday, October 16th in honor of New York Comic Con. Themed "Tokyo Blade Runner", Dances of Vice invites all retro-futurists, cyberpunks, renegade replicants, and starlight criminals to a night of glittering neo-Tokyo glamour at their tribute to the 1983 cult classic Blade Runner, featuring a cavalcade of live bands, dancers, fashion shows, and DJs. The party's a whole new world where utopia and dystopia, man and machine, and East and West and become one. Blush Response [10:30 PM], Eva & Her Virgins [11:30 PM], Renee Masoomian Latex Fashion Show [12:00 AM] Nikki le Villain, Ruby Valentine, Psyche Corp, Johanna Constantine, DJ Xris SMack [Stimulate], DJ Jet VF [Vampire Freaks], DJ PUREVILE [Disko Nouveaux], DJ Joey Blush [Blush Response], DJ Cornelius Churchill [Black Hole Society] Dress: Neon Geisha, Renegade Replicant, Mechanical Doll, Retro Glamour, Femmebot Fatale, Electroglam, Gothic Renaissance, New Romantic, Blitz Kid, Cyberpunk, Electric Witch, Blade Runner Realness…