Support The Pride – The LGBTQLA (UPDATE)
Bleeding Cool writer Joseph Glass writes:
I've been working on my labour of love, The Pride, for some time now.
It's been long and hard, and the journey has been fraught with difficulties, but me and my team work very hard on bringing our vision of a drastically diverse team to life.
The Pride are a superhero team with a difference: they're all LGBTQ. The team is entirely made up of gay, bi, lesbian, trans and allied characters, with one mission statement in mind (to start, anyway): to change the way the world looks at queer heroes and improve representation.
Needless to say, as with all good superhero stories, some stuff happens and it sets their journey hurtling in very exciting, action-packed directions involving the villainous Reverend and Basher, dastardly plots, superhero team misunderstandings and secret pasts.
We're not the first to create an all queer superteam, but there was one way I wanted to make my book different: this story is presented in such a way to be accessible to anyone, and as accessible as any current Justice League or Avengers issue. I try to follow the US comic aesthetic, in my mind to say to the big boys of comics that 'hey, guess what, you can have a team of gay superheroes without it being adult' (I started writing this comic around the time Marvel made Rawhide Kid a MAX title seemingly purely for its gay lead character). And it's not full of sex, nudity or adult themes, so it's actually accessible to younger readers too, unlike some other queer comics, so we can provide representation to younger audiences who maybe never get the chance to see them.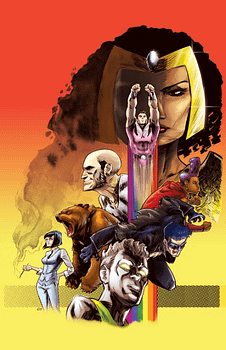 In that time, LGBTQ representation in comics has improved by miles. You can see it on one page alone this week, in Young Avengers this Wednesday, which has a splash panel featuring a large number of young heroes, many of whom are LGBTQ characters all on one page! But there's still work to be done.
A lot of the time, these characters feel very quickly relegated to the background. Or their sexuality becomes the totality of their character and arcs. Or writers fear using stereotypes to subvert them. In fact, a great many LGBTQ characters in modern comics 'act' in a 'straight' manner, so they maybe don't always really represent the queer audience.
One character that I'm particularly proud of is FabMan. He's loud, proud, a screaming queen and camper than the south of France. Yes, he's a 'stereotype'. But so am I sometimes. So are a lot of my friends. In fact, looking at some of the most influential people in the history of gay rights, many of them were more than a little femme too. The fact that I still get the odd message from a reader saying that they hate him for being so stereotypical or for the comic even having a camp man, and those readers often being gay themselves, just shows me how important it is to have this kind of character in the book and out there for audiences. A camp man has as much right to representation and having their voice heard as anyone else, after all.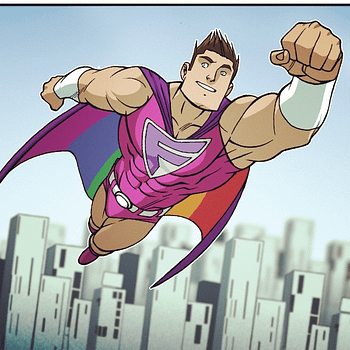 Thankfully, I get three times as many comments loving FabMan as much as I do. He also happens to be one of my favourite characters.
So yes, if anyone asked me 'Do we really need The Pride now?', I'd say yeah, we still do, there's still a long way to go to improve representation and change minds that are full of hate, faulty thinking or have just never seen or considered how LGBTQ issues are just human issues at the end of the day. As much from within the LGBTQ community as without.
I strive to include and represent as many people as I can, with as diverse a cast of characters as I can. And as part of that, we even expanded to a satellite comic, The Pride Adventures, to build on the world and characters.
This weekend, at Thoughtbubble, we will be launching our third issue, this time drawn by Dan Harris (Lou Scannon), and featuring a cover by Cory Smith (of Aspen's Legends of the Shadow Clan and upcoming Dynamite relaunch Magnus: Robot Fighter fame) and one page origins by Ryan Cody and Jack Lawrence.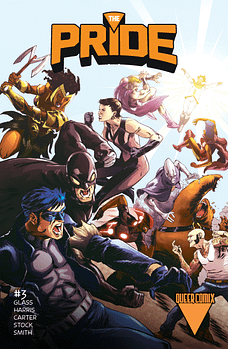 I mentioned earlier how we've had obstacles. We had an Indiegogo campaign once which raised enough to get the book started, but now I fund this book entirely off my own back, paying for the printing and the artists (and I try to do so as quickly as I can) out of my own personal account. This is my labour of love and I'll do it anyway, but I'd love for you all to read it and I could use the support.
So if you want to see comics with a diverse cast and with great LGBTQ representation; if you want an action-packed story with colourful characters that can sometimes be stereotypes and challenge those stereotypes all at the same time; or if you just want something new from an indie UK based creator (Welsh too if that helps), then come say hi at my table this weekend and grab some copies of The Pride, or buy The Pride from our online store now!
UPDATE: As a special treat for Bleeding Cool fans for the Holidays, you can use discount code BC2013 for a 25% off any order, digital or print!
So please take a chance on us, take this opportunity to get your hands on some early Kris Anka/Cory Smith/Gavin Mitchell et al. work before they blow up super-huge and let me know what you thought of the books in the forums.
Written by Bleeding Cool contributor, creator of The Pride and co-writer of Stiffs, Joe Glass.