The Return Of Dr Al Harper To The Marvel Universe
He's been gone for 54 years but now he's back, courtesy of John Jennings, in Silver Surfer: Ghost Light #1 out now, from Marvel Comics.
---
Once upon a time back in 2019, I wrote a satirical article about Marvel's Silver Surfer #5 from 1969 by Stan Lee and John Buscema, pretending it was a modern comic book and pretended to be offended by all the wokeness and "shoehorning of racial politics into the comic book.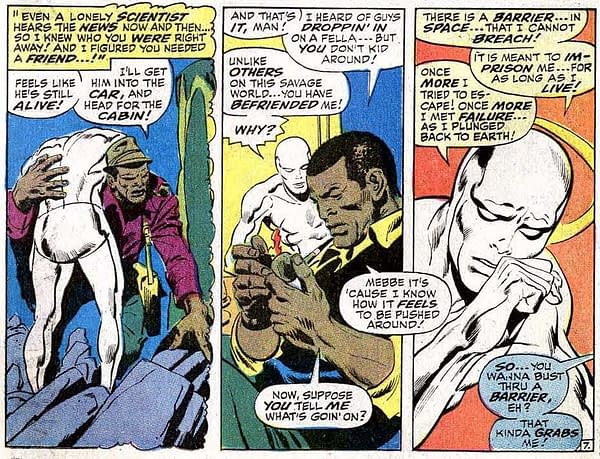 As a result of this comic book, one Tim Sullivan from North Carolina has made his views clear on these political matters being forced into such comic books even though, as he assures us, he is not racist and is all for Marvel putting "the Negro in the spotlight"…
Dr Alan B Harper was one of Marvel's first African American protagonists, even if his appearance – and life – only lastest for an issue, as an inventor who succeeds in freeing the Silver Surfer from his imprisonment on Earth, his grave marked by an eternal light by the Surfer.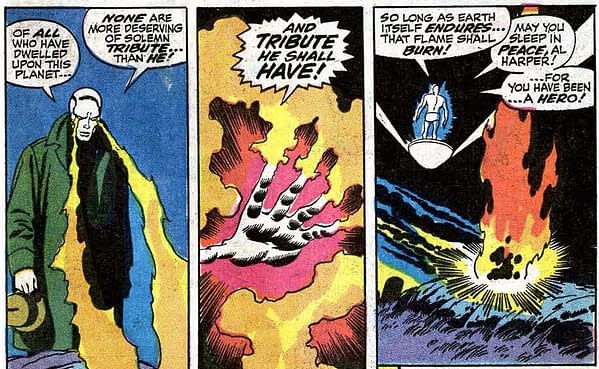 Then this week, over fifty years later, he returned in Silver Surfer: Ghost Light #1 by John Jennings and Valentine De Landro. And perfectly timed for Black History Month.
John Jennings is a Professor of Media and Cultural Studies at the University of California at Riverside, where he examines the visual culture of race in various media forms including film, illustrated fiction, and comics and graphic novels. He is also the director of Abrams ComicArts imprint Megascope, which publishes graphic novels focused on the experiences of people of colour. His research interests include the visual culture of Hip Hop, Afrofuturism and politics, Visual Literacy, Horror, and the EthnoGothic, and Speculative Design and its applications to visual rhetoric. He was also co-editor of the 2016 Eisner Award-winning collection The Blacker the Ink: Constructions of Black Identity in Comics and Sequential Art (Rutgers) and co-founder/organizer of The Schomburg Center's Black Comic Book Festival in Harlem. He is co-founder and organizer of the MLK NorCal's Black Comix Arts Festival in San Francisco and also SOL-CON: The Brown and Black Comix Expo at the Ohio State University.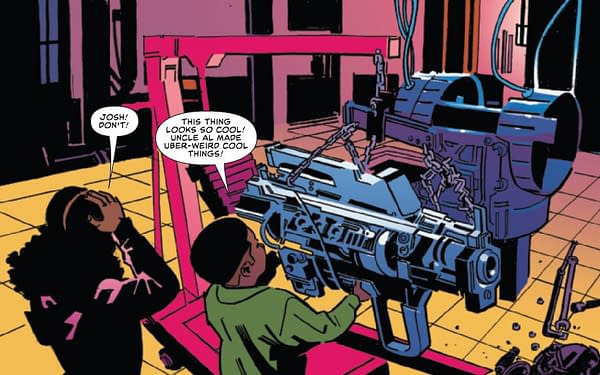 Professor John Jennings told UC Riverside's website "Marvel's motto is that their comics are supposed to show us the 'world outside our windows.' However, that window has really only shown a very narrow view of what our society is like. I was thinking of Toni as our point-of-view character; much like Chris Claremont used Kitty Pryde as a new perspective on the lives of the Uncanny X-Men. I wanted to show the viewers a new window and hopefully a new way of seeing."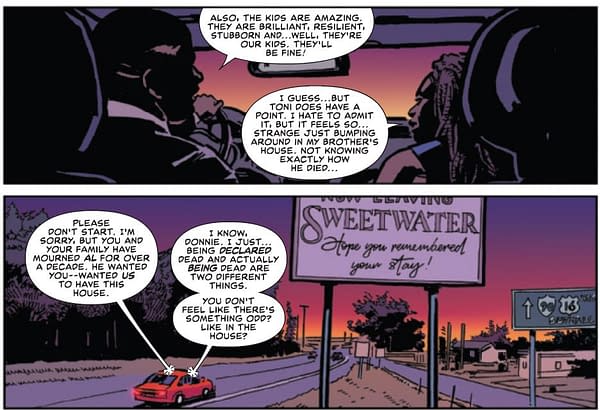 Silver Surfer: Ghost Light is set in the fictional upstate New York town Sweetwater, a fictional town with precedence, it appeared in short stories by the late Henry Dumas, a civil rights participant, who was killed by police in New York in 1968 at the age of 33. Dumas's work was disseminated posthumously by Toni Morrison and Eugene Redmond and the new character of Toni Brooks is intended as a homage to her. With the return of Dr Harper to Earth, in future issues, he will discover that he has been dead for ten years, and will have to deal with all the changes – good and bad.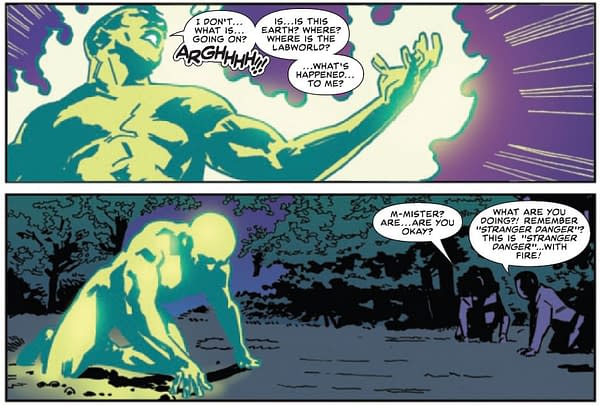 Where he has been, what he has been doing, that's a job for issue 2… also as previously revealed by Bleeding Cool, to be published in June 2023, My Super Hero Is Black is an illustrated text by John Jennings and Angélique Roché looking at the history of Black comic book characters and creators at Marvel Comics, in hardcover form, being published by Simon & Schuster.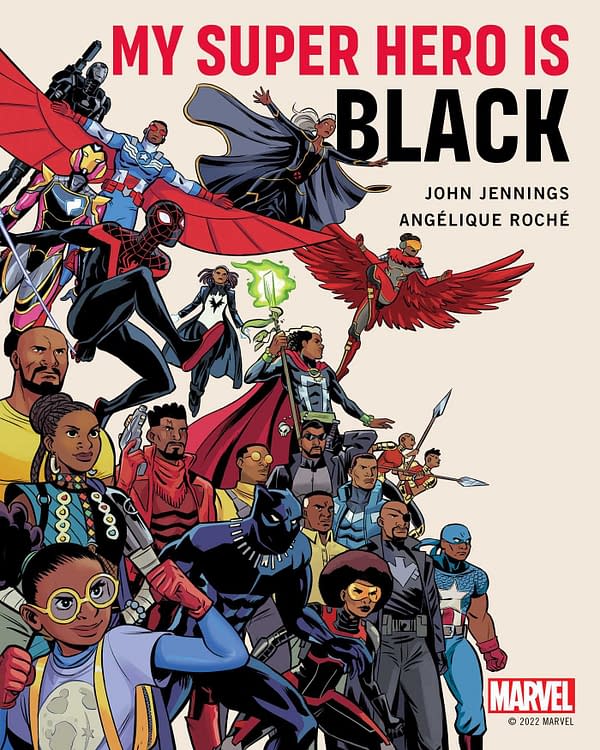 Angélique Roché, is an attorney, journalist, producer, host, moderator, voiceover artist, working for Harper's Bazaar, NBC News, Black Girl Nerds, Syfy Wire, Marvel, Nerdist, and Rewire News. In addition to producing interviews, hosting live events and red carpets, and moderating panels she is currently the host of Marvel Entertainment's Marvel's Voices podcast. She is also a contributor to and consulting editor of the Marvel's Voices comics anthology series (2020 – Present) and is a co-host and producer of The Women of Marvel podcast. In 2021 she voiced the horror short Diary of a Mad Black Werewolf created by Mark Cheng. The short is an adaptation of the graphic novel of the same name by artist Micheline Hess. Angélique received a BA in Print Journalism from Southern University and A&M College, her Juris Doctorate from the Southern University Law Center, and a Legal Letters Masters in International and Comparative Law from The George Washington University Law School. In addition, she is a graduate of the Women's Campaign School at Yale and the Princeton Alumni Corps fellowship for non-profit professionals.
My Super Hero Is Black Hardcover – June 1, 2023
by John Jennings (Author), Angelique Roche (Author)

#1 New York Times bestselling author John Jennings and acclaimed producer Angélique Roché illuminate some of the most important Black creators and characters through Marvel Comics history. From the introduction of Black Panther in the 1960s and publisher Stan Lee's early efforts at addressing systemic racism, to the groundbreaking work of creators like Billy Graham, Christopher Priest, Reggie Hudlin, and Ta-Nehisi Coates, My Super Hero Is Black offers a rich examination, celebration, and historical overview of Marvel's Black characters and creators. It also includes accounts from prominent Black creators and luminaries about their personal relationships with Marvel super heroes. Presented by John Jennings—the notable comics scholar, illustrator, editor, writer, teacher, publisher, and #1 New York Times bestselling author—and Angélique Roché—the acclaimed content creator, producer, and the popular host of Marvel Entertainment's Marvel's Voices podcast—this milestone work is destined to become a classic and will speak to generations of comics fans and storytellers.

SILVER SURFER GHOST LIGHT #1
MARVEL COMICS
NOV221013
(W) John Jennings (A) Valentine De Landro (CA) Taurin Clarke
Toni Brooks and her family have moved into the quiet town of Sweetwater. But nothing is quite what it seems in their new home. What mystery did Toni and her family unravel that would call upon the Sentinel of the Spaceways – the Silver Surfer?! And just who, or what, is GHOST LIGHT? Eisner Award winner JOHN JENNINGS and artist VALENTINE DE LANDRO (Bitch Planet) introduce a new Marvel super hero over 50 years in the making!
Rated T+In Shops: Feb 01, 2023 SRP: $4.99

SILVER SURFER GHOST LIGHT #2
MARVEL COMICS
JAN230855
(W) John Jennings (A) Valentine De Landro (CA) Taurin Clarke
A GHOST FROM THE PAST RETURNS! The Silver Surfer thought he buried his friend Al Harper years ago – but he thought wrong! Can the Surfer save Al from succumbing to his newfound cosmic abilities? And who or what transformed Al into the otherworldly Ghost Light?
Rated T+In Shops: Mar 08, 2023 SRP: $3.99

SILVER SURFER GHOST LIGHT #3
MARVEL COMICS
FEB230812
(W) John Jennings (A) Valentine De Landro (CA) Taurin Clarke
Surfer and Ghost Light are caught in the crossfire between the Stranger and A.I.M.! But what do these villainous forces want from our heroes? And why do they look so different? Get ready for a modern twist on these classic Marvel villains!
Rated T+In Shops: Apr 12, 2023 SRP: $3.99