How many origins has Eobard Thawne, the Reverse-Flash had? Originally it went bad after the time traveller obsessed with the Flash, saw the Flash destroy the atomic clock in his time machine that would have exploded, becoming obsessed with "replacing" Barry Allen and travelling back in time to exact his revenge, using his knowledge of history to his advantage.
After the Crisis, the new Eobard Thawne discovered, travelling in time, that he would become the Reverse Flash, and went a but funny, trying to escape his destiny by becoming Barry Allen.
In the New 52, he got hit by lightning gaining speed powers, tried to seize power but was jealous of the much-loved legend of the Flash.
And in today's Flash #25 by Joshua Williamson, Howard Porter and Carmine Di Giandomenico, we get a brand new reason why Eobard Thawne hates the Flash. After their first time-travel meeting went so well.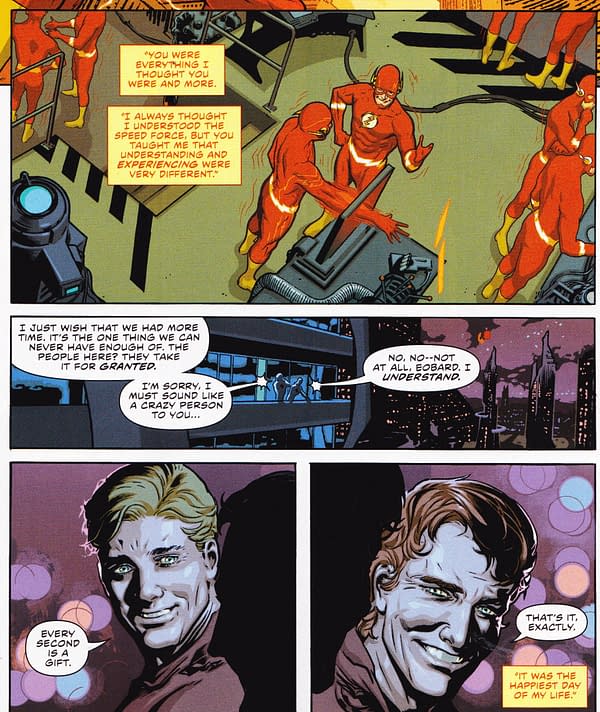 Turns out that from such great heights, there is only one direction to fall. And as Thawne keeps travelling to meet Barry Allen, it doesn't exactly go that well. Because, apparently, you can't say "every second is a gift" to more than one person and expect to keep your mother alive.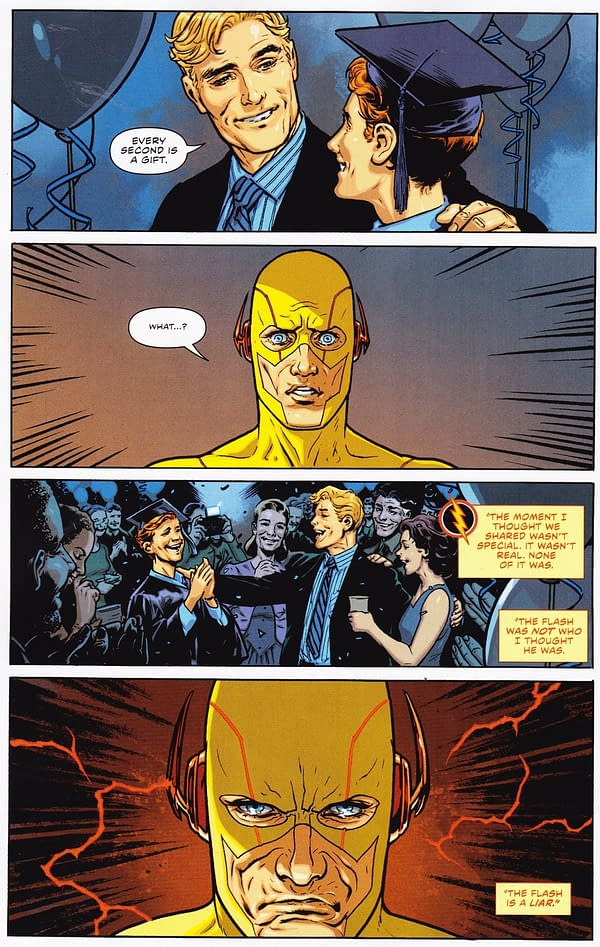 And that's it. Reverse Flash or Reverse-Fatal Attraction? And no, the Flash can't quite believe it when he discovers the truth either. The insult that made a murdering psychopath out of Eobard!
FLASH #25
(W) Joshua Williamson (A) Howard Porter (A/CA) Carmine Di Giandomenico
"RUNNING SCARED" part one! When Eobard Thawne murdered Barry Allen's mother, he killed a piece of The Flash's past. Now, Reverse-Flash is back to kill Barry's future! The Flash's biggest storyline yet begins as he is pushed to his limits and his secrets are laid bare in a chase through time itself! Don't miss the extra-sized anniversary issue!
$3.99
Enjoyed this article? Share it!