The Zombie Trump Cover That Refused to be Slabbed
Bleeding Cool reader Nick gets in touch about a recent experience with popular comic book slabbing and grading service, CBCS. He tried to get a Sad Girl: Psycho Baby'sketch cover by Zombie Tramp creator Dan Mendoza graded and slabbed by them. It looked like this.
With the character Zombie Tramp holding a disembodied head of President Donald Trump. They wouldn't slab it. He tells me,
I just talked to someone at CBCS on the phone. Apparently, they are refusing to grade my Dan Mendoza commission on a blank sketch cover. They said it was quote-unquote "too controversial". And they are sending it back to me and I'm receiving a refund. When I pressed them further (on the phone), they said it was "too political". And then they LIED and said they don't allow full frontal nudity. They've graded Dan Mendoza covers with full frontal nudity. And anyway, the cover I wanted graded doesn't even contain full frontal nudity. The commissioned cover has cleavage but not nudity. It's a drawing of Zombie Tramp with Donald Trump's severed head. It's meant to be a homage to the Kathy Griffin photo shoot. I even showed Dan the Kathy Griffin picture when I requested the commission. After the phone conversation, I received this enail correspondence.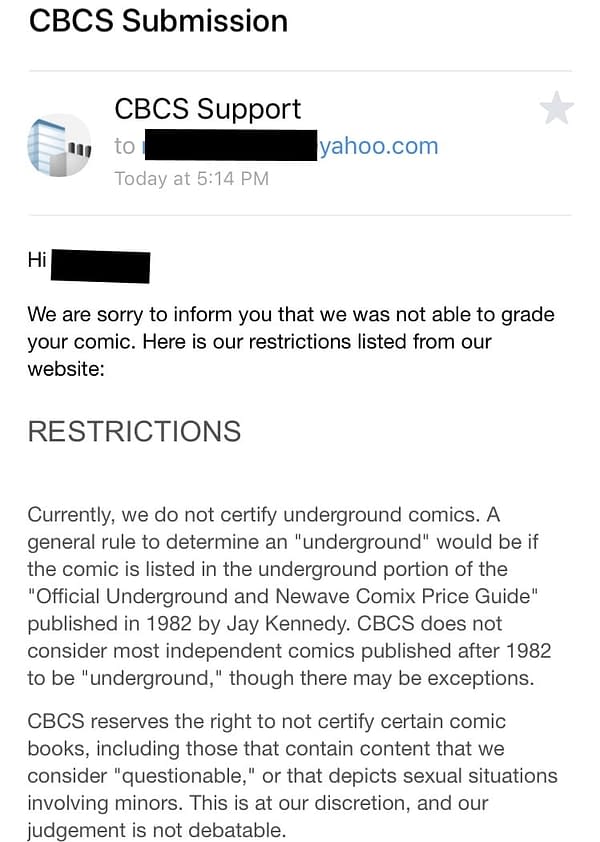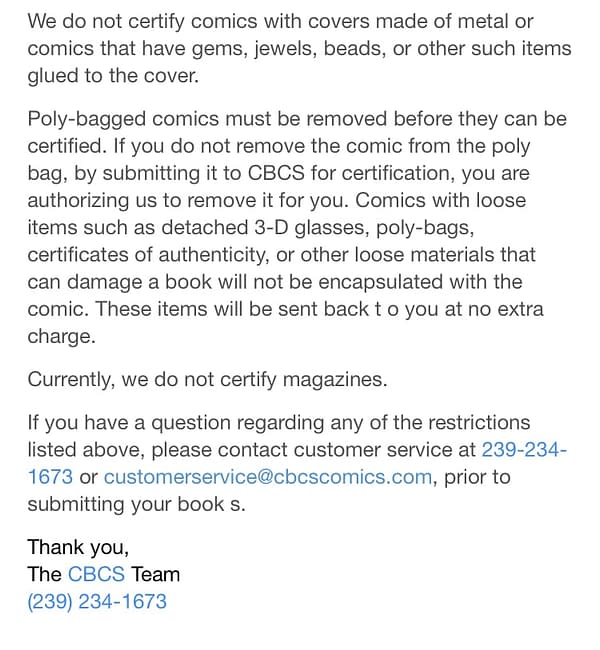 The reasons given did not seem to apply. Our reader replied, pointing this out. And also mentioning a phone call he had had.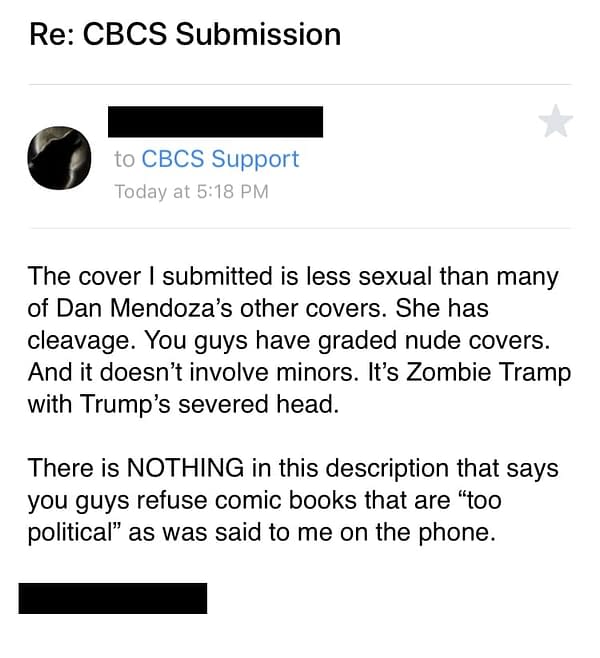 Here's an example of a Zombie Tramp cover that they have graded.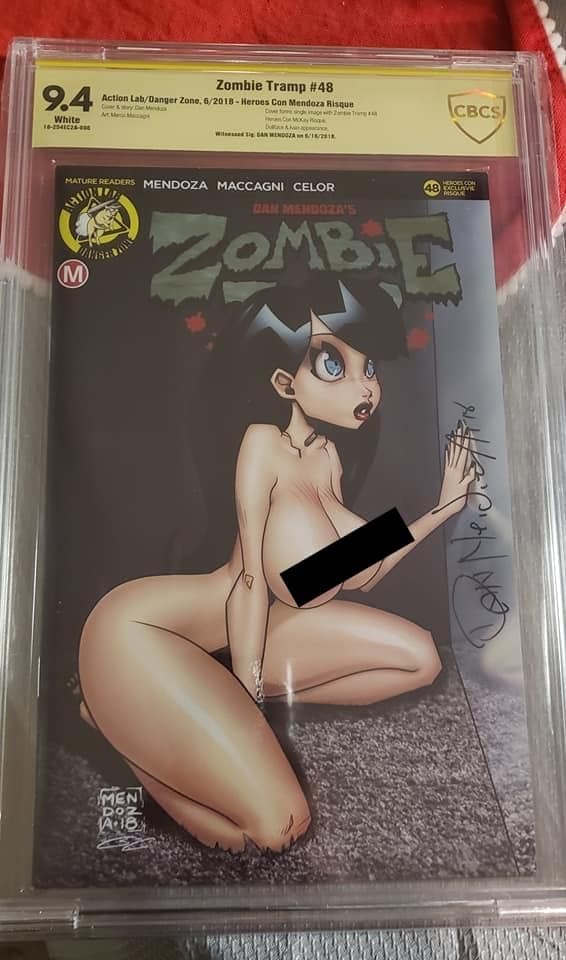 One may recall that the Senate Subcommittee on Juvenile Delinquency had Chief Counsel Herbert Beaser and senator Estes Kefauver focus on a certain cover of a comic publisher by EC Comics' William Gaines, which you know will be recreated in the biopic...
Beaser: "Is the sole test of what you would put into your magazine whether it sells? Is there any limit you can think of that you would not put in a magazine because you thought a child should not see or read about it?"
Gaines: "No, I wouldn't say that there is any limit for the reason you outlined. My only limits are the bounds of good taste, what I consider good taste."
Beaser: "Then you think a child cannot in any way, in any way, shape, or manner, be hurt by anything that a child reads or sees?"
Gaines: "I don't believe so."
Beaser: "There would be no limit actually to what you put in the magazines?"
Gaines: "Only within the bounds of good taste."
Beaser: "Your own good taste and saleability?"
Gaines: "Yes."

Kefauver: "Here is your May 22 issue [Crime SuspenStories No. 22, cover date May]. This seems to be a man with a bloody axe holding a woman's head up which has been severed from her body. Do you think that is in good taste?"
Gaines: "Yes sir, I do, for the cover of a horror comic. A cover in bad taste, for example, might be defined as holding the head a little higher so that the neck could be seen dripping blood from it, and moving the body over a little further so that the neck of the body could be seen to be bloody."
Kefauver: "You have blood coming out of her mouth."
Gaines: "A little."
Kefauver: "Here is blood on the axe. I think most adults are shocked by that."
Could we now have a Senate Slabcommittee Hearing?
Declaration of interest: Bleeding Cool is sponsored by rival-slabber CGC. This story was sourced and ran independently and I believe I would have run this whether we were or not.