First, a plug that has noting to do with comics but I consider it a public service to Londoners. Farmdrop.co.uk, a farmer's market that delivers across London, charges less that the actual farmers markets and gave me the most amazing shoulder of lamb and smashed veg the other day… do try the Bread Ahead rosemary loaf that I can't find anywhere else apart from Borough Market. Feel free to use "Richard Johnston" as a referrer, but no worries if you don't.
Anyway, back where you were. What's happening in comics in September in and around London?
Exhibitions running through the month
Jessica Martin's Elsie Exhibition at Orbital Comics.
It's a comic that was first featured here on Bleeding Cool. Now it is an entire exhibition.
Alice In Cartoonland at the Cartoon Museum
Alice in Cartoonland celebrates Alice's many misadventures at the hands of cartoonists, caricaturists and satirists, animators and graphic artists through 150 years of parodies and pastiches, jibes, jokes and gags aimed at making political points, social comment or just intended to make us laugh.

Artists represented range from Low, Vicky, Shepard and Illingworth to via Searle and ffolkes to Scarfe, Steadman and Rowson. There are Alice posters by Gilroy advertising Guinness, cartoon strips featuring Flook and Snoopy, pages from comics and graphic novels and original animation art from film and TV versions of Alice.
Wednesday 2nd September
Miracleman Signing with Mark Buckingham & special guest D'Israeli, Gosh Comics.
Mark Buckingham for a Miracleman signing with special guest, D'Israeli, 6-7pm
Thursday 3rd September
Poetry Comics, The Poetry Cafe

Tucked away behind Covent Garden station and down a quiet side street is The Poetry Cafe. Tonight The Poetry Society is hosting An Introduction to Poetry Comics to launch their new exhibition. There will be readings from poets such as Amy Key and Chris McCabe who contributed to the accompanying anthology. The exhibition is on display until 31 October. Free, just turn up, 6.30pm
Friday 4th September

Dispossession Launch Party with Simon Grennan, Gosh Comics.
Hold on to your top hats! Because we've got Simon Grennan coming to Gosh! for a Launch Party celebrating the release of Dispossession and we couldn't be more pleased about it! 7-9pm – with drinks.
Saturday, 5th September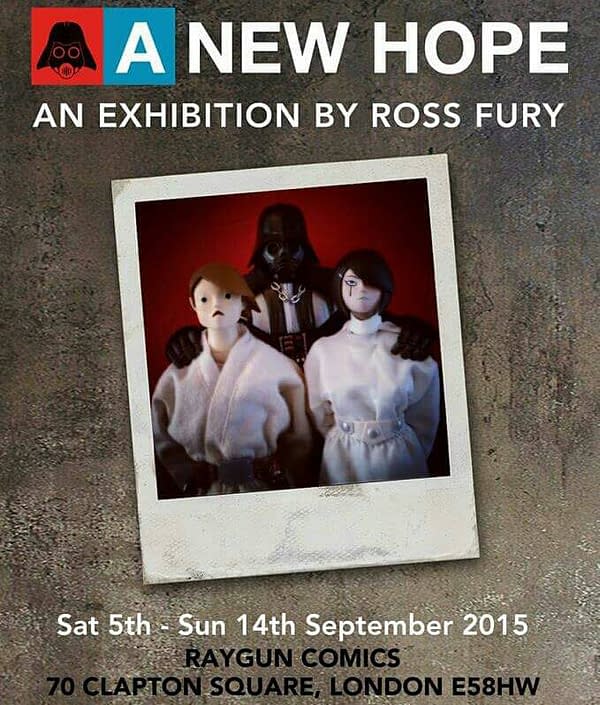 Ross Fury 3A Star Wars Exhibition At Raygun Comics
Fan project combining a life long love of Star Wars & the aesthetics of Ashley Woods world of 3a.
Over 50 custom 3a Star Wars figures featuring all your favorite characters from the original trilogy + a few surprises. Will be a few figures up for auction with proceeds going to All Dogs Matter, a London based dog rescue organisation.
Showmasters Presents: London Comic Mart, Royal National Hotel, Bedford Way, from noon.

Wednesday, 9th September
One Year Wiser Launch Party with Mike Medaglia, Gosh Comics.
Mike Medaglia has created One Year Wiser, a new book of 365 daily illustrated meditations published by SelfMadeHero, and we're having a launch party for it from 7-9pm!
Thursday, 10th September
Federico Fellini's 'Juliet of The Spirits', Gosh Comics.
Black Decagon Film Club will be screening Federico Fellini's 'Juliet of The Spirits'. The screening will be preceded by a talk with Emanuele Taglietti, one of the production designers of the film, and the subject of the new book "Sex and Horror: The Art of Emanuele Taglietti" published by Korero Press. Emanuele will be signing from 6-7pm then Screening & Talk from 7.30pm.
Friday 11th September
Launch Party for The Rabbit by Rachael Smith, Orbital Comics, 7-9pm
Join Rachael Smith and the Avery Hill Publishing crew as they raise a glass to celebrate the launch of Rachael's second graphic novel 'The Rabbit'.

Following her debut, critically acclaimed graphic novel 'House Party', 'The Rabbit' tells the story of Eleanor and her younger sister Kathy, who have run away from school, from home and from all of their troubles. They may also be running from reality itself, as they seem to have acquired a new friend in the form of a talking cartoon bunny rabbit called Craig. As Craig grows bigger and bigger, the girls soon discover exactly what kind of creature has joined them on their adventure. Running away is not as easy as it seems…

'The Rabbit' is set to be one of the best graphic novels of 2015, and Rachael will be there to lovingly sign and draw in books and to answer any and all questions about drawing comics and giant rabbits. The first 100 customers will also receive an exclusive bookplate which Rachael has produced especially for Orbital. Avery Hill also have a limited number of free bookmarks, free badges, and free rabbit-themed confectionery! Not to mention free drinks!
Let's Talk Intersectionality: Feminism in Comics (Part 2), Gosh Comics, 7pm
Due to popular demand, we are hosting a second edition of Let's Talk Intersectionality 'Feminism and Comics'! We hope that anyone who couldn't make it to the first one is able to come on September 15th.
Thursday, 17th September
Over The Line: An Introduction to Poetry Comics Launch Party, Gosh Comics.
We're over the moon to be hosting the launch party for Over The Line: An Introduction to Poetry Comics on Thursday 17th September from 7-9pm .
Friday 18th September
Tempo Lush Penny Blackfeather Launch Party, Gosh Comics.
Tempo Lush will be taking over Gosh! for the evening to celebrate the release of new titles: Lucy the Octopus: Too Cool for the Likes of You, Penny Blackfeather in High Spirits, Tempo Lush Tales of the Tanoox and another top secret project! Head down to Gosh! on Friday the 18th of September from 7-9pm were we'll be celebrating all these great new releases.
Saturday, 19th September
7.30pm-9pm
Jessica Martin Talk at Gosh!, Gosh Comics.
Good news everyone! The sensational Jessica Martin is coming to Gosh! to give a talk on Saturday the 19th of September.
Wednesday, 23rd September
Gosh! & NICE 2015 present a Signing with Gene Ha, Gosh Comics.
Gosh! Comics & NICE 2015 are excited to announce that longtime DC artist Gene Ha will be doing a signing on the 23rd of September from 6-7pm. This is a part of Gene's first UK appearance and his first visit to London and we can't wait to have him here at Gosh!
Saturday, 26th September
Hilda and the Troll Paperback Launch Party with Luke Pearson, Gosh Comics.
A new paperback edition of Hilda's first magical adventure in the land of Trolberg is hitting stores! And to celebrate we've got award-winning cartoonist Luke Pearson coming to Gosh! for an incredible Hilda and The Troll Launch Party on the 26th of September from 7-9pm.
30th September
You Might Make A Joke On That, Cartoon Museum, 6.30-7.30pm, £10
Brian Sibley, writer, broadcaster and President of the Lewis Carroll Society presents an illustrated talk on Alice's many adventures in Cartoonland from the comic drawings of amateur artist Charles Lutwidge Dodgson (Lewis Carroll's alter ego) via the work of Alice in Wonderland's first illustrator, pre-eminent Punch cartoonist, John Tenniel, to 150 years of political caricatures, cartoon gags and jokes, strips, comic-books and graphic novels and the work of animators and advertising artists.
Enjoyed this article? Share it!