Things To Do In London This Summer If You Like Comics… And Gorillaz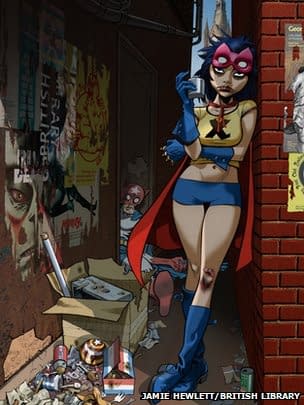 Jamie Hewlett, co-creator on both Tank Girl and Gorillaz is participating in an exhibit running at the British Library this summer.
Comics Unmasked: Art and Anarchy in the UK will explore how British comic creators have challenged stereotypes. Hewlett has created artwork for the show along with entering his original art and a video. The art piece shows a caped female who has vanquished a Superhero from a British Library comics show. His pieces will run along side "unseen discoveries" from the library's collection.
It runs from 2 May to 19 August 2014. The library has issued a parental guidance warning for under sixteen because of the "explicit nature of some of the exhibits".
The artwork by comic artist and designer Hewlett, which depicts London's St Pancras station in the background, will appear on the exhibition poster and as a twenty-foot high graphic installation at the library. A second image by Hewlett was also created for the exhibition, featuring a digital two-panel comic.
For more information, check out the BBC here.