Could the Thomas Wayne Batman Not Be the Flashpoint Batman After All? (Batman #84 Spoilers)
During the Crisis event comic Flashpoint, by Geoff Johns and Andy Kubert, an alternate reality version of Thomas Wayne appears as Batman. In this continuity, Thomas turned into the crime-fighting Batman after he and Martha Wayne witnessed their son Bruce Wayne murdered by a gunman. We also got to read his story in the Flashpoint spinoff mini-series Flashpoint: Batman – Knight of Vengeance, by Brian Azzarello and Eduardo Risso. Before the Flash leaves to try to restore the old world, Batman thanks and gives the Flash a letter to his son, expressing his confidence that Barry will recreate the better world the Flash has spoken of and expressing his regret for what will happen to Barry's mother. Barry gives Thomas's letter to Bruce Wayne and says that the timeline could not have been restored without Thomas's help His father's letter encourages Bruce Wayne to accept their deaths and move on, as well as motivating Batman to pursue a closer relationship with his own son. He keeps the letter as a part of the Batcave's display dedicated to his parents' memory. Later Thomas Wayne Batman is seen in the Convergence crossover by Dan Jurgens, where he helps Clark and Lois give birth to their son, Jonathan.
As part of Tom King's Batman run, after travelling on the Cosmic treadmill, the Flash and Batman found themselves in the presence of Flashpoint Batman just as Thomas was planning to blow himself up alongside the Atlantean and Amazonian hit squad about to arrive. Thomas teams up with his son to hold off the Atlantean-Amazonian hit squad to give the Flash time to fix the Cosmic treadmill. The two Batmen reminisce about their first visit to the cave. As soon as the Flash finished the repairs, Batman pleads with Thomas to come with him.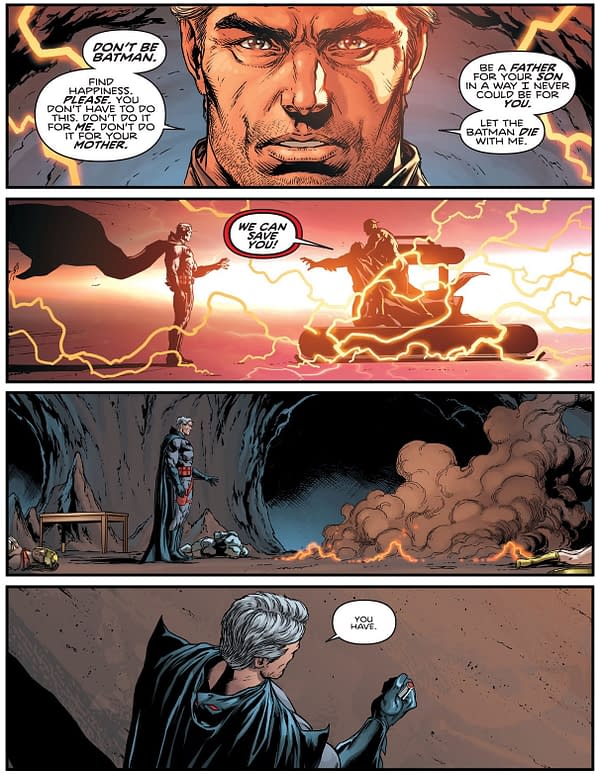 Thomas pushes Batman onto the Cosmic treadmill, imploring the latter to no longer be Batman, to find happiness and be the father to son that Thomas could never be for him, and to let 'the Batman' die with him.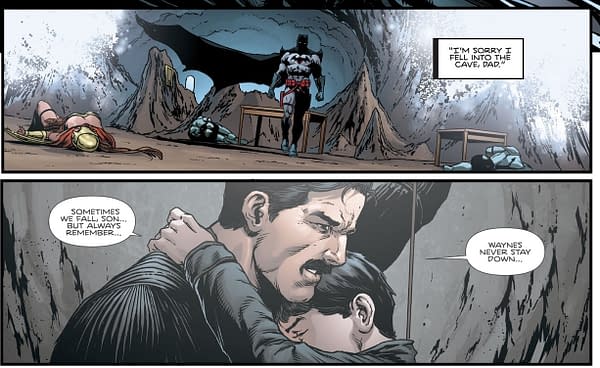 He throws his explosive trigger away and puts his cowl back on, reminiscing about the inspiring words he gave to Bruce as a child, and jumping into the white void that is erasing the Flashpoint universe with his last words being "We rise".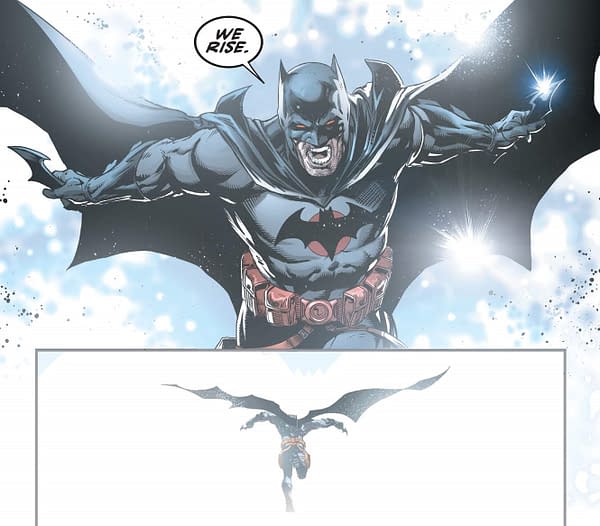 Something which sticks with Bruce Wayne, even as he eventually ignores it.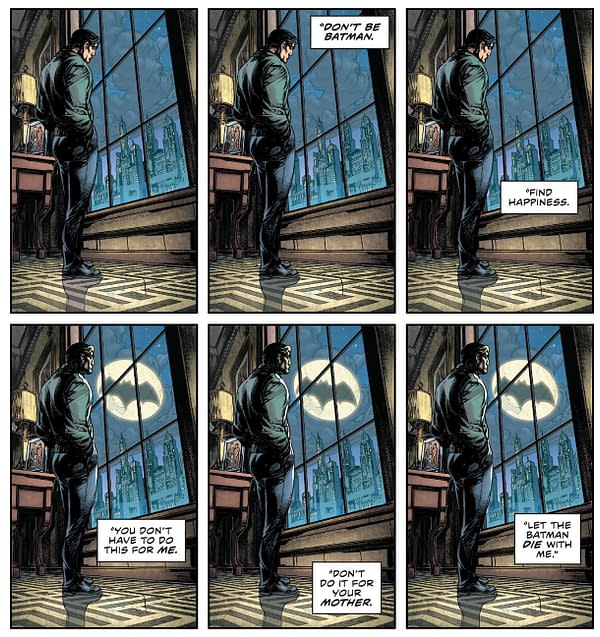 It today's Batman #84, we revisit that scene.
As well as seeing an earlier moment, talking about his vow –
– different, but similar, to the one that Bruce Wane was expressing and re-expressing in the previous issue – and had been for decades. And a vow that has informed his every action trying to get Bruce to stop being Batman.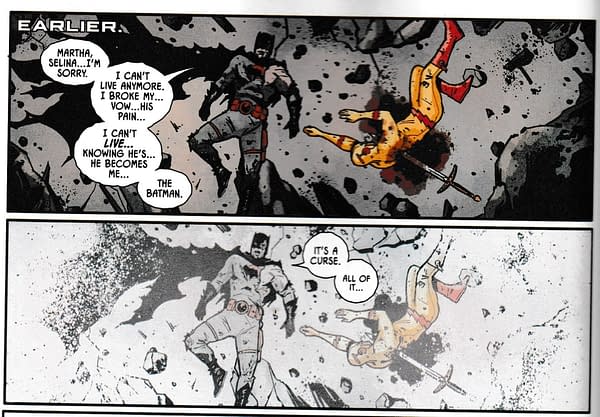 Since then, during Tom King's run, his stated goal was to break his son's will as Batman, working with Bane to break up his marriage, disable his companions, kill his butler and more. Today sees Tom King's penultimate issue of Batman, the story of Thomas Wayne, the Flashpoint Batman, a man who lost his son at the hands of Joe Chill, a gunman on the streets of Gotham, and became a Bat. But is this the same Batman as we saw in the Flashpoint Batman comic book? Maybe not. Batman #84 tells his story backwards from now, both after travelling to the DC Universe and shadowing Bruce Wayne through much of the Tom King run, but also reprising scenes from the original Flashpoint Batman comic.
And there is a significant difference. In the original comic, we saw his battle with King Croc, from Eduardo Risso.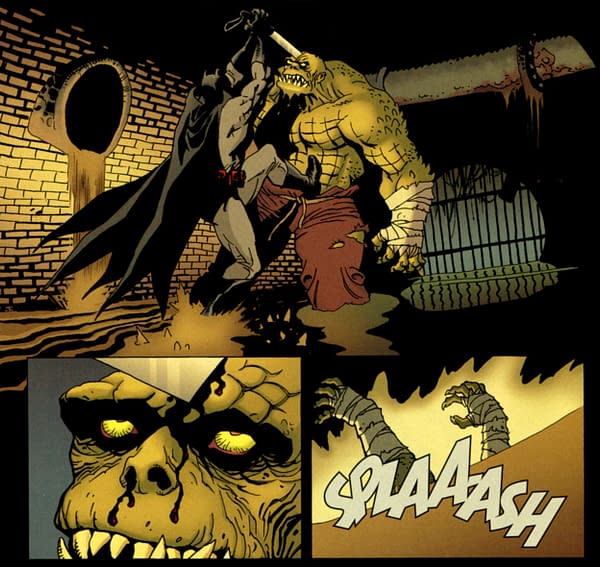 But in Batman #84, there is a difference. Catwoman, Selina Kyle, fighting alongside Batman in the same battle.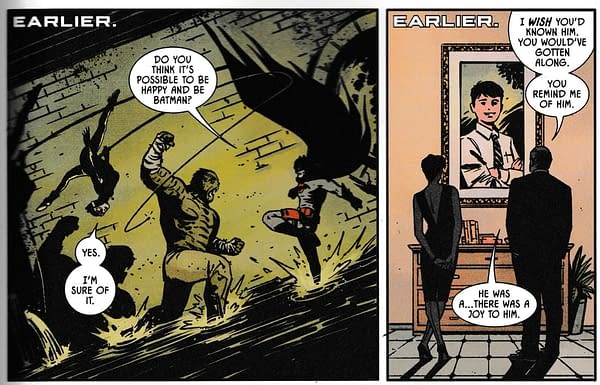 And it may have been this Catwoman who stopped the Thomas Wayne Batman from being as murderous as he could be.
Though in the Flashpoint Batman comic, Oswald Cobblepot runs Wayne's casinos…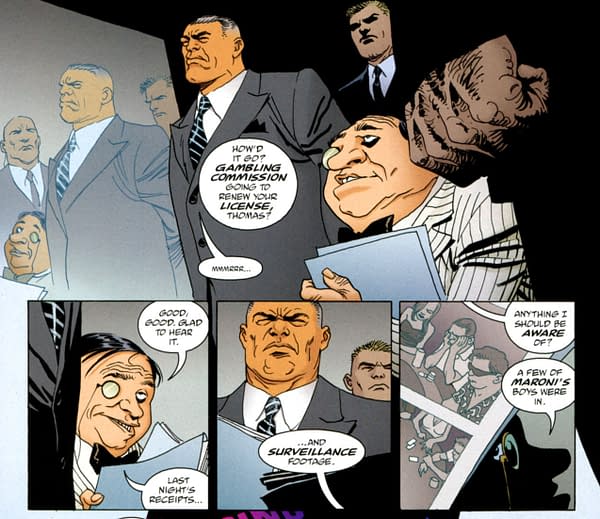 …but in Batman #84 he is another victim of his more murderous Flashpoint Batman. Though wearing the same clothes, the inference is clear. Different Flashpoint Batmen,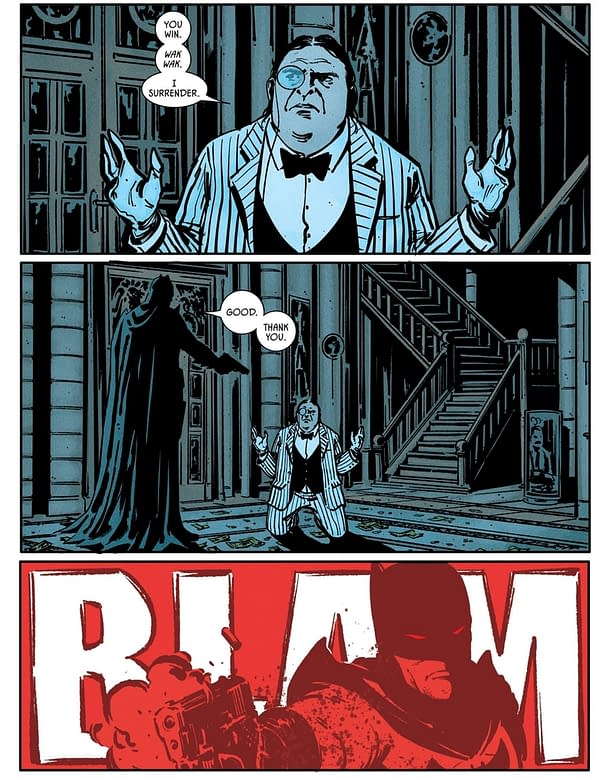 So… with two weeks to the grand finale – could there be two Thomas Waynes that Bruce Wayne will have to deal with? Or will we have to wait for Batman/Catwoman?
Batman #84 is published by DC Comics today in all good comic shops. I bought mine from Piranha Comics in Kingston-Upon-Thames. Piranha Comics is a small south London comic store chain with a small south-east store in Kingston-Upon Thames's market centre, which runs Magic The Gathering nights on Fridays, and a larger south-west store in Bromley, which also runs Magic nights and has an extensive back issue collection and an online store. If you are in the neighbourhood, check them out.
BATMAN #84
(W) Tom King (A/CA) Mikel Janin
"City of Bane" chapter eleven! The end is near as one victory leads to another defeat. As Batman reclaims his city from Bane, can he regain his sense of family? More specifically, when a man who is your father from another dimension has torn everything down around you, what will it take to build it back up? Especially when that man is currently staring you in the face and threatening to punch it. The final battle for Gotham City…and the cowl of the Caped Crusader…starts here!In Shops: Dec 04, 2019
SRP: $3.99