I have taken much delight in my home having both Alexa and Google Nest speakers in my home since Christmas. Especially the function where, through my mobile phone, I can send a booming summoning around the home, before my arrival. 'Children', I might say, 'this is the voice of God. Tremble before me and put the kettle on, for your father most dear is nearing the family home and must be welcomed in fitting manner with tea and scones'. Only for them to utterly ignore it (after the first time) and for them to respond by saying 'Alexa volume off', 'Alexa, ignore incoming messages' and of course, 'Alexa, play BTS'.
Anyway, it appears that in today's Thor #2, the new herald of Galactus, Thor, has discovered a few new powers amongst his cosmic array. Including using his ravens as a cosmic version of such messaging services. And now I want to call my two speakers Hugin and Munin too.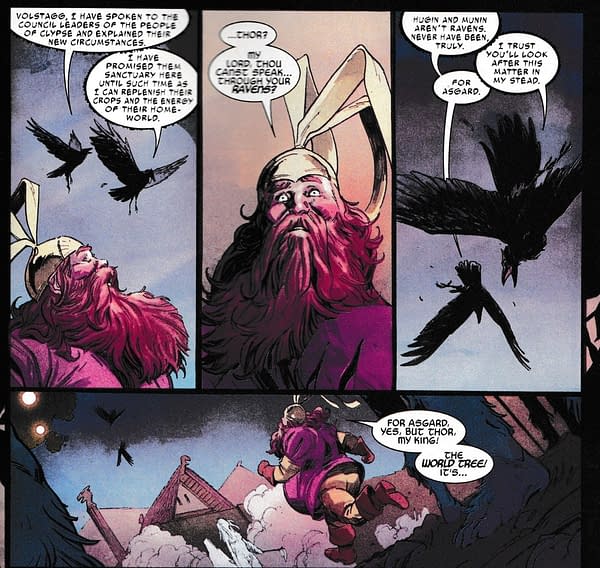 Oh never mind the World's Tree, send me those not-ravens and get them to play Kirtsy MacColl songs at me, okay?
THOR #2
(W) Donny Cates (A) Nic Klein (CA) Olivier Coipel
THE BLACK WINTER AND THE DEVOURER KING!
Before him lies the Black Winter; behind, a trail of death wrought by his own hand. The God of Thunder hurtles through the cosmos, searching for the power to save Asgard and all existence. But no power in the heavens can save a god – a king – from his bloody duty.
Rated T+In Shops: Jan 29, 2020
SRP: $3.99
Thor #2 is out today from Marvel Comics… I bought mine from Piranha Comics in Kingston-Upon-Thames. Piranha Comics is a small south London comic store chain with a small south-east store in Kingston-Upon Thames's market centre, which runs Magic The Gathering nights on Fridays, and a larger south-west store in Bromley, which also runs Magic nights and has an extensive back issue collection and online store. If you are in the neighbourhood, check them out.

Enjoyed this article? Share it!