Today's Futures End Brings You… The Blood Moon (SPOILERS) We have left the September Futures End month behind us, but last week's New 52: Futures End, Booster Gold and especially Superman: Doomed #2 all lead into one book. New 52: Futures End #22, out today.
Brainiac landing… somewhere. Encountering splinters of different continuities. Destroyed continuities, splintered in the Bleed? Anyway, they seem to have had quite an effect.
Because this is where it all begins. Welcome to your new Brainiac. And welcome to…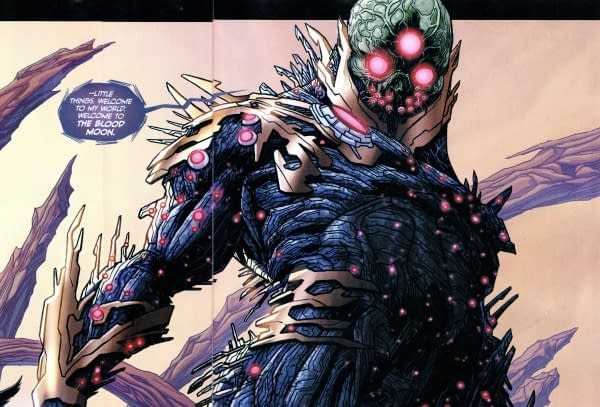 A new world… full of Bottle Earths perhaps?
Futures End #22 published today by DC Comics. Comics courtesy of Orbital Comics, London. Currently exhibition the Scene & Heard work, with a Jeff Smith signing later in the month.