Originally he would have written Batman up to #105. That was the plan. To tell one very long Batman story, one idea, one movement, the story of Batman, Catwoman – and Bane, telling the kind of story he has told in The Vision, Mister Miracle and Omega Men, but over 100+ issues, and in doing so do something with the character that would need the approval of the top bods at Warners and AT&T. And he got it.  But, as Bleeding Cool revealed, as sales slumped in the natural lull that came before the City Of Bane arc, editors who just didn't get what he was trying to do (and to be fair, a fair few fans didn't either) was fired from Batman. An unusual Batfiring that meant he still had to come into work, finish the story up to #85 and then run a truncated version of the finale in a spinoff twelve-issue series Batman And Catwoman, starting in January. A not-entirely ignominious ending, we look forward to whatever it is he will come up with over 2020 – especially as it will be running alongside the main Batman ongoing comic, probably studiously trying to ignore it as much as Superman and the Justice League comics ignore Doomsday Clock.
But for now, we can look forward to the conclusion of Tom King's run on the Batman title, an extraordinary work of auteur storytelling, with one of the most-bought comics in the industry. It was a remarkable feat that almost paid off…
So, it's a fight with his Dad, and then a reckoning for Gotham… and for Gotham Girl, the woman who we know will kill Bruce Wayne…
BATMAN #84
written by TOM KING
art and cover by MIKEL JANIN
card stock variant cover by FRANCESCO MATTINA
"City of Bane" chapter eleven! The end is near as one victory leads to another defeat. As Batman reclaims his city from Bane, can he regain his sense of family? More specifically, when a man who is your father from another dimension has torn everything down around you, what will it take to build it back up? Especially when that man is currently staring you in the face and threatening to punch it. The final battle for Gotham City…and the cowl of the Caped Crusader…starts here!
ON SALE 12.04.19 $3.99 US | 32 PAGES CARD STOCK VARIANT COVER $4.99

BATMAN #85
written by TOM KING
art by MIKEL JANIN
cover by TONY S. DANIEL
card stock variant cover by FRANCESCO MATTINA
The stunning conclusion to "City of Bane" is here! How will Flashpoint Batman be vanquished from our dimension? What will become of Gotham Girl now that she's betrayed all she knows? How will the Bat team cope without Alfred? Will Catwoman stick around? Who will rebuild Gotham City? Is Batman ever going to be Batman again? The event of the summer now closes out the year, setting the stage for a whole new path for the Dark Knight Detective. You don't dare miss the extra-sized concluding chapter to Tom King's epic run on Batman—and it all leads to the new Batman and Catwoman series!
ON SALE 12.18.19 $4.99 US | 48 PAGES CARD STOCK VARIANT COVER $5.99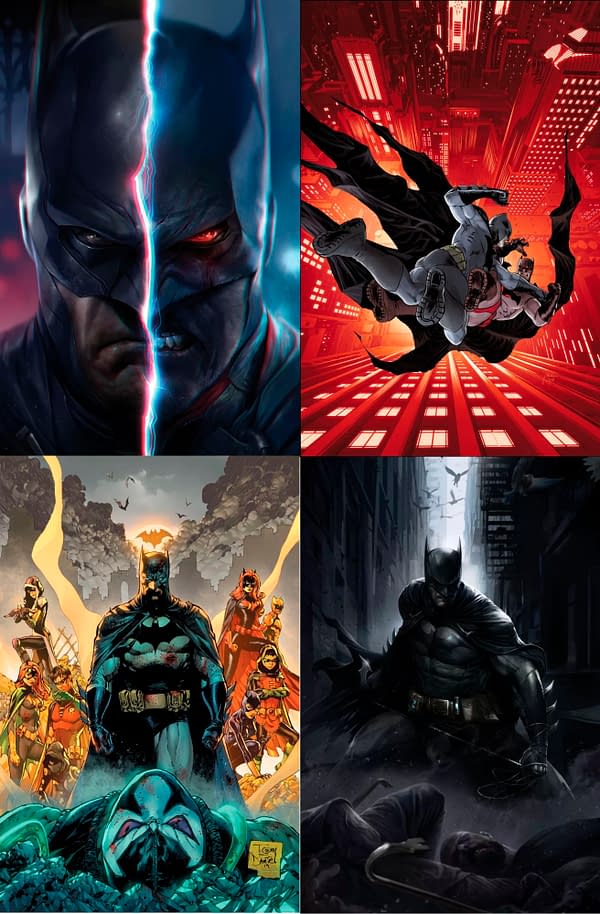 Enjoyed this article? Share it!