Superstar writer and alleged former CIA operative Tom King is always teasing hot new art coming up in his DC Comics series on Twitter, but you won't believe whose art King is pimping for a variant cover on Heroes in Crisis #9. Okay, maybe you will believe it, since we already spoiled it in the headline. Yeah, that sort of took the wind out of our sails. Okay, it's Tom King. With Tomeau Morey.
King posted the shocking variant on Twitter:
Coming up in Heroes in Crisis.

Art by @TomKingTK and @tomeu_morey. pic.twitter.com/Hq9lCr8QAa

— Tom King (@TomKingTK) January 9, 2019
Check out the cover in its full high-res glory here: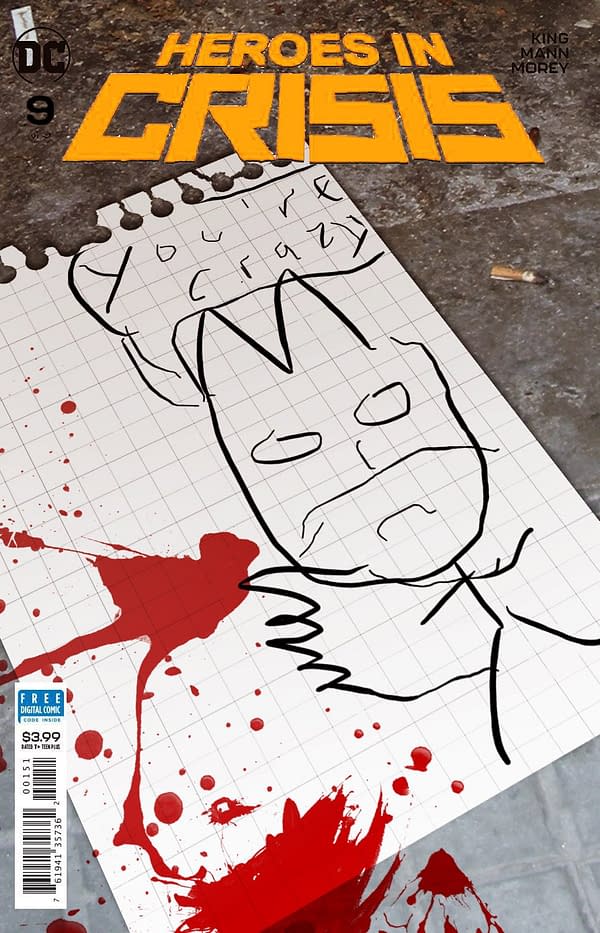 Some might say that the cover features Batman being insensitive about mental illness, but then they might remember that Batman has basically made a career out of beating the living crap out of mentally ill criminals at night while dressed in a bat costume without due process or considering their legal rights, so this is not all that surprising from the caped crusader.
Other than that, what do you think of the variant? Well, you have to admit, King knows how to draw better than he knows how to properly wear a hat.
New author photo. Wearing a hat. Who knows if I have hair? I could have hair! pic.twitter.com/wS0H21g20v

— Tom King (@TomKingTK) January 8, 2019
Heroes in Crisis #9 will be out in May, presumably… as long as it doesn' get delayed.
Enjoyed this article? Share it!