Tom King, Vita Ayala, and More Bring Horror to DC With New Anthologies
In the eternal competition between the two largest superhero-peddling corporate entities, one thing DC has always done better than Marvel is horror. From their classic runs such as Alan Moore's Swamp Thing and Neil Gaiman's The Sandman to the deranged flair of villains in their monthly Batman comics, the company seems to thrive in the shadows. This Halloween, they're capitalizing on their specialization in the macabre again with two new anthologies with tales of terror by Batman's ex Tom King, The Wilds co-creator Vita Ayala, BOOM! Studios current golden boy James Tynion IV, tried-and-true vet Marv Wolfman, and more. Take a look at the two anthologies, Legend of the Swamp Thing Halloween Spectacular #1 and DC: The Doomed and the Damned #1, here and read what DC has to say.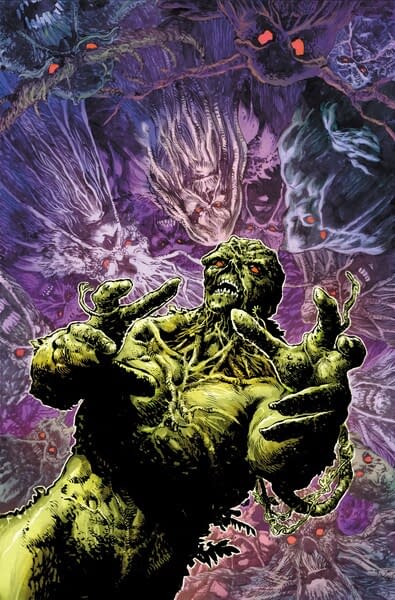 DC invites you to welcome Swamp Thing to your witching hour festivities. In this 48-page collection of six all-new stories, the Guardian of the Green reveals past lives and the unforgettable horrors that befall those who cross his path. From ancient Rome to present day, Swamp Thing stalks these ghostly and ghastly tales—all of which are best read by the light of a jack o' lantern!

Writers Tom King (Strange Adventures, Swamp Thing: Roots of Terror, Swamp Thing Winter Special), James Tynion IV (Batman), Vita Ayala, Phillip Kennedy Johnson (The Last God: The Fellspyre Chronicles) and Ram V (Catwoman, Justice League Dark) are among the writers penning these creepy tales with Domo Stanton (House of Whispers), Mike Perkins (Lois Lane), Emma Rios and Christian Ward providing the bone-chilling artwork.
Tom King on a Swamp Thing story intrigues me, and everyone who read The Wilds from Black Mask knows that Vita Ayala is a flower-zombie expert, so they should have something interesting to bring to the title. The interior art choices are spicy as well, with Emma Rios and Christian Ward both bringing very different, stylized artwork. While I'd personally love to see an ongoing, revitalized Swamp Thing series, this is a great Halloween treat.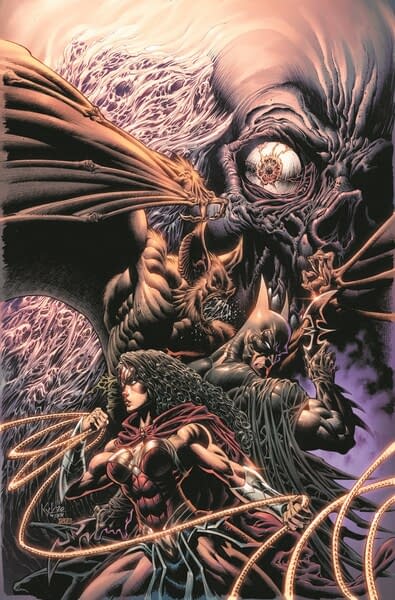 What happens when Batman encounters a true urban legend after speaking its name three times in a mirror, or when Madame Xanadu enlists the help of Man-Bat to take town shadowy specter? And who can stop an intergalactic demon from turning people into frog beasts? Only the unlikely team up of Green Lantern and Etrigan! All this and seven more fang-tastic tales to trick your treats and bob your apples!

This prestige format one-shot features some of comics best scary storytellers, including writers Carmen Maria Machado (Hill House Comics' The Low, Low Woods), Marv Wolfman, Ken Porter, John Arcudi, Saladin Ahmed, Alyssa Wong, Travis Moore and others. Artists contributing to this blood-curdling comic include Riley Rossmo (Martian Manhunter, Constantine: the Hellblazer), Mike Perkins, Leonardo Manco, Travis Moore, Tom Mandrake and others.
What, no Tom King story about Batman and Catwoman watching horror movies at home? This still one sounds like a lot of fun. It's encouraging to see comics publisher moving full speed ahead now that comics shops are open, so let's hope that, by October, the current situation for comics shops and… well, the entire world is a lot less scary. I like my horror to end when I put my comics down.