Tom Lichtenheld and Beth Ferry's Stick & Stone Gets a Graphic Novel
Stick & Stone is a very popular children's picture book by Beth Ferry and Tom Lichtenheld published in 2015 by HMH For Younger Readers. Well next year, it's growing up as it is getting a graphic novel sequel Stick & Stone: Friends Forever. It's one of four graphic novels that the same creative team has sold to Kate O'Sullivan at HMH.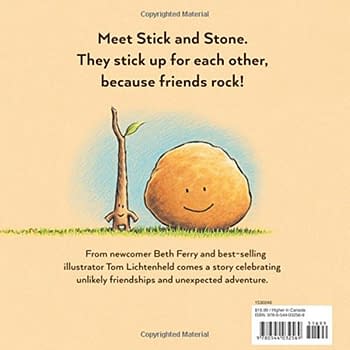 In the Stick & Stone: Friends Forever graphic novel, Stick goes looking for his family tree, only to discover that his family has been with him all along. In The Umbrella, a girl and her pup discover that a walk in the rain, umbrella or not, can lead to unexpected blessings.
The final unnamed two will be early reader graphic novels featuring Stick and Stone as well as a new cast of characters, illustrated in Lichtenheld's style by artist Kristen Cella. Publication for these books is planned for the autumns of 2021 and 2022 respectively.
Agents Elena Giovinazzo at Pippin Properties and Amy Rennert at the Amy Rennert Agency represented Beth Ferry and Tom Lichtenheld respectively when negotiating this deal.
Tom Lichtenheld who lives in Geneva, Illinois, has written and illustrated many popular books for children, including Cloudette and Bridget's Beret. He is also the illustrator of the New York Times–bestselling books, Duck! Rabbit! and Shark vs. Train. Beth Ferry lives in New Jerse, and is the author of children's books such as Swashby and the Sea, Marsha Is Magnetic and Ten Rules of the Birthday Wish with Tom.
Houghton Mifflin Harcourt of HMH is a publisher based in Boston's Financial District of textbooks, instructional technology materials, assessments, reference works, and fiction and non-fiction for both young readers and adults. They also have an extensive graphic novel line which can be viewed right here. Last November, the also launched a new separate graphic novel imprint called Etch.