Turning The Gold Keys – Ray Fawkes Talks Developing The Sovereigns
Dynamite's latest incarnation of the classic Gold Key characters is called The Sovereigns and features Turok, Magnus, Doctor Spektor, Solar and Samson. I previously talked with Ray Fawkes about the zero issue of the series, now we take a look at the number one issue and going deeper into the characters. Cover art by Stephen Segovia and Philip Tan.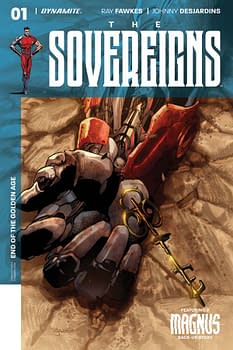 DAN WICKLINE: We last talked about the zero issue that focuses more on Turok and Samson. But here the focus moves to other characters. Let's talk about the changes to Magnus first. Here we see him as a man in a routine, in control of his city. How has he gone from a robot fighter to a robot controller?
RAY FAWKES: Magnus has figured out an end run around the war against the robots in the year 4000, and it landed him back in our time, where he was free to cut a deal with a more amenable Machine Consciousness. How exactly he achieved that will be part of the subject of our story. Now, as we see him, he is no less a King than Turok was in issue 0.
DW: Moving on to Doctor Spektor. You have him with a new title and what seems to be a lot more power. How does your Spektor differ from the one fans are used to seeing? Since Spektor hasn't been used as much as the other Gold Key characters, did you feel like you had more freedom with where you take him?
RF: Grandmaster Spektor is a man who has reached the pinnacle of his talents: no longer merely a detective who dabbles in the occult, he has earned the fear and respect of most of the world's supernatural creatures and earned his place next to giants like Magnus and Turok and Solar through years of practice, research, and spiritual journey.
Honestly, Dynamite gave me complete freedom to develop all the Gold Key characters in this story – it wouldn't be right to say I enjoyed more freedom with him than any of them. All of them, though, are brought from their roots in the traditional stories to this point – and readers will see that though they may be more powerful, or stranger, or out of their usual element, the route that brought them to THE SOVEREIGNS makes sense.
DW: You're take on Solar seems to have him moving further away from humanity. Which Solar are we seeing here? What motivates Solar to be vigilant and help humanity if he's drifted so far from it? RF: That's kind of like a trick question. We're seeing several versions of Solar, all in one. Three of them, in fact. But they were all human before their fusion and apotheosis, and they still hold their love of humanity in their heart. The question of Solar's relationship to humanity is one of the pivots of their story in this book, though.
DW: I'm trying to wrap my mind around what Solar says about the Lost Valley in the first episode. How much can you say about now and how big of a role does it play into the overall story?
RF: It is the crucial element and the key battleground of THE SOVEREIGNS. Without the Lost Valley, our villain's evil plan couldn't possibly succeed… and without the Lost Valley, our heroes couldn't possibly fight it off. Read on.
DW: Now we've focused on the heroes so far, but what about the bad guys? We've seen some glimpses of the opposing force, but haven't gotten a whole lot about them. Whatever it is that is bringing these heroes together, is it something from the Gold Key comics or a new creation? Issue one focuses on the fall out of issue zero in a sense, how far into the series are we before we get an idea of what they are up against?
RF: Let me answer your questions as directly as I can without giving anything away – because figuring out the nature of the opposing force is something I don't want to spoil. So in the spirit of being helpful without being too helpful: It IS something from the Gold Key comics, but it's changed at least as much as the rest of the characters in THE SOVEREIGNS have. As the heroes piece together the identity of the enemy, the readers will see it too… by issue 2, one of our heroes will have figured it all out. If they can survive long enough to tell the others, there might be a chance for the heroes to win the day…
For more information on the Sovereigns, click here.