Unpublished Story from Doc Savage's Creator in New Kickstarter Anthology
Bob Greenberger writes,
When you're six years old, it's pretty easy to blow your mind on a regular basis. I was home sick with yet another round of bronchitis when my mom brought me a comic book. Was it Superman or Action? Who knows? It was, though, a doorway and one I eagerly stepped through, quickly becoming a major comic book reader.
Along the way, I discovered there were these other heroes that Superman hung out with, even that teen group from the future he was a member of. I sought them out and through the Legion of Super-Heroes and Justice League of America, I was led to other titles.
In time, as I grew up and was exposed to more information about the comics, mom brought home from the library Jules Feifer's The Great Comic Book Heroes, which told me about the Golden Age of comics and even mentioned their pulp antecedents. Pulps? That was something new to explore.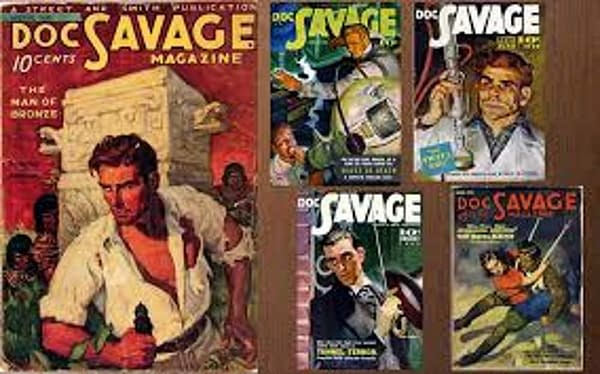 In the 1960s, there was a nice paperback renaissance for the best of the pulp heroes – Doc Savage, The Shadow, The Black Spider, G8, etc. Slowly, I tried these out and liked them. Then I heard about how many of these characters also had radio dramas and thankfully, by the early 1970s,a local station played them, one a night at 7 p.m., perfect for after dinner/before television.
The pulps hold a fascinating place in publishing and pop culture history. They were the gateway for many readers in the 1910s through the 1930s, before comic books arrived in force. They were exceptionally influential on the first generation of comic book creators, notably Jerry Siegel and Bill Finger.
The pulp sensibilities have never fully left pop culture and have certainly been influential to me in my days editing comics and these days writing and editing related works. In the spirit of giving back, I conceived of Thrilling Adventure Yarns, an anthology of pulp-inspired tales, coming from all genres. I sought out friends and friends of friends to see if they'd contribute. The yeses from my pals at Crazy 8 Press – Michael Jan Friedman, Paul Kupperberg, Russ Colchamiro, Aaron Rosenberg, Glenn Hauman, and Mary Fan – came pretty quickly. Authors Robert Jeschonek, Paige Daniels, Jim and Becky Beard, and more also agreed to participate.
When I asked Will Murray about participating, he mentioned he was the literary agent for Lester Dent's estate.
Now, Lester Dent created Doc Savage, so this was huge. I was being offered an unpublished tale, a World War I aviator adventure. But it meant I had to pay the estate, which led me to launching a Kickstarter campaign to make the book a reality. This is also allowing me add stories from Will, Peter David, and Keith R.A. DeCandido if we hit the first stretch goal.
I now have a chance to link my tribute directly to the era being celebrated, which thrills me no end.
The campaign at Kickstarter has launched and I am hopeful we can bring my dream to fruition.