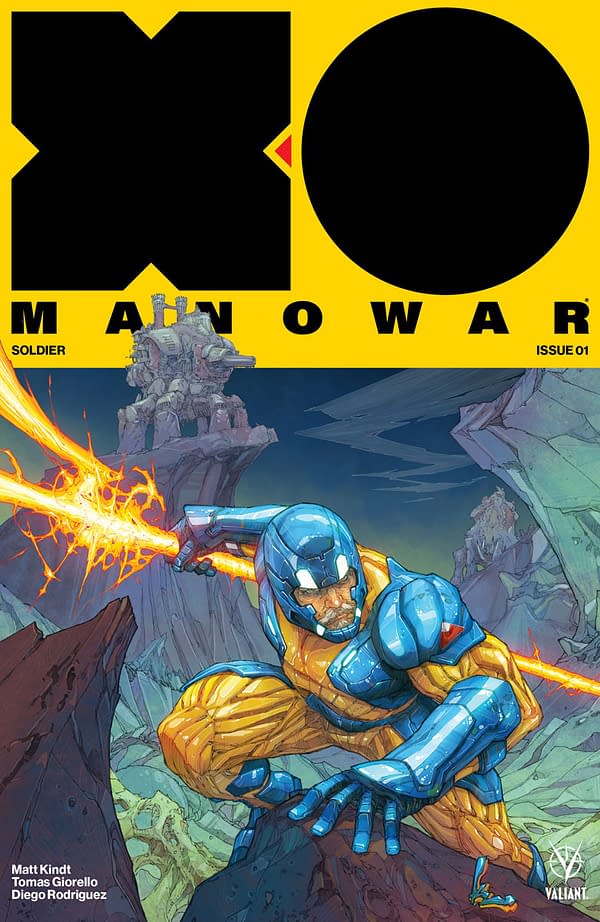 Valiant has just announced a new publishing format – "Valiant Premium" – that the publisher will introducing in March for its new space-centric X-O Manowar series by Matt Kindt and a rotating stable of five artists, beginning with Tomas Giorello. 
The publisher previously introduced its high-end "Valiant Prestige" format in 2014 for The Valiant by Jeff Lemire, Matt Kindt, and Paolo Rivera and has continued to employ it on high profile limited series and events, including Divinity and Savage.
The new "Premium" format will carry many of the same features as its predecessor – heavyweight cover stock and interior pages and an oversized first chapter, among others – but feature "minimal advertisements" as opposed to director's cut-style extras. Additionally, Valiant pledged each issue of X-O Manowar – the first ongoing monthly series to receive such a treatment – will ship with "Valiant Premium" format in 2017 and beyond. The series will also remain at $3.99 per issue, despite the substantial upgrade in printing quality.
Says Valiant Publisher Fred Pierce "Valiant's first truly cosmic series starts here, and it's an absolutely relentless adventure from the first page… The VALIANT PREMIUM format will be an additive addition – at no extra cost to the consumer – that will enhance the storytelling and narrative impact of one of our biggest release to date. These are can't-miss comics for anyone who considers themselves a fan of the medium."
X-O Manowar #1 by Matt Kindt & Tomas Giorello arrives on March 22nd – the first "X-O Manowar Wednesday" – from Valiant Entertainment.
Can someone start calling it X-O Manowednesday before I do?
Enjoyed this article? Share it!