An official Walking Dead immersive exhibition and art gallery is coming to London at a pop-up space in Truman Brewery on Brick Lane. Right next to the bagels store, the cereal killer cafe, a brace of Indian restaurants, and everything else that makes life worth living. Sorry, I'm still on diet.
It will open with private VIP launch (I totally read that as lunch first time) on Thursday, 7th February. Following this, the gallery will open its doors to fans for a limited run on Friday 8th February 12 – 7 pm and Saturday 9th February 10 am – 5 pm.
Interactive displays will include a recreation of the infamous room inhabited by The Governor, where gore-lovers can submerge their own head into the display among decapitated walkers, a replica of the motorbike ridden by Daryl, and live walkers recreating favourite scenes including the escape from Terminus, Winslow, and the most gut-wrenching walker kills.
The exhibition also houses the twenty shortlisted entries of a national fan art competition launched by FOX in October 2018, which have been selected from over 800 entries and brought to life in the gallery. The judging panel included The Walking Dead's very own Greg Nicotero, Executive Producer, Director and Special FX Make-Up Designer.
The Walking Dead: Art Apocalypse will also feature SFX and prosthetics displays, deconstructing the incredible make-up process that has characterised the visual identity of the show. Here, horror fans can see how the iconic walker look is created in painstaking detail over three hours, as well as the chance for visitors to experience their own walker 'make-under'. There will also be key behind the scenes shots from filming over the last eight years, showing the cast and crew bringing the world of The Walking Dead to life.
It will coincide with the second half of The Walking Dead series 9, returning to FOX in the UK on Monday 11th February at 9 pm.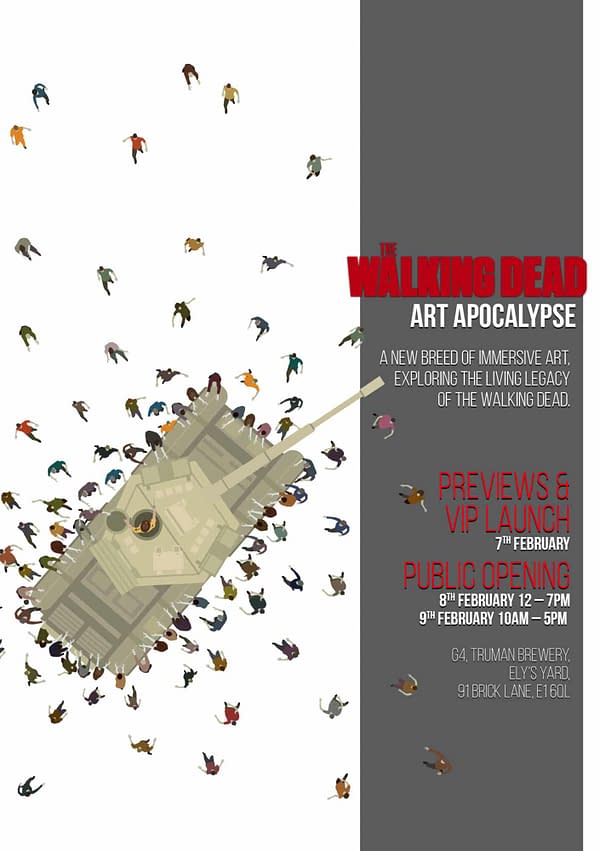 Enjoyed this article? Share it!