The hands of DC Comics'publisher Dan DiDio are heavy on Flash Forward #1 by Scott Lobdell, Booth, Norm Rapmund, Luis Guerrero and Troy Peteri are all over Flash Forward #1, published today. Specifically the use of Tempus Fuginaut, the instigator from DiDio's Silencer series. But there's also the clear intent to try and make sense of this year and last year's big DC Comics event, Heroes In Crisis, while also tying it into the rising Dark Dimensions of Metal and Justice League, and well as what went down in the New 52 and DC Rebirth.
So we have a Wally West without his kids or wife…. but knowing who they are, or were.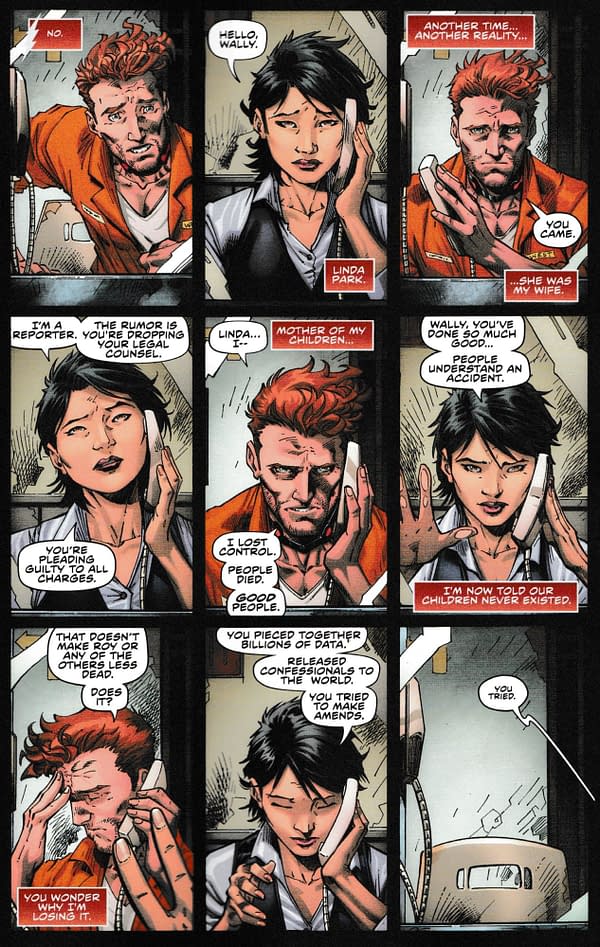 Yes, how he actually pieced together billions of pieces of data, and how the confessionals released to the world is seen as a good thing rather than the biggest doxxing ever, isn't dwelled upon. Or how Wally West actually lost control of his power and killed all those people. Bt at least he is admitting to framing others now…
How crazy was it he that it all made sense at the time. Is this DC Comics now throwing shade at DC Comics then? Now that Tom King is no longer going to be writing the Batman comic book? So what is Wally West's future destiny?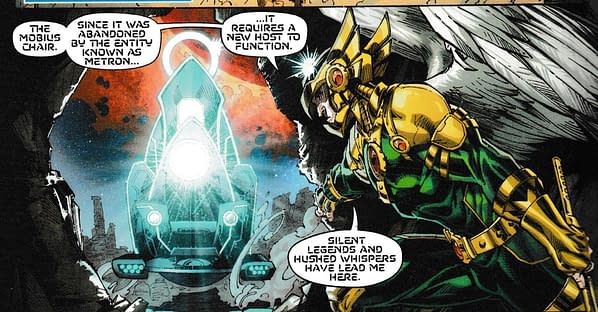 The Mobius Chair is awaiting a new host? You have got to be kidding me. All this guff about being the world's fastest man and they are going to make him… sit down? An ultimate punishment, even for a man currently in super-villain jail? All the time that Heroes In Crisis's Tom King is writing New Gods stuff, they're going to put Wally West in the Mobius Chair? Anyway, given the influence on Tom King of the work of Alan Moore, given the multidimensional aspect of this series also associated with Moore, and given that this series may be a way away from Tom King…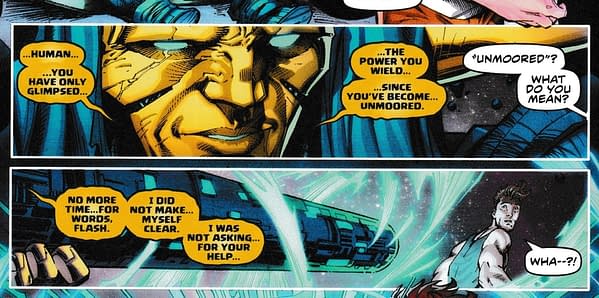 …is that a tenuous play on words? Has Wally West become un-Moored? By the end of the issue, he certainly appears to have been Morrisoned. We shall see…
FLASH FORWARD #1 (OF 6)
(W) Scott Lobdell (A) Brett Booth, Norm Rapmund (CA) Evan Shaner
His name is Wally West-and he was the Fastest Man Alive. That is, until the Multiverse was rewritten without him or his family in it. Wally returned and tried to make it work, but the damage was done. Spinning out of the events of HEROES IN CRISIS, follow the man who called himself Flash on an adventure to find redemption in a cosmos that has fought so hard to destroy him.In Shops: Sep 18, 2019 SRP: $3.99
Enjoyed this article? Share it!