Want To Acquire A Rare Variant Of We Can Never Go Home Today In London?
The truly runaway success of a comic We Can Never Go Home from Black Mask Studios could never stay in stock for long at Forbidden Planet in London, and that turned out to be true everywhere.
First printings of the comic, as well as con variants of #1 are hovering around 60 dollars and upwards (as Rich Johnston has informed me). Well, Forbidden Planet actually commissioned a special variant cover for #1 called the "Sid & Nancy Variant" when they found out writer of the series Matthew Rosenberg was going to be in town this week.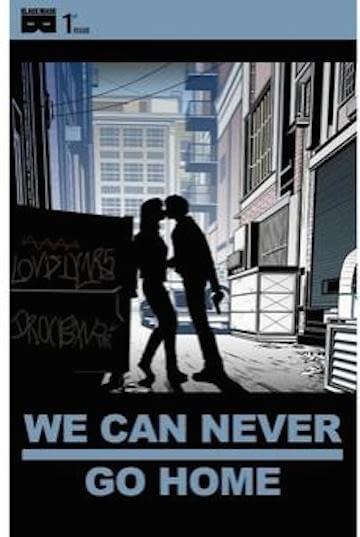 Rosenberg will be appearing tonight, June 3rd, at 6pm at Forbidden Planet, London, to sign We Can Never Go Home (and his other works, I'm sure), and you'll be able to get the Sid & Nancy Variant for yourself. Aren't you lucky?
If you're new to the comic, here's the basic idea:
A well worn mixtape, a stolen convertible, a duffel bag full of cash, a fully loaded .45, and super-powers.

Seventeen and on the run is the only way to see America right. Teenage outcast Duncan and popular girl Madison share a secret – they can do things other people can't. But their abilities take them down a dangerous path. After a deadly accident they are left with no choice: leave home and never come back. We Can Never Go Home is a new chance to fall in love with the doomed misfits who need to run away to find themselves.