[rwp_box_recap id="0"]
The Forgotten Queen's second issue starts with Dr. Sarnai performing an autopsy on a member of her scientific expedition, who died horribly with an impossible piece of armor protruding from his chest cavity.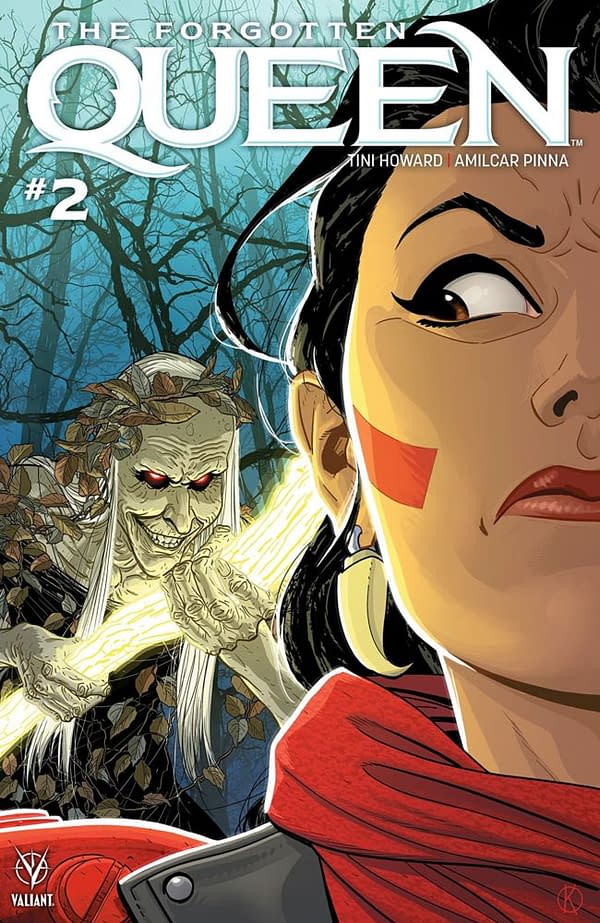 The armor piece is impossible simply because it is part of an overall set meant for one unique wearer, with materials and craft methods that span centuries.
That armor, of course, belongs to the War Monger, a woman with a gift even more unusual than her armor. She's immortal, for one, and she can stir the blood-lust in the people around her. War Monger is a formidable opponent, and uses her centuries of combat expertise to take a bride.
That bride, Khutulun, is also the leader of a Mongolian horde, and the great-great granddaughter of Chinggis Khan. You probably know him as Genghis.
At this point, I'm absolutely smitten with The Forgotten Queen. The history of Chinggis Khan's successors is fascinating, and Khutulun, in particular, is amazing.
Marco Polo (who shows up in this issue) claimed that Khutulun could best anyone who opposed her in wrestling, and that she was so fierce an opponent that she offered herself as the prize for anyone who could best her. History says she eventually married, but her spouse is completely unknown.
So, here's the brilliance of The Forgotten Queen: Writer Tini Howard plants the War Monger in Khulutun's camp, and she challenges her to wrestle… and wins. Vexana, the War Monger, is Khutulun's spouse. And since Vexana is immortal, she would do everything she could to erase her existence in history, right?
I seriously spent hours after reading this scouring history sites about Khulutun. It all fits. This is the kind of story-telling that gets me fired up- it interweaves itself right into real-world history, and gives you just enough fantasy to make you wish it really played out like this.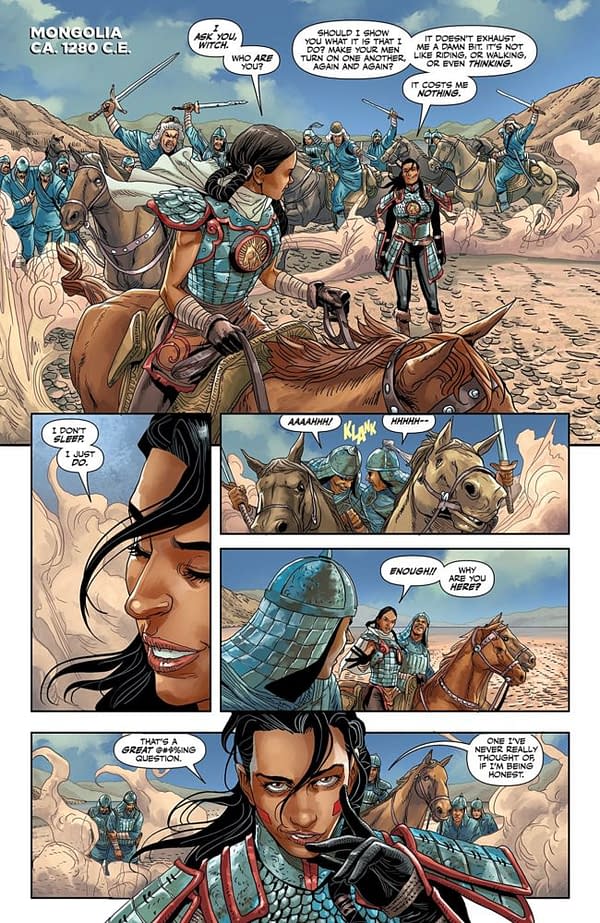 Amilcar Pinna's art is perfectly serviceable in the modern era story, but really comes to life in the flash-backs. Pinna's attention to the trappings of old Mongolia is fantastic, and there's a bit with a witch that I absolutely love. Plus, Pinna draws horses really well. If you want to gauge an artist, check out their horses. These are really good horses!
Howard recently signed an exclusive to write some titles for Marvel, and after reading a few issues of The Forgotten Queen, I can see why. I can't wait to see what she does!
The Forgotten Queen is highly recommended for fans of fantasy and history. Have fun!
SUMMARY: Script: Tini Howard; Art: Amilcar Pinna; Cover Art: Kano; Colors: Ulises Arreola; Letters: Jeff Powell; Editor: Lysa Hawkins; Publisher: Valiant Entertainment; Release Date: March 27, 2019; Cover Price: $3.99; 35 pages.
[rwp-review-ratings id="0"]
[rwp-review-form id="0"]
Enjoyed this article? Share it!