WARNING: Retailers Will Need to Order Marvel and Image Comics Ahead Of Time For New Year's Day
Due to the holiday shipping schedule and production time needed for printing, New Year's Day release titles from Marvel Comics and Image Comics do not appear on the order form that will be released next week with Diamond Previews catalogue. Instead, comic store owners will need to place orders separately and ahead of time.
"Unfortunately, the timing of the deadline for the November Order Form meant that retailers wouldn't get orders in on time to produce and ship the books," said Jim Fallone, Diamond's Director of Purchasing – Print Team. "We don't want retailers to be without these important Marvel or Image products for that week, so we're taking these extraordinary steps to make sure retailers can order these books in time by their respective FOC Dates."
It only affects a few titles, but they may be big ones. Retailers will need to place final orders by November 25th for the Marvel titles and December 2nd for the Image titles.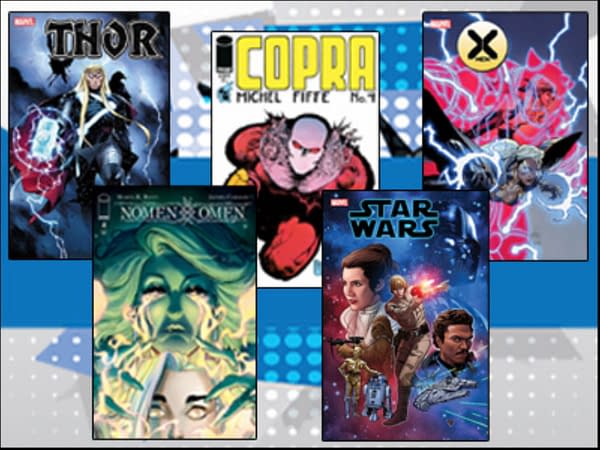 They will be, from Marvel:
Thor #1
Star Wars #1
Hawkeye Freefall #1
Tarot #1
Marauders #5
X-Men #6
Black Panther And The Agents Of Wakanda #5
Daredevil #16
Doctor Doom #4
Miles Morales Spider-Man #14
Punisher Soviet #3
Spider-Man & Venom: Double Trouble #3
Spider-Verse #4
Sword Master #7
Web Of Black Widow #5
True Believers: Criminally Insane: Bullseye #1
True Believers: Criminally Insane: Green Goblin #1
And from Image:
COPRA #4
Dead Eyes #4
Nomen Omen #4
Manifest Destiny #40