Warrior Nun: Dora is the Lesbian Grunge 90s Buffy We Always Wanted
Warrior Nun has hit Netflix, just as the Warrior Nun: Dora graphic novel hits Kickstarter. From Pat Shand and Daniel Gete, Warrior Nun: Dora published by Bleeding Cool's own publisher Avatar Press, is a not-quite-mature-readers-only post-satanic panic nineties-set remake of a nineties character, but drenched in teen goth/grunge culture of the just-pre-internet age. It's a period piece that's far more reflective of that age than the original comic book.
And keeping with that nineties vibe, we also get a warrior nun with an Infinity Gauntlet. Okay, it's just a Gauntlet but from an Avengers Endgame perspective, it does have an all-powerful MacGuffin vibe.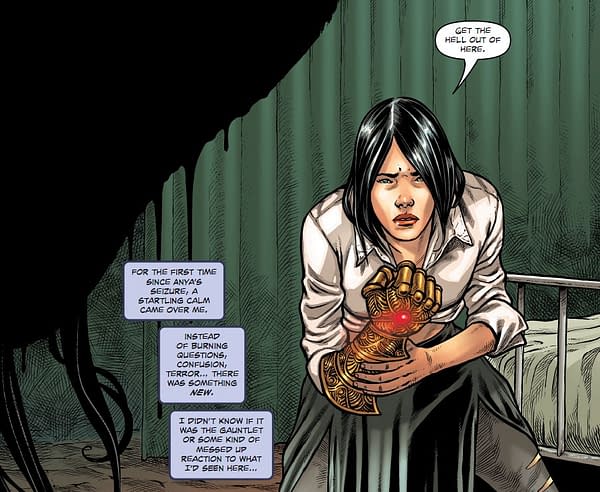 So a rebellious teen (and a lesbian to boot) sent to a convent by strictly religious Catholic parents which is not entirely thought through. And a convent part of the whole Warrior Nun franchise which they really should have seen coming if they'd watched enough Buffy. Which, being devout Catholic parents, they totally didn't.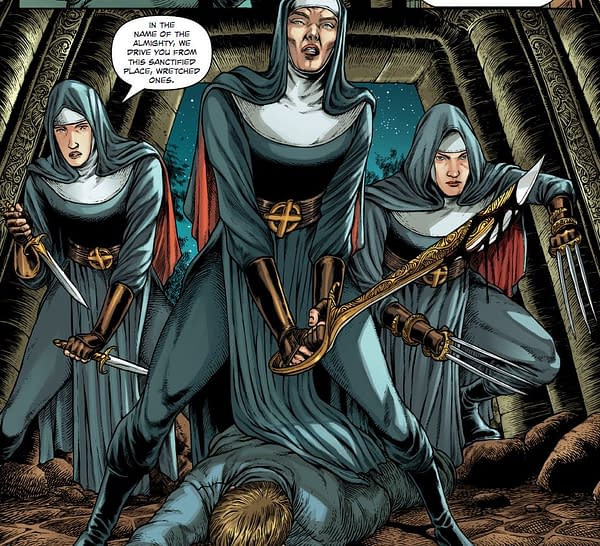 They even come with a little Wolverine vibe as well.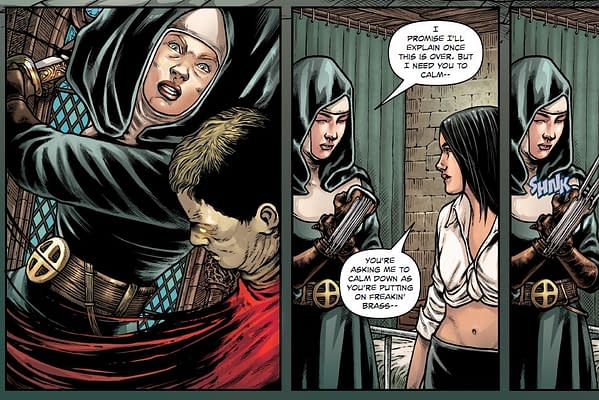 But what we get is something closer in structure to another age entirely, the British Girls comics of the seventies, which drew on the boarding school fiction, young women, uncovering secrets, of both a supernatural and secretive fashion, and even inspired a seventies-British comics reader like a certain Joss Whedon as well as all the supernatural horror steeped in Hammer movies from that period too. So this Supernatural Surreal School Stories really brings Buffy vibes to the Warrior Nun world, by bringing an outsider perspective, and one from the nineties as well. And the two fit really well.

It's also a very pretty comic, Daniel Gete has a detail obsession that reminds one of former Avatar artist Juan Jose Ryp or Phil Jimenez, but is more about the moments, and the feel of George Jeanty Buffy seems deliberate. The comic does a better job of invoking this kind of mood than the Netflix series seems to and it's a welcome one.
We have a longstanding history and legacy of the character to explore – and to explain to the new wielder of the Warrior Nun power. But rather than relegating this to just historical flashback, it all emerges in the heat of battle as well. The contrast of the world of rebellious teen and real demonic danger doesn't drop – she treats all forms of authority the same, whether that comes from the principal's office or the deep levels of hell -why would she even see a difference between the two from her perspective?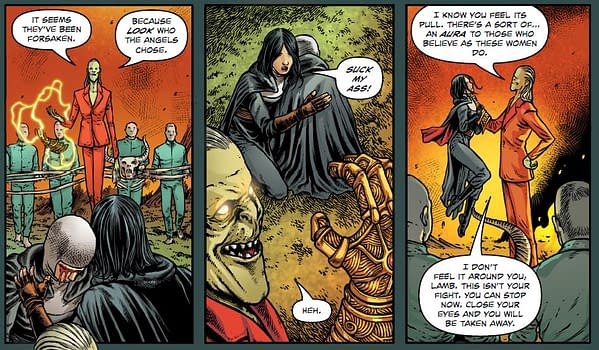 And maybe, just maybe, this Warrior Nun Dora can find something in this world which is denied her in her own.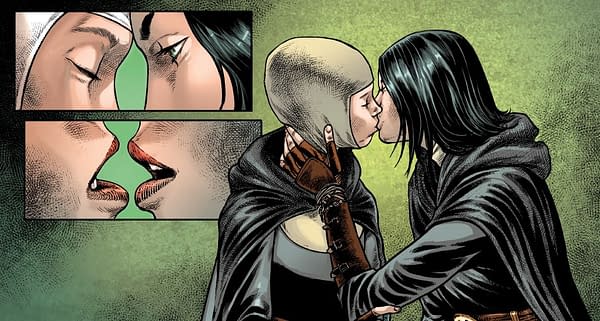 If the Netflix Warrior Nun opens something comic-book related in you, whether its a seventies or a nineties vibe seen through the eyes of decades later, then Warrior Nun: Dora is waiting for you right now.
Warrior Nun, now a Netflix original series, re-launches for a new generation with WARRIOR NUN: DORA! DORA is a full-color epic, for readers of all kinds, with a new Nun and new attitude! With your support here, we will release the graphic novel collection of WARRIOR NUN: DORA! The Satanic Panic of the 80s has fallen away to a new wave of rebellious kids in rural Pennsylvania in the 1990s. Dora, a grunge-obsessed teen, is caught in the middle of what appears to be a dark ritual, and is sent away to a secret school by her devoutly religious parents. There, Dora is shocked to find a group of nuns that fight against the forces of evil – but when undead horror comes Dora's way, what will this misfit do to protect herself? Looking for the next big thing? Have faith in Warrior Nun! Written by Pat Shand and featuring art by Daniel Gete, WARRIOR NUN: DORA is a sixty-four page color graphic novel for readers of all ages.