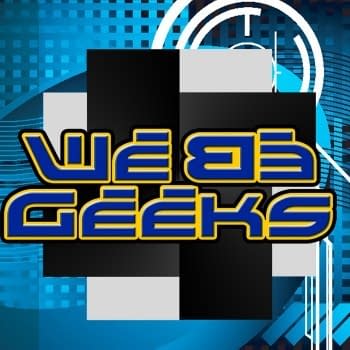 Bleeding Cool welcomes back We Be Geeks, hosting a variety of guests and covering a wide range of geek topics.
The guys run amock. We talk about our first glimpses of the female form. We talk Role playing. We talk Curtis Armstrong's new show. We talk Kylo Ren's lightsaber. Is BB8 a girl? We talk about the lack of female figures for Star Wars and other franchises. We talk Dancing With the Stars? What? Is this the right show? We talk Steve Irwin's death. We talk Sheldon finally having sex. We talk Police Academy reboot. What ever happened to Steve Guttenburg. What is a cassette tape? These and other questions we answer. We also talk Flash-Arrow crossover.
Subscribe today on iTunes and Stitcher and leave a 5 star review. Leave a voice mail on the Geek Revolution hotline at 321-219-8227. Email us at webegeeks (at) webegeeks dot net with any news, questions or comments.
Follow us:
Twitter: @webegeeks, @JulzHendricks, @nesofgeek, @geek_happenings
Facebook: We Be Geeks
Superheroes by day, Podcasters by night! The We Be Geeks Podcast is hosted by Mike Ehmcke (@webegeeks) Along with Julz Hendricks (@JulzHendricks), Derrick Nadeau (@nesofgeek) and Brett Dasilva (@geek_happenings) as Co-Hosts, this podcast is on fire! You can find us on Facebook as well as the We Be Geeks official site. Check out our Patreon and support the show.
Enjoyed this article? Share it!