We Live In Black And White- Thank FOC It's Friday, 11th February
Thank FOC It's Friday – Planned to coincide and cover the demands of Final Order Cut Off at Diamond Comic Distributors on Monday. And now Lunar Distribution and Penguin Random House on Sunday as well. So here's this week's comics product coming through that may need adjusting as demand slips and slides with the emerging economic bubble. Or somesuch.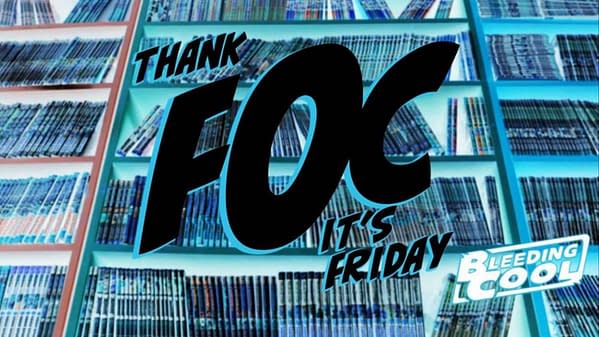 Traditionally FOC is the date when retailers have a last chance to amend their advance orders for comic books without penalty. A final opportunity for publishers to promote books while orders can still be added. A time for credits to be amends, new covers to be revealed, and a final push given. This is an attempt to sift through them all and find the most relevant items.
What's FOC-ing this weekend?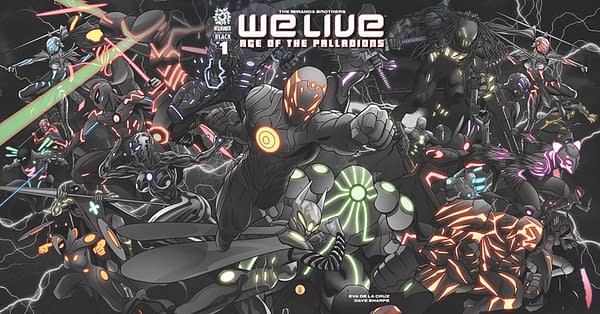 AfterShock Comics launch We Live: Age Of Palladonions with two launch issues #1 Black and #1 White, from Inaki Miranda and Roy Miranda. Black tells us "Powerlessness corners the Palladions, who fear not being able to protect the city. Everything is black, except for the white snow that covers with silence the dying, black present." White tells us "Fear opens its way through Megalopolis 9 like a great crack of faith that separate more and more the population from the Palladions. Snow covers the city with a heavy white mantle, invoking oblivion and nothingness." Both have two 1:15 tiered variants.
The Rick And Morty comic gets a Star Wars parody from Magdalene Visaggio and Marc Ellerby, Infinity Hour #1, from Oni Press. "Rick Sanchez has always known he was destined for greater things. When that greater thing calls, will he be ready to answer? Rick is recruited to join a galactic rebellion, forming a bond with a ragtag group of freedom fighters, mystics, and mercenaries. Can this team of would-be heroes overthrow the Galactic Federation?"
The Kill Lock gets a new series, Artisan Wraith, by Transformers artist Livio Ramondelli from IDW. "The Kill Lock unified four criminals in a quest to escape their seemingly inevitable, linked deaths. They managed to escape destruction by merging their consciousnesses, and now one of the smartest-and most malicious-bots in the universe has an unbreakable body and a planet at his command. Homeworld won't allow it, and so two of the deadliest assassins in the universe are tasked to kill the Artisan Wraith."

Little Monsters #1 launched by Jeff Lemire and Dustin Nguyen from Image Comics. Fully returnable, "They are the last children on Earth… who also happen to be vampires. For longer than they can remember, these child vampires have lived a life of eternal wonder amongst the ruins of humanity. But shocking events fracture the group and set them on a path of discovery that will shatter their innocence forever."

Radiant Red #1 by Cherish Chen, David Lafuente and Miquel Muerto expand the Radiant Black universe. Fully returnable with a 1:25 variant cover."To her students, Satomi Sone is a diligent middle school teacher. To her fiancé and parents, she's the rock of their family. To the world, she's Radiant Red, a criminal-turned-matter-absorbing superhero. But with a mysterious stranger in her classroom, a nosy reporter on her doorstep, and $2.5 million hidden in the air vents of her house, she's going to have to decide who she is, and quickly – before the world chooses for her."

Carnage #1 launches from Marvel Comics by Ram V, Francesco Manna and Kendrick Lim. "After the revelations of Carnage Forever, and in a year that's set to be a celebration of all things CARNAGE, this is one symbiote story you cannot afford to miss!" With 1:25, 1:50 and 1:100 tiered covers.

Eternals: The Undying #1 oneshot has changed its name to Eternals: The Heretic, from Kieron Gillen and Ryan Bodenheim. "Thanos is now ruler of the Eternals! But believe it or not…he's actually not the worst leader that the Eternals' society has ever seen. No, that honor belongs to someone even more horrific. Thanos is evil, yes, but who was the original evil from whom all Eternal evils descend? Meet Uranos, the Undying. And may the Celestials have mercy on your souls. Rated T+"
Marvel has FOC for its three Free Comic Book Day titles.
The Reckoning War gets its Trial Of The Watcher one-shot with a 1:25 Phil Noto variant.
Wolverine: Patch is a new retro series from Larry Hama and Andrea Di Vito. "The mutant known as LOGAN has made a name for himself on the mysterious island of MADRIPOOR, where the locals know him as PATCH. From their haunt at the PRINCESS BAR, what starts as a simple recon mission lands PATCH and ARCHIE knee-deep in a paramilitary struggle that will surface some SURPRISE REVELATIONS and characters! And is that NICK FURY, DIRECTOR OF S.H.I.E.L.D.? Yes, two patches for the price of one!" Witrh a 1:25 tiered cover by John Romita.
The Jonathan Hickman/Declan Shalvey Marvertical comic is collected in print with a 1:25 cover by Emanuela Luppacchio.
Cimmerian: Hour Of The Dragon #1 is a new Conan adaptation by Julien Blondel and Valentin Secher without the Marvel nicieties. "A world to explore. A throne to be unconquered. Under the funeral vaults of the mausoleum belonging to the ancient and cruel Emperor Xaltotun of Python, three men devoured by ambition come to offer to the inert body of the deceased sovereign the heart of Ahriman, a source of im-mortality which once belonged to him. Taken away at the cost of his life. In ex-change for this offering, the three men claim a single thing: the world. However, there is only one person able to stand in their way, a Cimmerian who seized the throne of Aquilonia: Conan!" With 1:10, 1:20, 1:30, 1:40 and 1:50 variants.
Bettie Page: Alien Agenda #1 is a new Dynamite comic from Ani-Mia and Celor. "Poor Bettie Page has barely finished up her latest adventure and gotten back to modeling when duty calls once more! Seems there's something funny going on in a place called Roswell, and it's up to Bettie to investigate! There's a catch this time, though-the United States military might be putting Bettie on the case, but they can't avow the existence of said case-or Bettie! Instead, our marvelous model is given a crack team of assistants to help her go where no woman has gone before!" with s dozen tiered covers.
DC Comics is doubling up its FOC through Lunar, because of Presidents Day. Which means Detective Comics #1056 and #1057 are both up for FOC in one week.
Including Batman/Superman: World's Finest #1 from Mark Waid and Dan Mora and its 1:25, 1:50 and 1:100 variant covers.
Cities Of Magick #1 by Jakob Free and Will Tempest launches from Scout Comics. "Once Upon a Time in Old York… A gun-toting drifter wanders into Old York City looking for something no one's ever seen before. He's picked a bad time—the forces of Hyper-Priestess Isimar Rothschild, the Queen of the Chicago Conglomerate, have attacked Old York. Caught in the midst of a decade-old war between two powerful magick clans, the drifter has to figure out where his loyalties lie, if he has any to speak of, and he has to do it quick!" with a 1:10 variant.
Flash #780 crosses over for War For Earth-3.
Galaxy: The Prettiest Star is a DC YA OGN by Jadzia Axelrod and Jess Taylor. "Every day in Taylor Barzelay's life might seem perfect…but every day is torture. Taylor is actually the Galaxy Crowned, an alien princess from the planet Cyandii, and one of the few survivors of an intergalactic war. For six long, painful years, Taylor has accepted her duty to remain in hiding as a boy on Earth. But that all changes when Taylor meets Metropolis girl Katherine "call me Kat" Silverberg, whose confidence is electrifying. Suddenly, Taylor no longer wants to hide, even if exposing her true identity could attract her greatest enemies."
Naomi gets her second season with Naomi Season 2 #1 by Brian Michael Bendis, David F. Walker and Jamal Campbell. "She's back! Naomi returns to the pages of her own series to uncover the truth behind the new mysteries around herself and her powers. The entire creative team (Brian Michael Bendis, David F. Walker, and Jamal Campbell) behind the critically acclaimed and Eisner Award-nominated debut series has returned to answer all the questions that surround Naomi, her legacy, and her place in the DC Universe pantheon. Guest-starring Black Adam, Superman, and the Justice League, plus the return of…Zumbado! Soon to be a CW television show from Ava DuVernay!"
Rogues #1 by Joshua Williamson and Leomacs kicks off. "Ten years ago, the Rogues disbanded and went their separate ways. But time hasn't been kind to the former blue-collar super-criminals. Caught in an endless cycle of prison, rehab, dead-end jobs, broken relationships, probation, and endless restitution fees, the Rogues are sick of paying for their crimes. Luckily, Captain Cold has a plan. One last job that will leave them all richer than their wildest dreams and free from their past…if they can survive" with 1:25 variant.
Sandman Book One and Book Two get Neflix covers.
What's on your FOC?
Sign up below, and we'll see what Thank FOC It's Friday brings next week… on time possibly.