The relationship between police and The Punisher is a complicated one. While Frank Castle is a vigilante who metes out justice to criminals, he does it outside of the law, serving as judge, jury, and executioner, while police officers are meant to uphold the law, arresting suspected criminals so that they can be tried in the criminal justice system (though, the flaws and biases of that system are another story entirely). Nevertheless, this hasn't stopped the inappropriate association between police and The Punisher, with some police departments even using Punisher skull decals on their police cars, a frankly terrifying thought.
So it's uneasy when The Punisher and the police are connected, like in Marvel Knights 20th, where a mindwiped Frank Castle has become a cop, or in next week's issue of Punisher, where Castle is being held in a jail cell while supposed agents of S.H.I.E.L.D. want to take him into federal custody. Except that something is amiss, and these aren't S.H.I.E.L.D. agents at all. Before The Punisher can convince his captor of the danger, however, an officer is gunned down… and hands The Punisher his gun.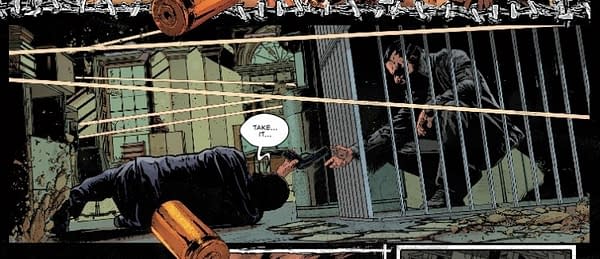 Unsettling? Perhaps. But when he's facing off against Jigsaw, we do have to admit there's a little leeway.
Punisher #4 hits stores next Wednesday.
Punisher #4
(W) Matthew Rosenberg (A) Szymon Kudranski (CA) Greg Smallwood
• The chips are down and THE PUNISHER is boxed in!
• But do his pursuers think that makes him more dangerous or less?
• Nobody puts Frank in a corner!
Parental Advisory
In Shops: Nov 21, 2018
SRP: $3.99
Enjoyed this article? Share it!