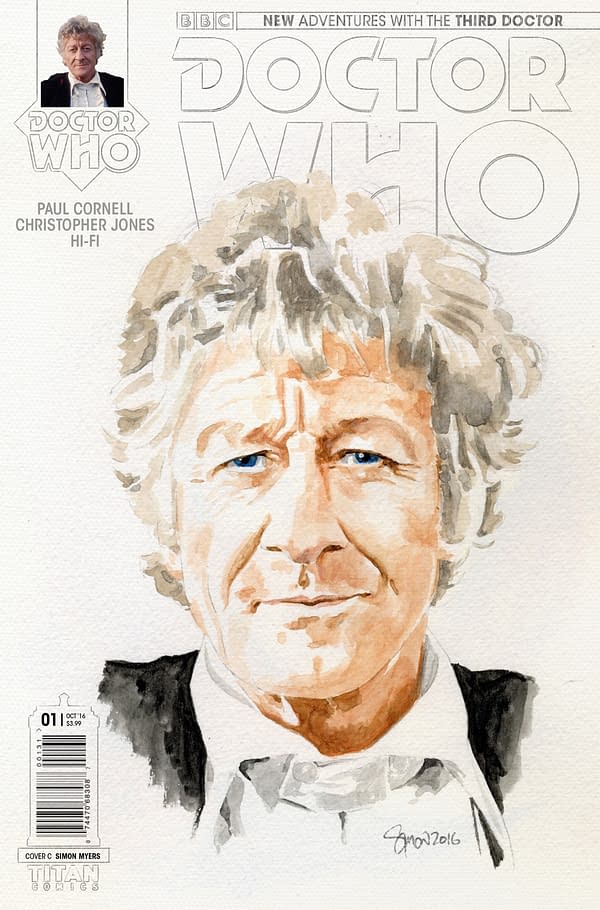 by Jason Borelli
Titan Publishing has wasted little time in establishing their licensed Doctor Who comics. In addition to publishing books covering the modern era of the show (as portrayed by Christopher Eccleston, David Tennant, Matt Smith and Peter Capaldi), miniseries have also been released for past incarnations played by Tom Baker and Paul McGann. Last month, Titan released Doctor Who: The Third Doctor #1, starting a miniseries based on the Jon Pertwee version.
The Third Doctor is written by Paul Cornell, whose contributions to Doctor Who range from three episodes of the series ("Father's Day," "Human Nature," "The Family of Blood") to The Four Doctors, last year's event from Titan. The Third Doctor takes place immediately after "The Three Doctors" (the tenth anniversary story aired in 1973), where the Doctor has regained his ability to travel time and space freely in his TARDIS, but has not left UNIT yet. The first issue of "The Heralds Of Destruction" features an alien invasion, a glimpse of the Master (the Doctor's main adversary at that time), and a face from the Doctor's past.
"I basically had an idea that could only really work with the Third Doctor," Cornell stated last weekend at New York Comic Con, "so I called up [senior editor] Andrew James at Titan and said to me, 'Hey, you got a Third Doctor?' He looked at the idea and went, 'Yeah, that's an idea that can only be a Third Doctor idea, and we went from there."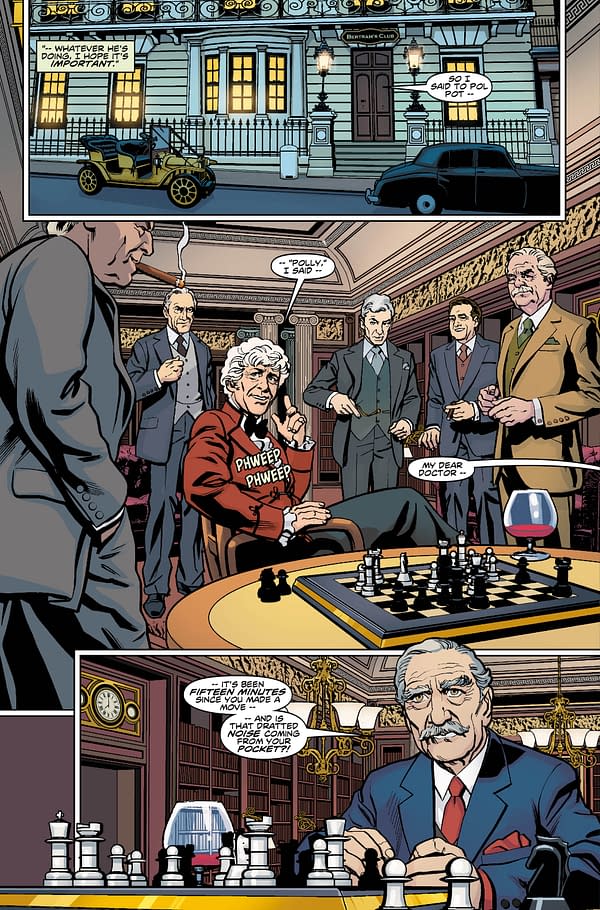 The artist for the miniseries is Christopher Jones, who is best known for his work on licensed DC Comics animated series Young Justice and The Batman Strikes! (based off The Batman). Cornell has known Jones for twenty years from conventions.
"[This] was brilliant," Cornell remembered, "because Chris didn't know I was writing it, and they picked him without me asking me for him. I was delighted. I started trolling him on direct message on Twitter, sending him Pertwee quotes until he realized what was going on.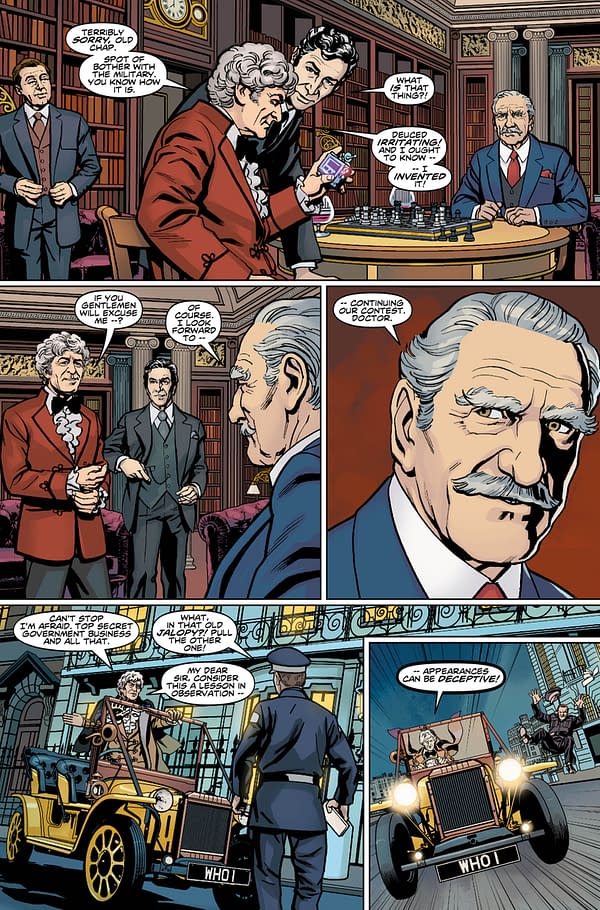 "I've always known him having a very animated art style, and it turns out he can also do this really realistic fine line style, which was a brilliant second-string thing to have, and just what we needed for the book."
For Jones, this is his first official Doctor Who project. He set up shop at NYCC's Artist Alley during the four days of the show, selling prints and blank-covered copies of The Third Doctor for potential sketches.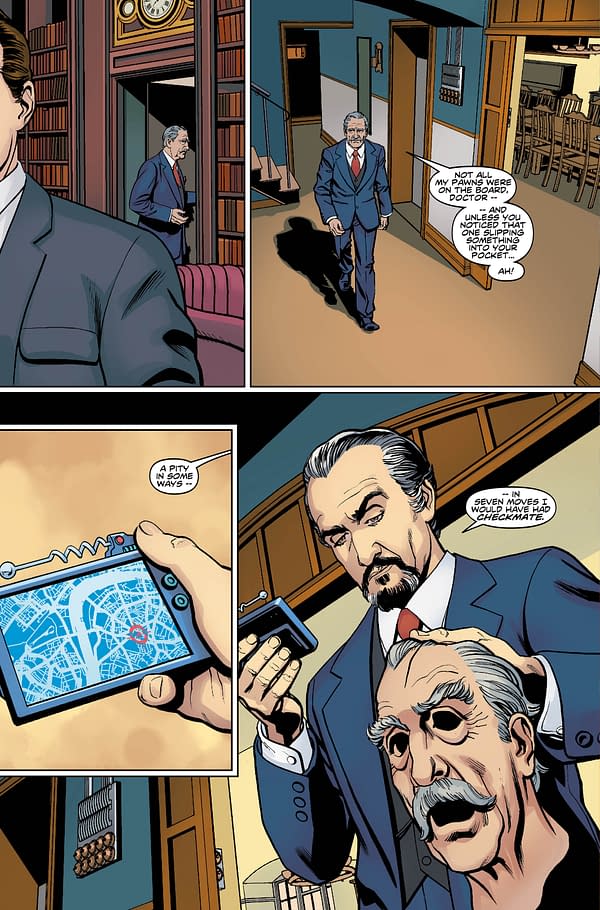 "Thankfully," he said, "I had a pretty strong familiarity with that period of the show already. Paul Cornell's script was already very specific about what he wanted. Really, it was just a matter of collecting the necessary visual reference to make sure I was getting actor likenesses correct and making sure I was getting all of the details right. I didn't have to do a lot of general background research because I already knew it pretty well."
As for which character he liked to draw the most? "I was surprised at how much I enjoyed every time I was draw Roger Delgado's Master, and would get to inking his beard. It was this very specific moment where I was just kind of realizing what it was getting to work on. That kind of tickled me. Really, I love all these characters so much. I'm enjoying drawing everyone."
While readers await the second issue, which is scheduled for October 19 release, both Cornell and Jones had positive reactions to their opening chapter.
"Doctor Who fans seem to really like it," Cornell noted. "I think that we've captured the feeling of the era to a degree which they really appreciate. I think that they like really having the likenesses which nevertheless move like living comic characters. That's such a difficult thing to do. Chris does it amazingly."
Jones added, "The anecdotal responses have been wonderful, and the reviews kind of knocked my socks off. It's been very gratifying and flattering that people have been enjoying what we're doing so much. The consensus seems to be that it really captures the feel of that era of Doctor Who, which is all I could've asked for.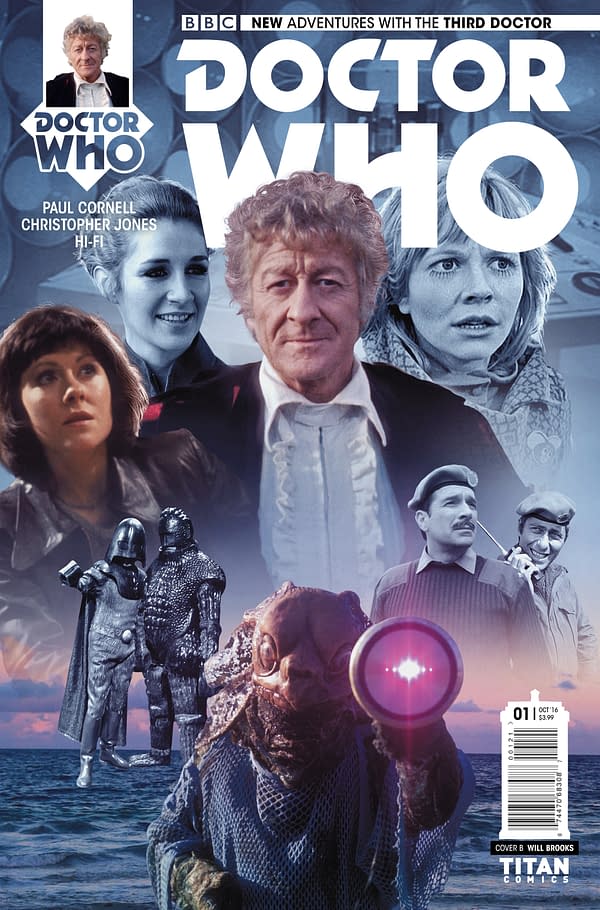 "I'm new enough to the world of official Doctor Who that I'm nowhere close to getting tired of it. This is all still pretty exciting and new to me. I've been a fan of Doctor Who for over thirty years, and I don't think I'm going to be getting tired of it anytime soon."
Cornell will be writing a Vampirella series for Dynamite, reuniting with Jimmy Broxton, who provided the art for Cornell's Knight & Squire miniseries for DC Comics. Afterwards, Cornell will not be doing any more licensed properties for a while, focusing on Saucer State for IDW, his creator-owned follow-up to Saucer Country, which he wrote for Vertigo.
Enjoyed this article? Share it!