Bleeding Cool has previously looked at DC Comics' peek-a-boo use of Obama as President of the United States in its comics of late. But in today's Superman/Wonder Woman it goes all out. With a walk around the White House garden with the man they now call Clark Kent.
Beginning with a man who cuts through the red tape faster than a speeding… actually, let's not use that kind of line in proximity to the President, okay? There are issues.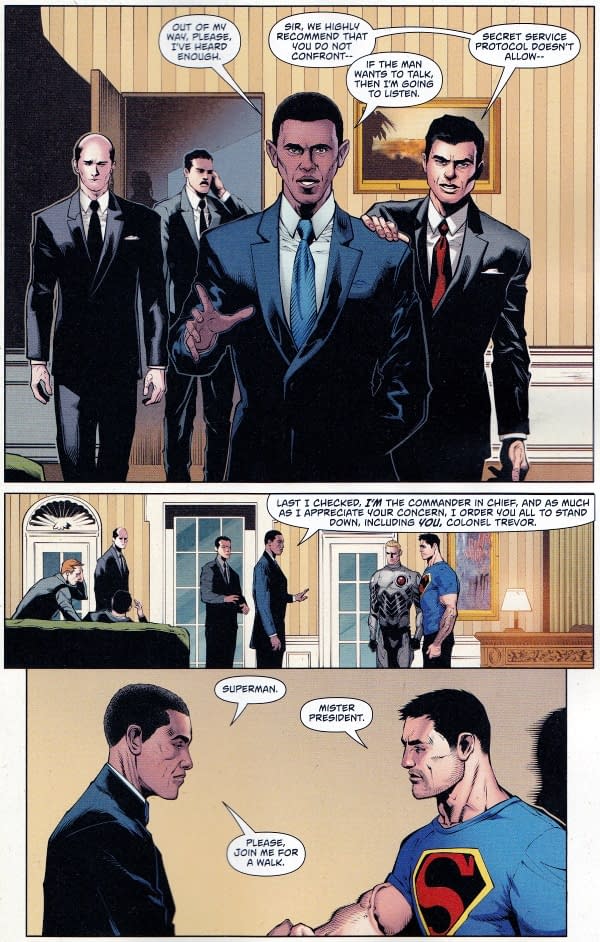 And so we get a manly, if slightly off-panel, handshake between the superpowers. And maybe an explanation for why the US Government seems to have captures his friends and family from Smallville, and more.
Which, you know, they're probably not really meant to do. Time for a walk amongst the blossom… Clarity? To a man who can see right through you? You can see why Superman might be seeing another Guantanamo here. Apart from when you were possessed by Doomsday, the Joker, etc, obviously. Yeah, Obama quoting MLK, it's hard to argue with that kind of rhetoric.
A number of which were aimed at Superman, or infected Superman, and saw mass destruction in their wake? Still nice to have a continuity checklist…. Yup, it's another Guantanamo, isn't it?
Aside from when you've been possessed by Doomsday, the Joker, or whoever, of course. Oh wait, we said that…
Comics courtesy of Orbital Comics, London.. Who have a signing from Mark Buckingham this Friday from 6-7pm, before performing a Director's Commentary for his Fairest comic,surrounded by a gallery of his work…
Enjoyed this article? Share it!