The story of motion comics has generally been one of missed opportunities. Despite all of the advancements in technology over the decades, until very recently, nobody had really figured out how to advance the medium beyond the Spider-Man motion comics that appeared on episodes of The Electric Company in the 1970s.
In fact, one could even say motion comics actually regressed over the years, as anyone who can't forget the awfulness of the Watchmen motion comic well knows…
Like most comic fans, we'd already given up on the medium long ago, so when we clicked on a Marvel.com article advertising an "Ultimate Comic" for War of the Realms starring Captain Marvel, we weren't expecting to be blown away. But as it turns out, Marvel seems to have finally figured out the formula here, with a comic created from the ground up to be a motion comic rather than adapted from a comic created to be a comic book. Add humorous narration by Brian Drummond, with Jewel Staite providing the voice of Captain Marvel, a screenplay — yes, a screenplay — by Sean Ryan, storyboards by Angelo Scalise, art by Arianna Florean, colors by Rachelle Rosenberg, animation by Vido, and music by Guy Michelmore, and we end up with a motion comic that actually feels alive.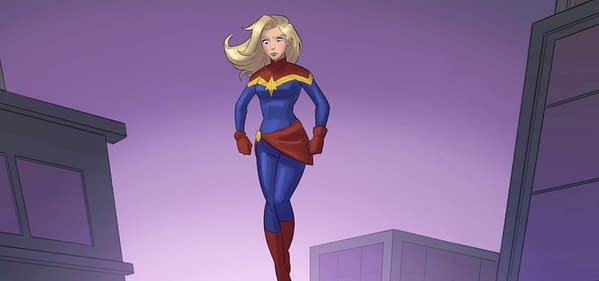 It's short. It's kind of silly. But most importantly, it's entertaining rather than cringe-worthy to watch.
Apparently, this is the fourth in a series of War of the Realms "Ultimate Comics." Maybe we'll start paying more attention. Watch it below.
Captain Marvel is no stranger to war, but the WAR OF THE REALMS is pretty strange, and Carol has never faced any foe like the dreaded Frost Giants!

The dark elf Malekith wages a war that has spread from one otherworldly realm to the next, setting them all ablaze, and now that war has finally exploded into the last realm standing: ours. All the worst monsters from the Ten Realms come pouring in over the globe, and it will take the biggest heroes in the Marvel Universe to stop them from conquering Earth – and the whole realm!
Enjoyed this article? Share it!