In next week's issue of Fantastic Four #8, we get to see the aftermath of Doctor Doom's plan to draw Galactus to Earth, capture him, and harness his cosmic power for himself. You know, typical Doom stuff. But it's not just Galactus that Doom is holding prisoner in this preview, because deep in the sub-basements of Castle Doom, Doom has another houseguest…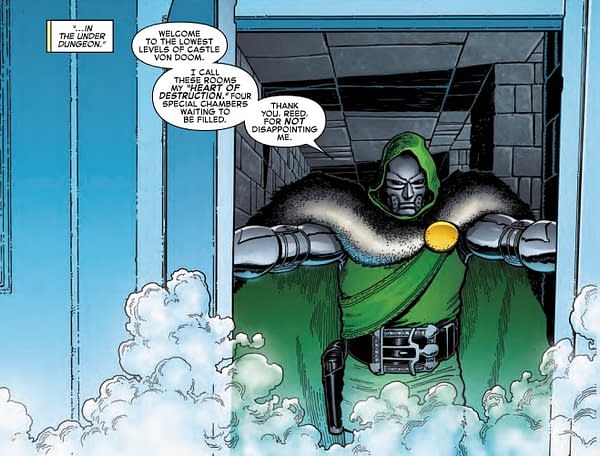 It's his nemesis, Reed Richards, who Doom has decided to keep in place by storing him in a freezing room and stretching his flesh to its maximum limits. As a result, the slightest movement on Richards' part will cause his skin and organs to crack and shatter. It's a brilliant plan, and there's no way Reed can possibly get out of this one…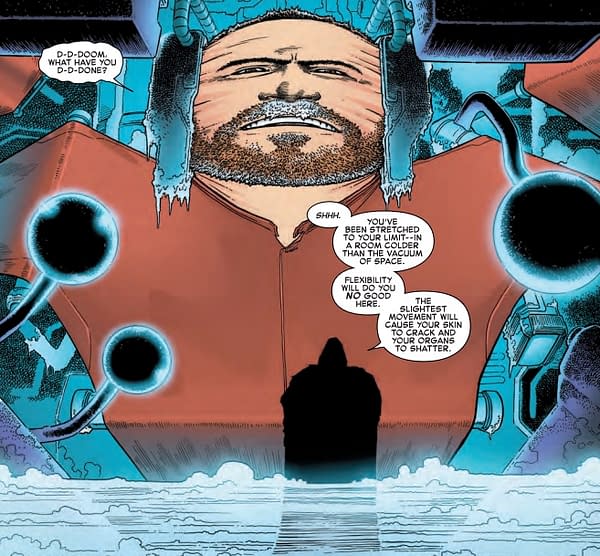 But we just have one question, Doom. If Reed can't move at all without causing fatal damage to himself… then how is he talking? Doesn't that require not only moving his mouth, but also generating vibrations? Shouldn't Reed be dead right here in this panel?
So, who's got an explanation for this one? Let us know in the comments.
Fantastic Four #8 hits stores next Wednesday… how else will it screw up continuity? Well, there's this…
Fantastic Four #8
(W) Dan Slott (A) Aaron Kuder (CA) Esad Ribic
"HERALD OF DOOM" continues with "FIRST-WORLD POWER"!
Latveria is about to take its rightful place on the world stage. Thanks to the benevolence and ingenuity of your beloved leader, Victor Von Doom, Latverians will soon know a new age of peace and prosperity! All of this shall come to pass – as long as we can repel these four nefarious foreign invaders who have illegally entered our beloved country! Death to the Fantastic Four!
Rated T
In Shops: Mar 27, 2019
SRP: $3.99
Enjoyed this article? Share it!