Will You be the Next Owner of these Spanish Cinderella Lobby Cards?
Cinderella is one of Disney's finest movies. This movie came out at the right time when Disney's animated films were less than stellar. Then bibbidy boppidy boo, Cinderella comes along and turns things around for the studio. The 1950 Disney adaptation classic has captured the hearts and minds of millions worldwide, and the story is so beloved by Disney that the Magic Kingdom inside of the Walt Disney World Resort named their castle after the famous princess. The movie has been released in several languages around the world and has seen a few theatrical re-releases.
Over the years, we've also been treated (maybe) to a few sequels to the classic animated movie, and then in 2015, Disney added to their live-action catalog with their live-action Cinderella. The film was a hit, and to date is still one of the best live-action remakes Disney has put out. This also caused a whirlwind of new collectibles and merchandise to come out. Not that long ago, Cinderella celebrated her 70th anniversary, which again resulted in some limited edition merchandise and park food.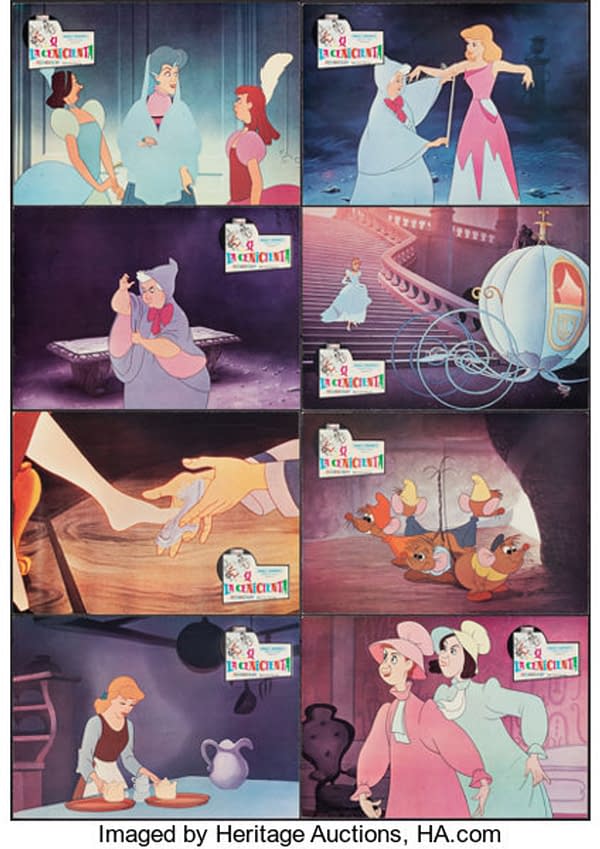 If you're like me, you probably like to collect Disneyana. This specific item I'm focusing on is a unique piece that I haven't seen too often. This set of gently used Spanish Cinderella lobby cards is a great find. These eight cards have different scenes from the movie in full, robust color. Almost all of the characters are represented, save for the Prince, and would be a fantastic addition to any Cinderella or Disney collection. The bidding on this item is still low — the cards are sitting at $1. This could be your chance to get an affordable and fun collector's piece.
Are you interested in bidding? You'll need a Heritage account, but don't worry, they're free. Plus, you never know what other goodies you may find at Heritage! Good luck and happy bidding!